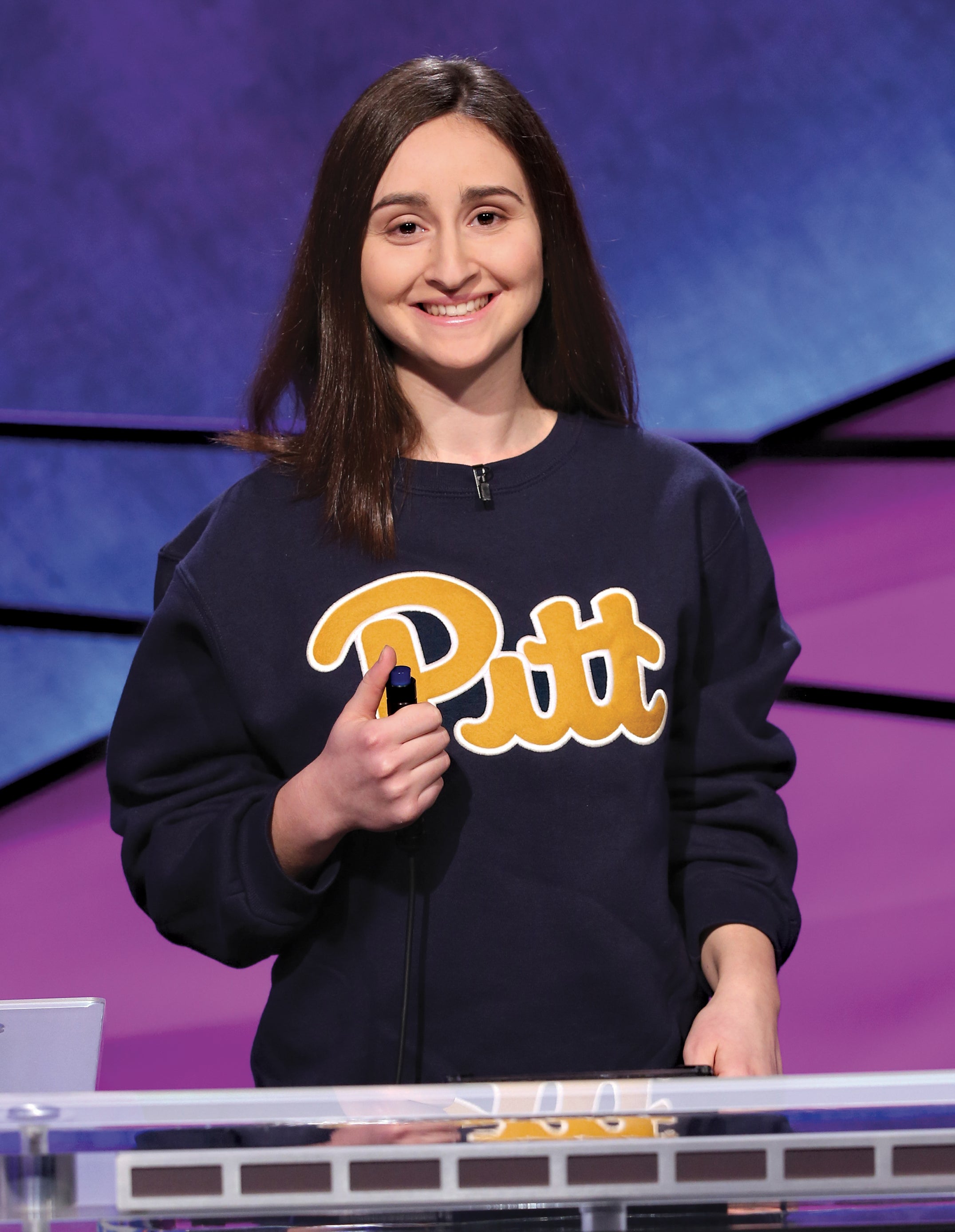 Poised in place under the studio's bright lights, Sarah Dubnik waits for the show to start. On the outside, she appears cool and collected; inside, she's aflutter. A mixture of nerves and excitement makes her heart pound under her blue and gold Pitt sweatshirt.
Suddenly, a voice booms over the sound system: "This…is…Jeopardy!"
The quiz show's famous host, Alex Trebek, appears from the wings. Dubnik takes a deep breath, feeling her adrenaline-fueled cloud lift. Everything else fades away as she narrows her focus to the game.
The Pitt undergrad always hoped to be a contestant on Jeopardy! She enjoyed watching the trivia program as a youngster. While in high school, she tried out for Jeopardy!'s Teen Tournament but didn't make the cut.
Then, at the start of her Pitt senior year this past fall, Dubnik—who majored in chemistry and computer science and minored in physics—tried again, this time for the Jeopardy! College Tournament. She nailed the test and in-person audition, earning a spot in the annual two-week tournament, televised nationwide.
Dubnik made it all the way to the tournament's finals, placing third overall and winning $25,000. Along the way, a wide network of Pitt students, faculty, and alumni cheered her on. "I've been really blown away by all the support I've been getting from people and how excited they've been for me," she says. "It means a lot."
At Pitt, Dubnik's smarts earned her more than Jeopardy! prize money. In addition to other scholarships, Dubnik received the Rita R. and David A. Rossi Scholarship for academic excellence and involvement in chemistry, and the Richard F. Zarilla Award for educational needs in chemistry. These investments will carry Dubnik far, as she prepares for graduate school this fall, where she'll tackle more questions with difficult answers—just the way she likes it.
This article appeared in the Summer 2016 edition of Pitt Magazine.