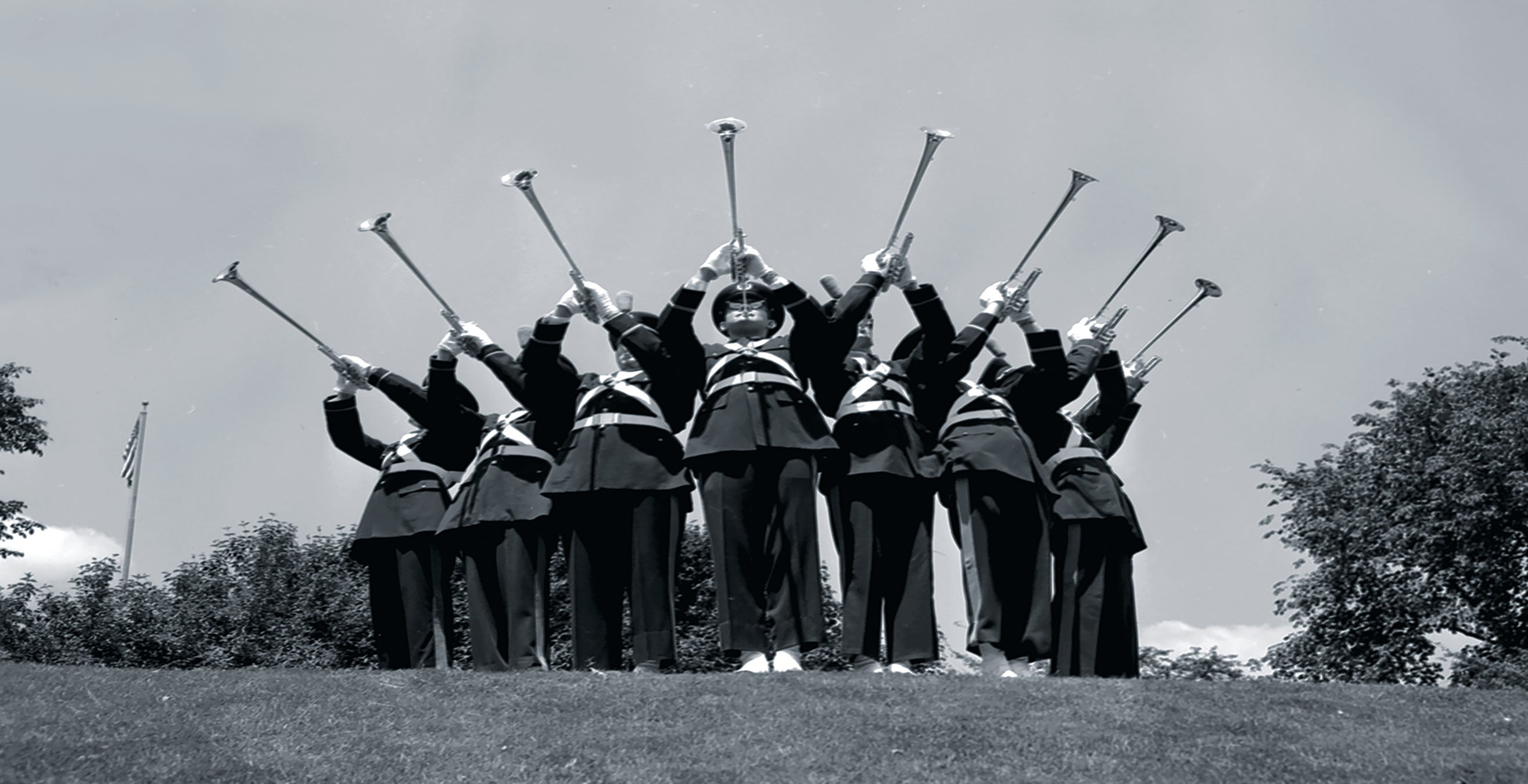 We received a thundering response when, for the Fall 2022 cover story, we asked Pitt Band alumni to tell us how being a "bandie" changed their lives. Though we could fit only a handful of stories in Pitt Mag's print edition, we couldn't resist sharing some of the other messages we received about the many ways the Varsity Marching Band inspires, connects and spurs beautiful music even after the instruments have been put away. Read the Fall 2022 cover story, "We're With the Band," here.
Larry Cervi, EDUC '58, drum major; Golden Girls founder, 1975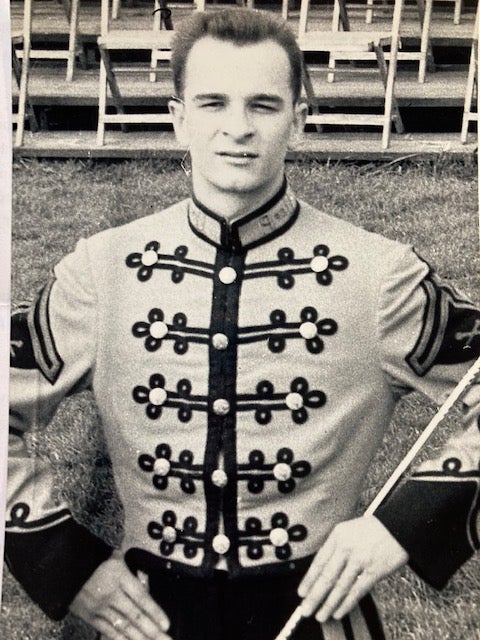 In June of 1954, I tagged along with a friend who was driving all the way to Oakland from our home of Aliquippa. We had recently graduated from high school, and he was going to campus for an interview regarding admission to Pitt. I was from a family of millworkers and thought that my life would be spent working at the J&L Mill just like the rest of the men in my family. A funny thing happened at the interview, though.
My friend was being interviewed by the legendary band director, Robert "Ace" Arthur, who just happened to be helping with the admissions interviews while the band was on summer break.
Ace, always on the lookout for talent, asked my friend Bill if he played an instrument. Bill replied, "No," and then, pointing at me, he added, "But he plays the baton."
As a child, I had broken my wrists in a fall. For therapy, I had to twist sticks, which eventually morphed into batons — which I eventually learned to twirl.
When Ace discovered I could twirl, and that I had been the first male drum major for Aliquippa High School's marching band, he offered me a full scholarship then and there.
I started out as a twirler and became the drum major for the next three seasons. My specialty was to come running through the tunnel, throw the baton over the goalposts, and (more times than not, may I say) catch it on the other side amid the spectators' thunderous roar.
One of my fondest memories with the band occurred after I graduated and was teaching English at Swissvale High School. In 1958, the band was invited to march in a parade in honor of President Eisenhower in Ligonier, Pennsylvania. Ace arranged for a substitute teacher to take my classes and had me lead the band one last time.
Over the years, band directors from all over Western Pennsylvania continued to seek my services to train majorettes. In 1974, I was hired to choreograph the majorettes at Penn State. When Pitt band director Don Hower heard about it, he called me a traitor. So, I founded the Golden Girls in 1975 and, for nine years, I directed both squads.
My experience with the University of Pittsburgh's marching band was one of many serendipitous events that have defined my life. Two broken wrists that lead to baton twirling, that led to drum majoring, that led to teaching and, finally, to owning and operating the six Larry Cervi Schools of Performing Arts.
By the way, back in 1954, wise old Ace advised me to minor in speech. That suggestion led to an entirely different career that I have plied concurrently all my life. I was also a high school drama teacher and director, and have directed plays, revues and musicals all over the area for more than half a century.
Jordan Carr, A&S '18, alto sax
Pitt Band allowed me to come into myself. It put me in a group of people who not only encouraged me to be myself, but also to better myself. My four years in band taught me more about teamwork and cooperation than I could've ever imagined. It allowed me to participate in a legacy that's lasted more than 100 years. I also made many long-lasting friends. We still love attending Pitt football games and watching the band. Pitt Band was the catalyst to me becoming the man I am today.
Victoria Bistarkey, SOC WK '21, alto sax section leader
I was a transfer student to the University of Pittsburgh and I felt lost. It was such a big University and easy to get lost in the shuffle. My first semester, in 2017, was terrible. I was in a dark place and couldn't begin to understand how people could love college. I couldn't see a happy ending and used self-injury to cope. I began therapy and we determined that I needed to try something to bring a spark back into my life, and that something was Pitt Band.
I auditioned for the Varsity Marching Band and that made all the difference. It wasn't instantaneous or easy, but Pitt Band was a catalyst for change. It was a second chance at happiness, at loving school. Pitt Band gave me my life as it is today, and for that I am eternally grateful.
Jack Bailey, A&S '22, drum major
As a member of the band, you learn how to balance a lot at once. That means being disciplined and good with time management—but also knowing when it's OK to take your foot off the gas and relax. When you're involved in the band, you're hanging out with friends, working hard and physically challenging yourself, which gives you a break from academics.
We work hard every single day. Sometimes we're really tired. Sometimes it's cold and raining. But we always want to be on our A game. As the drum major, I want to be the one who boosts everyone up. That puts a lot of weight on my shoulders, but it's worth it.
Pitt Band has given me amazing opportunities to travel and to do things I would never, ever have gotten to do—like perform in front of tens of thousands of people every single week and be involved with the band fraternity and the band council. And between both of those organizations, I've learned a lot about project development, leadership and how to organize. But probably the most important thing I've gotten from band is the ability to interact and build strong connections with people you've never met before and that come from all different walks of life, from all over the country.
Samantha Kitson, EDUC '17, EDUC '18G, alto sax, assistant drum major
In my junior year, I became the assistant drum major — the first woman to hold that position in the history of Pitt Band. I am so proud that I got to be a part of such an incredible organization and that I was able to make my mark on its history by leading the way for other women to break barriers and to continue to excel as leaders in the band! I'm prouder of this achievement than anything else I experienced or accomplished at Pitt, and it remains the pivotal moment of my career in Pitt Band.
I'm also so grateful for the friendships I made. I had seven friends drive more than four hours across state lines to come to my wedding. These friendships have helped me grow, learn and enjoy life more, and I thank Pitt Band for bringing them into my life.
Heather Gray, A&S '00, Herald trumpet squad leader
I honed my leadership skills in the Pitt Band. In high school, I attended the Premier Drum Major Camp and studied under the Pitt Band Drum Major E. Michael Baldauf. I made lifelong friends, communicated with classmates across the field in American Sign Language, which would later become my career, and shared in so much growth.
Julia Dahm, A&S '08, SCI '09G, bass section
My sister Laura Damiano (PHARM '07) joined Pitt Band while I was still in high school. I was impressed and a bit overwhelmed seeing the Pitt Band as a high school student. Laura spent two years in the color guard, meaning that when I enrolled at Pitt, we had a year in band together. It was such a fun opportunity to spend time in the same social groups, as well as feel the love and support of our family and extended family who often came to watch us perform at football games.
Megan Soukup (A&S '08) and I went to middle school together and were band buddies from seventh grade on. We both learned to play sousaphone during our sophomore year of high school. The fact that we both ended up at Pitt and joined the bass section wasn't exactly a coincidence, but I feel like it really enriched the experience for both of us. Pitt Band feels like family. Gaining close friends in the bass section was even easier when I had my longtime friend by my side. The impact of this has played out over the past 15 years — some of our closest friends to this day are those who were in our section!
My husband Brian Dahm (BUS '07) played trumpet in Pitt Band from 2004 to 2007. Pitt Band is a large organization, so much so that Brian and I didn't really know each other well while we were in school. In 2011, as Pitt Band was about to celebrate its 100th anniversary, I joined the Pitt Band Alumni Council (PBAC). At the time, Brian was serving as the president. I started volunteering with the centennial efforts. In the midst of connecting over Pitt Band anniversary activities, Brian and I started dating. Having the common Pitt Band experience helped us kindle our relationship. We got married in 2014 and were excited to have a large group of our Pitt Band friends in attendance! We've continued to play our instruments in local bands and enjoy our involvement with the Pitt Band as alumni. In 2016, we were each awarded the PBAC Continuous Outstanding Service for the University of Pittsburgh Bands.
Deena Ereifej, A&S '22, trombone squad leader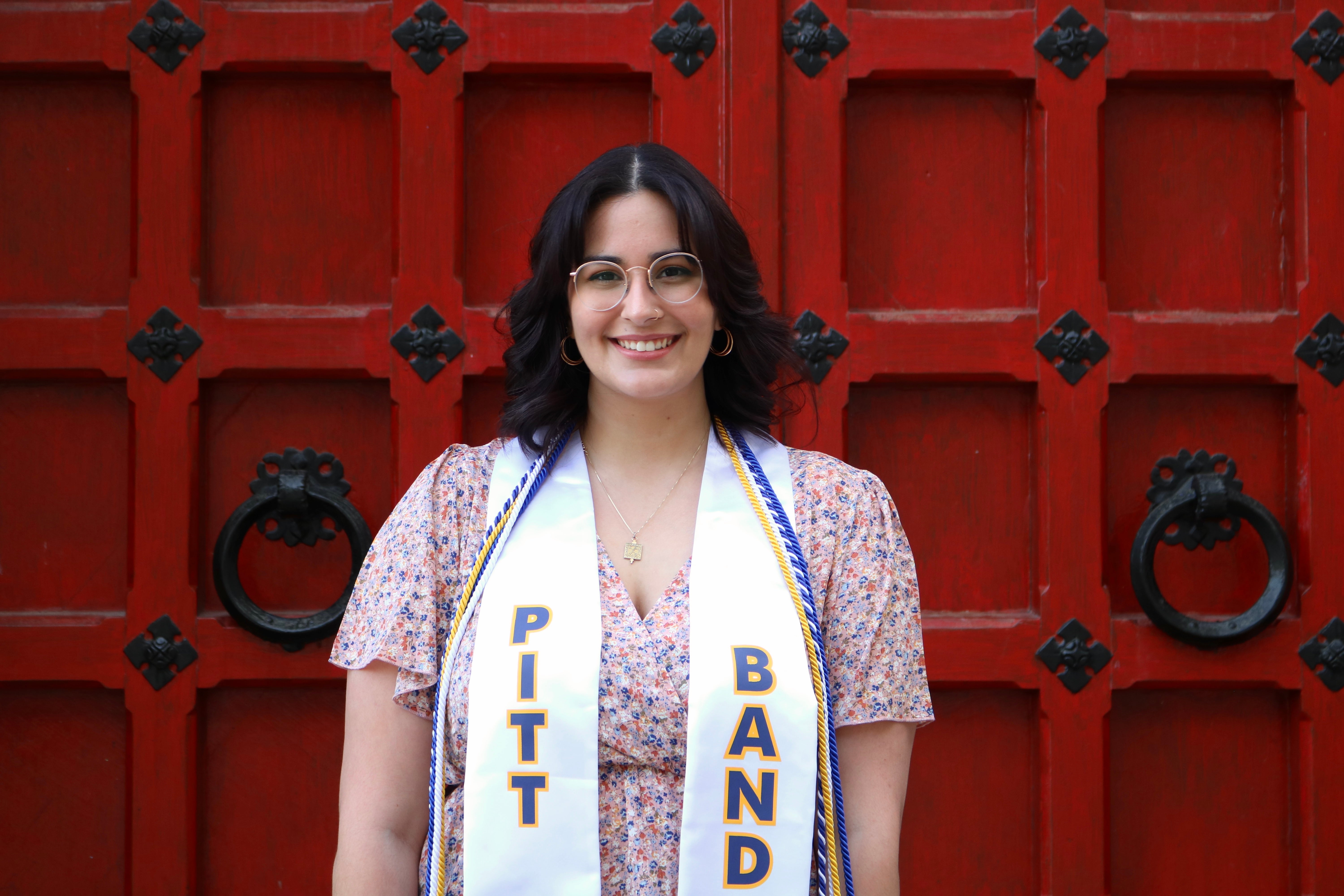 Pitt Band gave me a second family.
During my time at Pitt, I was going through one of the most difficult periods of my life and being in the band allowed me to find my path as a student. I graduated with degrees in microbiology and history and philosophy of science. I would have never settled within my majors had it not been for the people I looked up to during my time with the band. This organization has afforded me so many opportunities that I otherwise would not have had.
My first season was in the fall of 2017, and I was so inspired by all the people around me from all different walks of life. The following spring semester, I joined the band's fraternity, Kappa Kappa Psi. Little did I know, this experience would change my life. I learned so much
about leadership and I had the ability to give back to an organization that gave me so much. The friendships I forged over the past five years will surely last a lifetime.
James Boston, BUS '22, trumpet section leader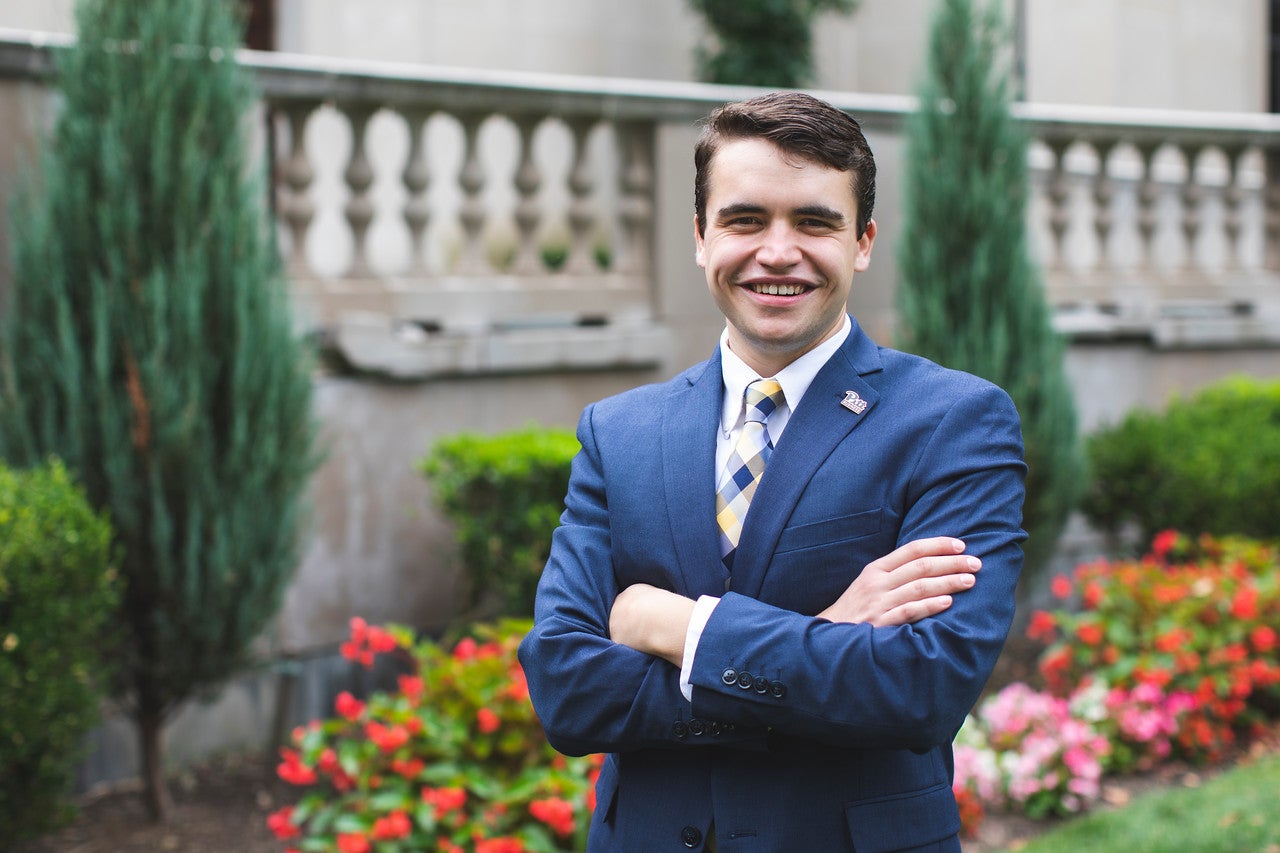 Pitt Band has been an influential part of my life. Over the past four years, I've made some of my best friends and lifelong memories. Words cannot truly describe what this group means to me! As soon as I joined the band, I knew I wanted to make a positive impact so that future members could have an even better experience than I had.
In 2019, I led the reintroduction of a historic Pitt Band tradition, The Snake [the band's parade march around campus during homecoming]. In the 1950s, the Snake was a large part of the University environment. As a legacy student and a longtime Pitt community member, I saw the need to bring back a strong tradition that could bring students, faculty, staff, band members and the Pittsburgh community together that embodied the history and culture of our University.
Its first year back, the Snake was featured on the national ESPN broadcast during Pitt's homecoming football game. Three years in, the band has kept the tradition alive, and it is becoming a permanent part of the Pitt community. The Snake is my favorite memory and one of my proudest accomplishments during my time in the Pitt Band. I will forever be grateful to the people I met and the community that welcomed me with open arms. Hail to Pitt!
Adam Stout, CGS '24 Mellophone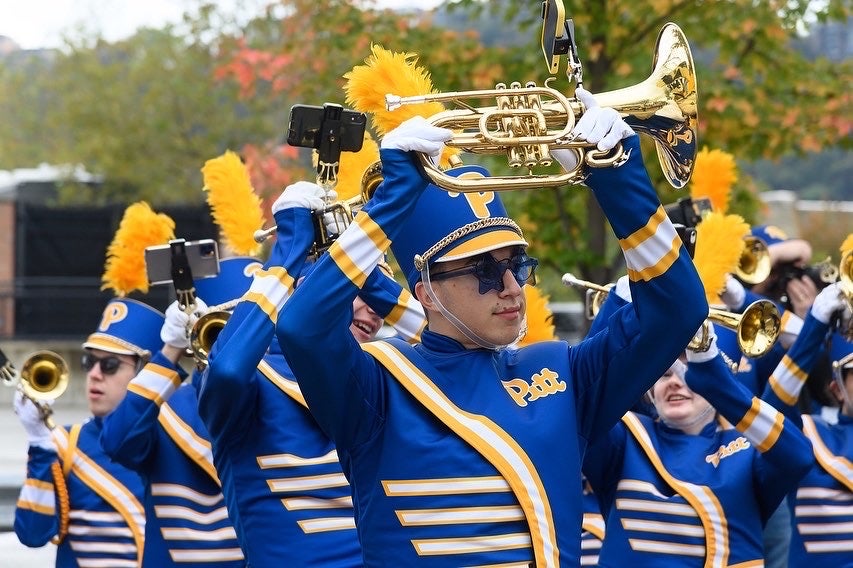 Pitt Band is the reason I'm at Pitt. I left high school with the mindset that I was done with marching band, and I purposely applied to schools that did not have a band. I ended up going to Point Park University and in the summer between graduating high school and starting college, I realized that I had made a mistake and wanted to march in college.
I emailed Doc [Band director Brad Townsend] and he helped me through the audition process and cross-registering with Pitt through the Pittsburgh Council on Higher Education program. I was spending all my time in Oakland, hanging around Pitt's campus. I would study in Hillman and eat at Market with my friends. My friends were other band members. I began looking into transferring to Pitt. Doc wrote me a great recommendation letter and I was accepted to transfer to Pitt for my sophomore year. Without Pitt Band, and especially without Doc, I have no idea where I would be right now.
Robyn Schreiber, A&S '25, clarinet
As soon as I stepped in that band room on my first day, I immediately had more than 300 new friends. Pitt Band is the activity that I feel most welcome in. Even though it's a big time commitment, I wouldn't trade it for anything. The feeling you get when you play that first note after running through the tunnel is indescribable.
Kayleigh Matthews, NURS '22, piccolo section leader
Band is the place I found my love and compassion for others—and my life partner. It taught me so much about teamwork and dedication and being passionate about something you work hard for. It required so much commitment and I wouldn't take it back for anything.
Jennie Kaufman, EDUC '20, '21G, color guard section leader
As a transfer student from a Pennsylvania state school itching to get back into marching band, the Pitt Band was full of both comfort and risk. It was three seasons of trying new things outside of my comfort zone—and even better, I spent every week with a team that felt like family. The most memorable parts of my time in Pitt Band are the connections I made and the relationships that grew from Pitt Band student organizations.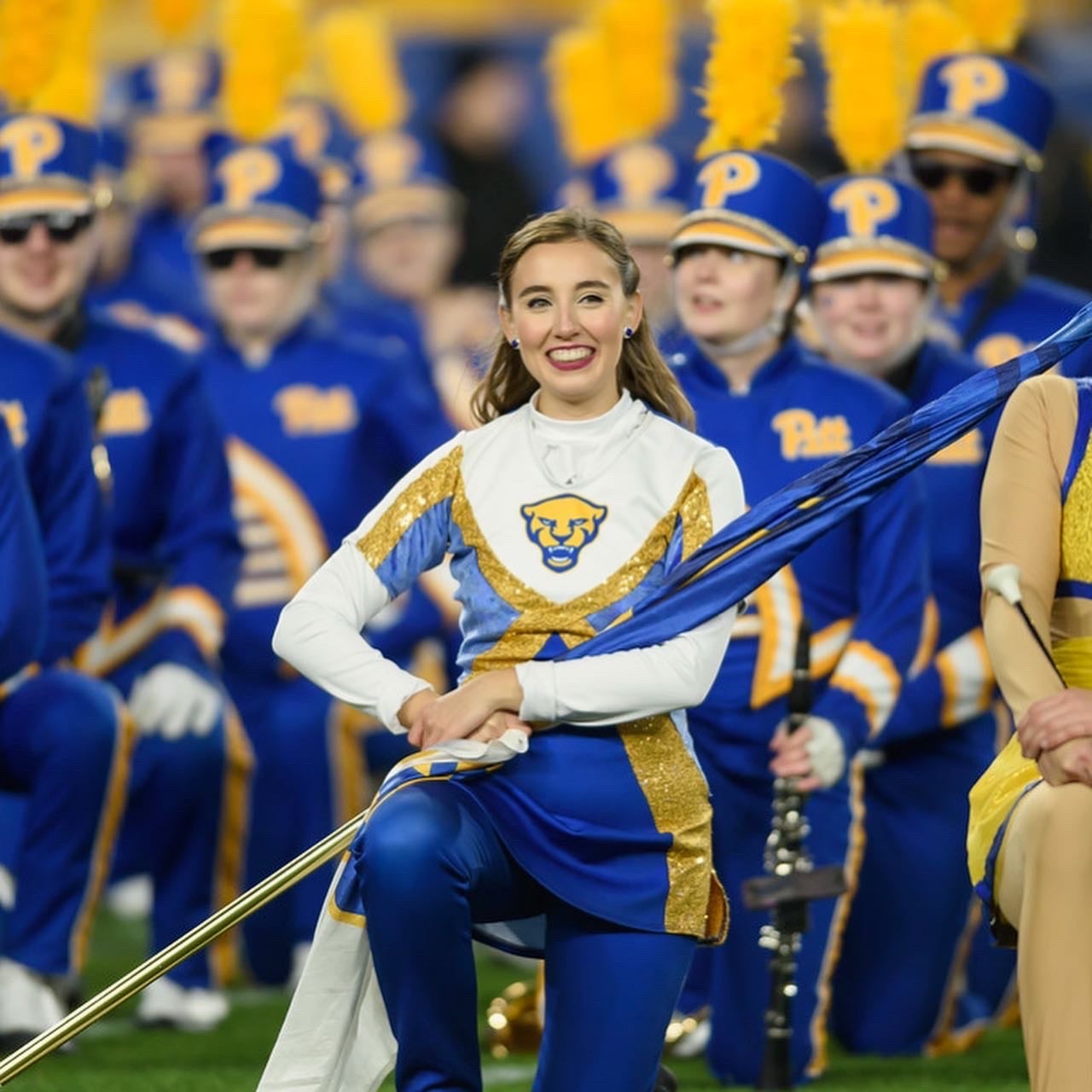 I am a sister of Tau Beta Sigma, a national honorary band sorority. Within this sisterhood I learned a great deal about leadership and fostered relationships with my sisters as sisterhood committee chair. I also met people I probably would not have known. My closest friends were, of course, other Navy Ladies and members of the Royal Court, aka Color Guard members, but also members of the trumpet section, Golden Girls and trombone players.
In this large student organization, it was so easy to find your people. No matter how busy and hectic parts of the season felt, I always looked forward to being with my people, even if that meant too-long bus rides, too-early call times, or standing ankle deep in Pittsburgh rain in the stands at Heinz Field. Traveling to away games bowl games, and the ACC championship game were added bonuses. Feeling the energy in the stadiums when we performed is something I looked forward to even today as a Pitt Band fan.
This story was published on November 30, 2022.