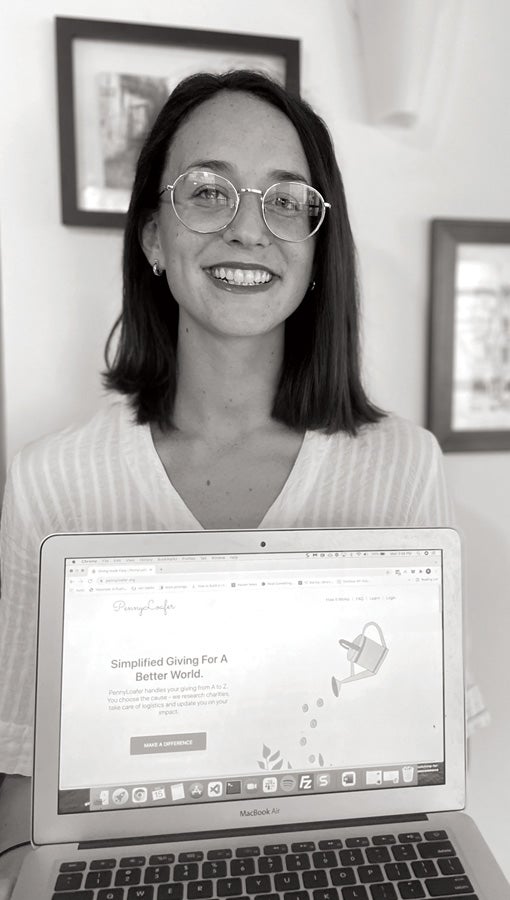 Like many others, Andi Thieman is appalled. It's May 2020 and, amid the pandemic's isolating lifestyle, comes news of George Floyd's tragic death.  
Thieman (SOC WK '19)—working as a planning analyst for the Allegheny County Department of Human Services—scrambles to her computer to contribute to the cause. She quickly finds plenty of "click here, donate there" offers, which leave her overwhelmed about which organization to support. 
It also made her take stock of her own history of philanthropy, which she realized had always been sporadic and reactive. She asked herself: "What do I care most about? And why wasn't I doing more to support it strategically and on an ongoing basis?" 
Those questions ultimately inspired her to create an online service called PennyLoafer. "My main motivation," she says, "was to create a place where donors can conveniently and intentionally turn their values into meaningful action." 
PennyLoafer—named after the shoe that can hold a penny for making an emergency call—enables donors to set up monthly donations to a curated collection of vetted nonprofits in the areas of mental health, racial justice, climate change and high-quality education. Donors can cultivate change with as little as $5 a month and stay updated on their impact through a monthly newsletter. 
Thieman credits a Pitt class on social entrepreneurship and lessons on grant writing and nonprofit consulting for giving her the skills to create PennyLoafer. So far, users of the service have raised more than $20,000. She hopes there's more to come. 
"I want to get more people donating regularly to causes they care about, feeling impactful and learning as they go along."
This story is from Pitt Magazine's Fall 2022 issue. It was published on October 10, 2022.