Hulking machines the size of minivans whir and rumble on the shop floor of an old brick warehouse. Machinists stand at the controls, initiating and directing each action: measure, cut, engrave, lift, rotate or clean. With each move, what was once just a 3D model on a computer screen comes closer to becoming a real product.
At Conturo Prototyping, one day's work never looks just like the next. Whether made from stainless steel, carbon fiber or high-quality plastic, the items that emerge from the shop's machines will help create products with purposes as varied as their physical appearances. One is used by pipe-cleaning robots that roam city sewers, another contributes to the technology used to control autonomous vehicles, and another serves as the footpads on a space-exploration lander destined for the moon.
But novelty is business as usual for Conturo Prototyping in Pittsburgh's Point Breeze neighborhood, says the company's founder and owner John Conturo (ENGR '15).
He prefers it this way.
Almost everything a person interacts with in daily life involves machining, Conturo says: smartphones, car parts, kitchen utensils, even LEGOs. But before those products can go to consumers or even be widely manufactured, the way they are built and how they are used have to be tried and tested. That's where a prototype comes in.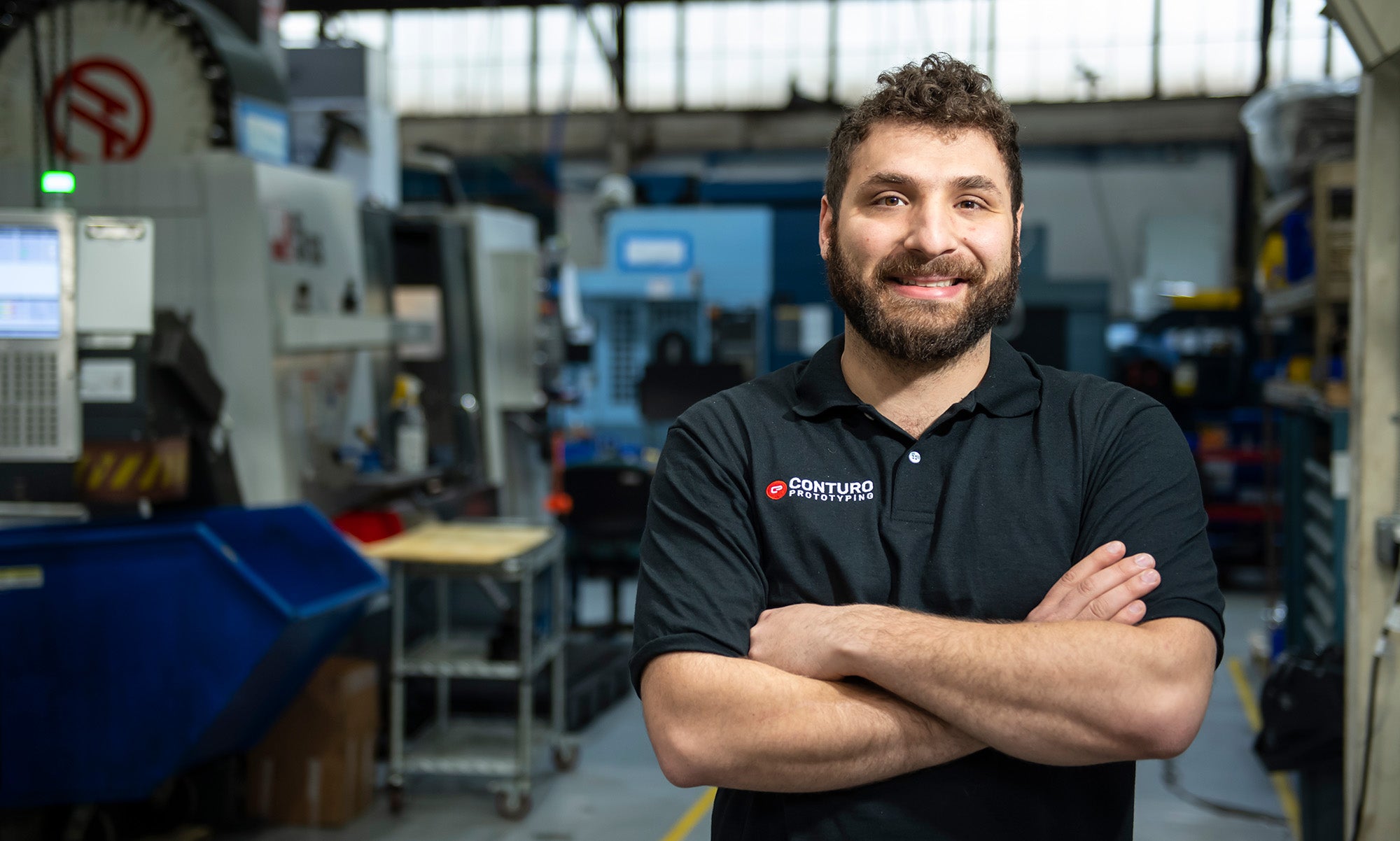 Like other prototyping companies, Conturo and his team take a client's idea — which is usually shared as a digital design — and manufacture raw materials into a functioning product. But they prefer a challenge.
"Our niche is taking the work that other machine shops don't want, either because it's too challenging or it's too small a production run and so won't lead to big business," he says. "But we love this stuff."
When making a first functional prototype, trial and error comes with the territory — not only for the prototype but also for the custom tools they make to produce it. The tinkering and troubleshooting are what make it fun, says Conturo. As a child, he loved building what he calls "whacky" creations — things like double-decker bikes, go-carts and potato canons. After high school, he found a natural fit in Pitt's mechanical engineering program in the Swanson School of Engineering.
At Pitt, Conturo was first introduced to machining and prototyping. He got a job in the Swanson Center for Product Innovation's machine shop, where from his sophomore to senior years he helped other students develop and produce projects for their classes. "I fell in love with the work I was doing there," he says, "and I intended to work there full time after graduation."
But right after earning his engineering degree, he started getting prototype requests from his friends and former classmates, some of whom worked for large engineering firms and companies. "They knew I could do what they needed," Conturo remembers. He quickly realized that there was enough demand to build his own business. So, in 2016 he bought his first piece of equipment and "jumped right into the work," with clients already lined up.
Since then, Conturo Prototyping has grown to 29 employees — seven of whom are Pitt grads — and acquired more than 100 clients, including aerospace company Astrobotic Technology; Facebook Meta; and Aurora Innovation, a company that makes self-driving cars. Conturo expects this growth to continue as the company expands beyond prototyping and soon becomes the only certified manufacturing for the aerospace industry in Pittsburgh. He also hopes to help more people find work in a trade he says isn't just professionally fulfilling, but also boasts significant job security.
"In this industry," Conturo says, "we compete over workers way more than we compete for work."
He previously partnered with Pitt's Manufacturing Assistance Center —which offers training in machining and machine programming and is now located at the University's Titusville campus — to nurture star technical students. Some now work for him at Conturo Prototyping, but he dreams of doing more. As the only manufacturer of its kind in the city, he hopes that his company can help create a pipeline of machinists able to contribute to the expanding advanced manufacturing business in the Pittsburgh region and beyond.
Because, to have a healthy technology ecosystem, Conturo says, the area needs technical professionals who can turn an innovator's idea into a tangible, working reality.
"That's where we fit in," he says, and ultimately stand out.
Cover image: John Conturo shows the "before" and "after" versions of products created at Conturo Prototyping.
This story was posted on May 23, 2022. It is from Pitt Magazine's Spring 2022 issue.