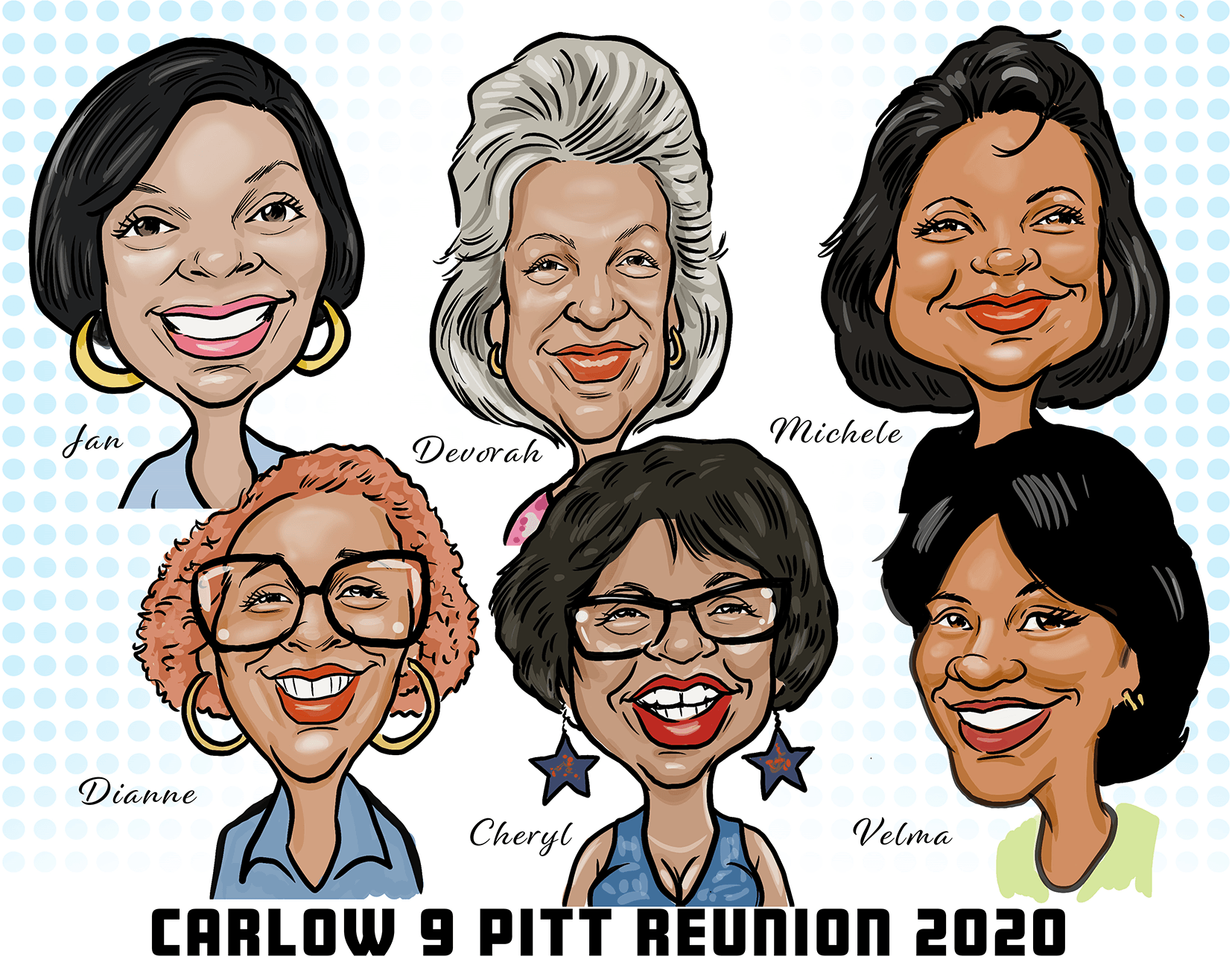 The young women were often seen together — walking each other to campus, playing pinball and card games in the student union, marching up Cardiac Hill to football games. Sometimes in the evenings, the "Carlow 9," as they affectionately called their friend group, staged their own gospel choir in their residence hall. Within just a few months of starting at Pitt and meeting each other, their bond was deep.
Fifty-one years later, members of the 9 maintain that bond — and are still seen together, though not as often as they were that first, fateful fall.
The year was 1969 and the Pittsburgh campus was brimming with excited new students. Literally. Just months earlier, Black students had staged a takeover of the University's computer center to push the administration on progressive demands, including more inclusive student recruitment efforts. The activism helped lead to record levels of Black student enrollment. As the University population continued to grow, Pitt required extra housing resources.
As a result, some first-year women were assigned to live in Frances Warde Hall at nearby Carlow College. That's where the "Carlow 9" met, and it's how they got their moniker. For these African American women on an evolving campus, their friendship went deeper than studying and partying together.
"The unique circumstances contributed to our very positive and supportive relationships," recalls one of the 9, Michele Rone Cooper (SHRS '73, '79G).
Many of the young women promised to keep in touch. They did, too, despite leading busy, productive lives.
Cooper, for example, recently retired as executive director of Pittsburgh's McAuley Ministries Foundation. Her friend Jan Mouzon (A&S '74) worked for more than 30 years with the U.S. Department of State in Washington, D.C. Cheryl Sessoms Manning (A&S '73, BUS '74G) worked in marketing with Norfolk Southern Corp. in Roanoke, Virginia for 36 years. Devorah Thomas-James (A&S '73), now living in Maryland, made a career in mental health and psychotherapy. Three more of the group — Velma Fleming Wyman of Clinton, Maryland; Dianne Badger Johnson of Ambler, Pennsylvania; and Patricia Holmes Thomas (now deceased) of Brooklyn, New York—remained close in this fold of "sister-friends," even though they completed their education elsewhere.
Six members of the group have faithfully met at least once a year since leaving Pitt, sometimes vacationing together, other times reuniting at weddings and other happy events. In 2019, they celebrated their 50-year friendship anniversary on campus. When 2020 threatened to keep them distanced, they moved their festivities to Zoom — wining, dining and catching up with each other from the safety of their own homes.
Five decades later, they are still supporting each other through life's challenges, looking forward to the next time they can be together again.
Did you forge a friendship at Pitt that helped shape your life? Tell us about it at pittmag@pitt.edu.
This story is part of Pitt Magazine's special Summer '21 digital issue.