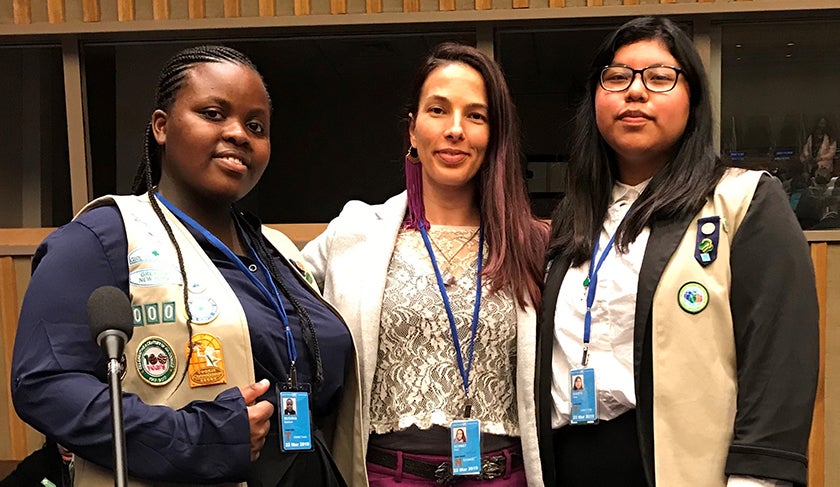 No one would blame 16-year-old Sentia for being nervous. She's standing before a crowd of people from around the world who have gathered in New York City for the United Nations's 63rd session of the Commission on the Status of Women, which advocates for global women's empowerment. Sentia is here to deliver a speech on behalf of the Girl Scouts of the U.S.A. But if she's anxious, it isn't apparent.
"Girl Scouts has given me a voice to tell my story," she says confidently.
As a co-panelist, Heidi Schmidt (A&S '03), program director of Sentia's troop, brims with pride. She knows the young woman's story well. It is one of hardship, but also of perseverance. Sentia lives in a homeless shelter, as do the other 551 girls in Troop 6000. Through the Girl Scouts, she's found community and the inner strength needed to reach her goals.
Schmidt was asked to help start Troop 6000 in 2017 while working at the New York City Department of Homeless Services. Right away, the former Girl Scout was all in. She's built a career on social justice since graduating from Pitt with a degree in psychology, spending two years in South Africa as a Peace Corps health and development consultant, then working in New York as a community outreach official.
Soon she was overseeing the troop and its expansion, growing it from seven members to nearly 600. It's gratifying, she says, to see how providing the girls with support and enrichment can help them blossom—and find their voices.
As Sentia finishes her speech, some in the audience have been moved to tears, but Schmidt smiles at the young woman before her. There aren't enough badges in the world to signify all that Sentia has achieved.
This article appeared in the Winter 2020 edition of Pitt Magazine.