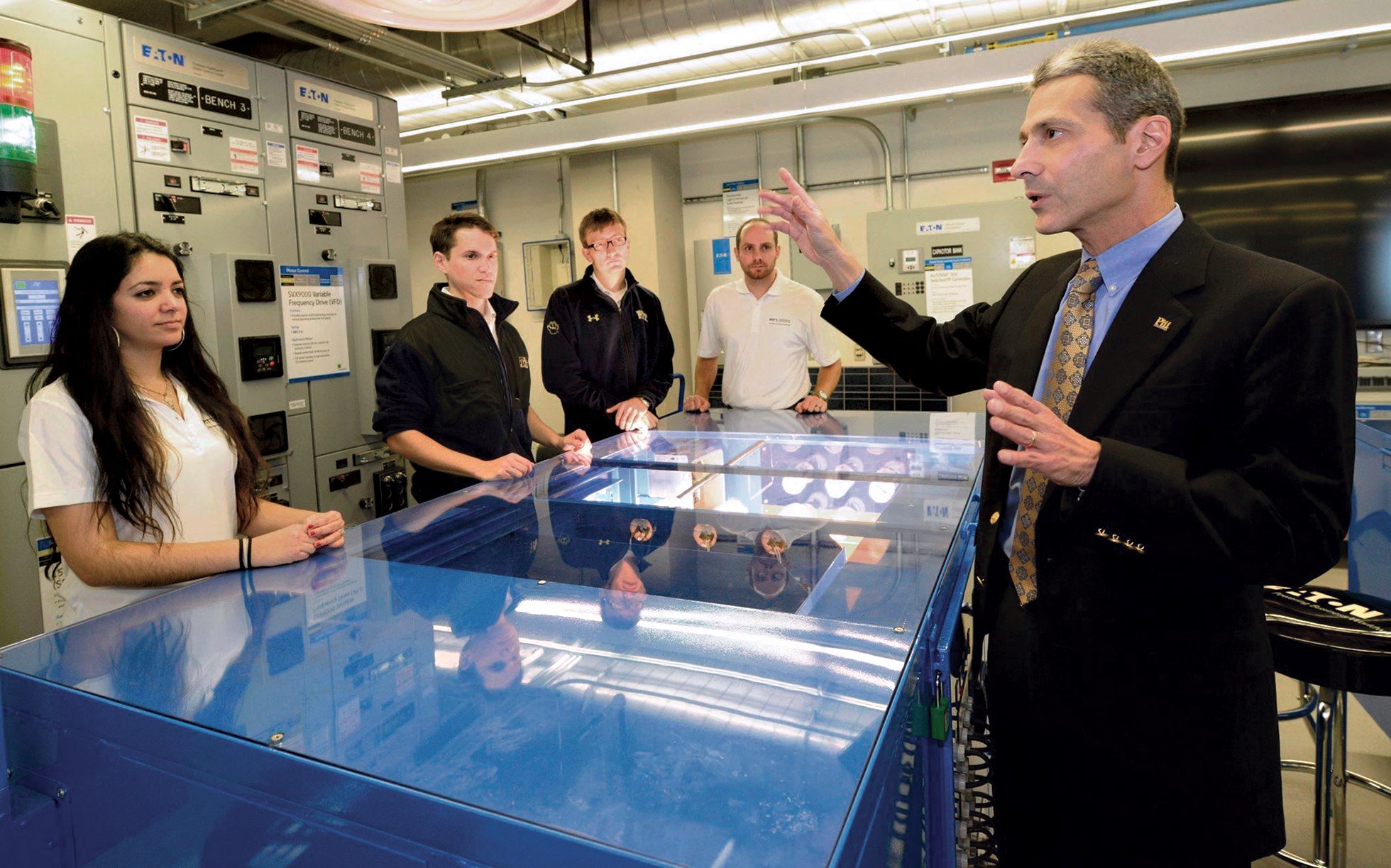 A new partnership between Pitt's Swanson School of Engineering and Pittsburgh-area energy provider Duquesne Light will fuel exploration into making America's electrical grid more efficient and effective. Supported by a $500,000 investment from Duquesne Light, the research will focus on modernizing our century-old power infrastructure and exploring new ways to put energy sustainability into everyday practice.
"This is a great opportunity to help advance grid infrastructure and support the community," said Pitt Chancellor Patrick Gallagher. "This initiative creates an environment for faculty and students to advance research and develop new technology that will help reimagine the grid for an economical and sustainable future."
The research collaboration's key component is the installation of an urban microgrid at Duquesne Light's Woods Run Facility on Pittsburgh's North Shore. The miniaturized version of the larger electrical grid will serve as a real-world laboratory for Pitt students and faculty to experiment with new and existing technologies, including the integration of direct current (DC) power and renewable energy sources—particularly wind and solar. It will operate independently from the main grid and will provide back-up power in the event of an outage.
Other collaborative plans include designing and installing smart meters and smart grids that use artificial intelligence to improve sustainable energy use; maximizing local power supplies; and developing apps on mobile devices that allow users to regulate their home's energy use remotely.
"We're looking forward to interacting with the students and tapping into the outside perspective of the generation that's in college today," said Rich Riazzi, president and CEO of Duquesne Light. "The exciting part about working with the University of Pittsburgh is that we are only limited by our creativity." Creativity that may alter how the United States generates and uses energy in the 21st century.
This article appeared in the Summer 2016 edition of Pitt Magazine.