The concept came to Banwari Mittal as his ideas often do: while he was on one of his regular, solitary walks around his Greater Cincinnati neighborhood. As a professor of marketing and an expert in consumer behavior at Northern Kentucky University, he's long been fascinated by the ways people find importance and meaning in their connections to specific brands or products. But as he grew older, he found that his inquiries into value and meaning-making were shifting from the business realm to the metaphysical: What, he kept wondering, really makes people happy?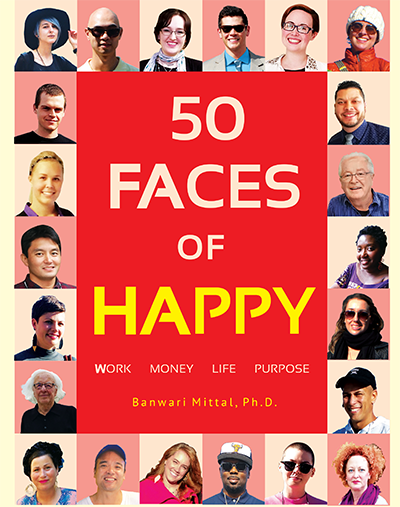 To answer that question, Mittal (BUS '82G) decided to embark on a two-year project zeroing in on the root drivers of happiness. He traveled to 30 states and Canada to talk with more than 500 strangers about the things and beliefs that bring them joy. "I wanted to capture how people make sense of their lives, so to speak," he says.
The work (completed pre-COVID-19) required his skills as a researcher, but it also meant learning to turn the notion of "small talk" on its head. "I thought, what if I meet strangers and instead talk 'big talk', go beyond the superficial?" Mittal explains. He tried to encourage good conversation, politely approaching potential subjects in public spaces and introducing himself as a visiting social scientist. Across the continent, in cities big and small and in places like town squares and rest stops, Mittal found a surprising number of strangers willing to share their time and stories. With their permission, he recorded their conversations and took their photos.
The project culminated in "50 Faces of Happy" (Open Mentis), a book composed of Mittal's best interviews and portraits. Each interviewee was asked the same questions; their responses are all unique. From a trainer of high school science teachers in Montana to the owner of a gelato shop in Toronto, readers get a diverse set of answers to what Mittal calls "life's big questions" about work, money, purpose—and happiness.
While researching and writing, he gradually fine-tuned his theory of the different types of happiness, and he found one that makes the most sense to him, personally. For Mittal, happiness is borne of the delicate balance between the "boundless celebration of the self" and "complete surrender to personal humility and gratitude."
But, as he illustrates in his book, there are many ways to foster joy, even during tough times. And perhaps, he says, readers will be inspired to begin their own "happiness journeys," wherever they may lead.
Briefs
By Mia Roberts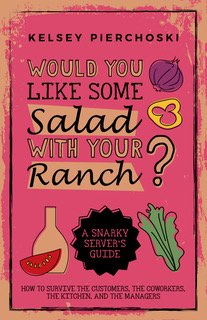 Would You Like Some Salad with Your Ranch? (Park Harwich Press) With an apron around her waist, Kelsey Pierchoski Maline (A&S '13) spent more than five years working as a waitress. In addition to serving salads, the author endured the trials and tribulations of restaurant life. In 40 humorous essays, she describes dealing with the crazy prep cook, that couple with the baby, the insufferable bartender, the people with special diets and so much more. Her book is a lesson in relationships, gratitude and gratuity.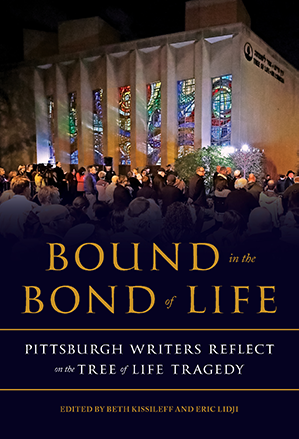 Bound in the Bond of Life: Pittsburgh Writers Reflect on the Tree of Life Tragedy (University of Pittsburgh Press) Living just 400 feet from Tree of Life synagogue, Ann Belser will never forget Oct. 27, 2018—the massacre that killed 11 Jewish worshipers. The journalist and mother is one of 25 local writers—including three Pitt professors—who recount how the loss brought the world "home" to Pittsburgh's Squirrel Hill neighborhood. The book is edited by Jewish writers and creatives Beth Kissileff and Eric Lidji (A&S '04). In Belser's essay, "The News Next Door," she recalls walking her family's Corgi puppy when she heard, in disbelief, gunshots.
His Only Wife (Algonquin Books) Afi Tekple, a humble seamstress in Ghana, is offered a chance to marry Elikem Ganyo, who comes from a wealthy family, but who Tekple doesn't really know. Nevertheless, she accepts the proposal only to soon learn Ganyo has ulterior motives. This debut novel—by Peace Adzo Medie (A&S '12), a women's rights advocate who attended university in Ghana—addresses female independence and the changing politics of love and marriage. It was selected as a New York Times notable book of the year.
Camera Hunter (University of New Mexico Press) More than a century ago, Pittsburgh native George Shiras III ventured into the Michigan woods with a camera. His nocturnal black-and-white images of game animals showed nature in remarkable detail. The photographs invigorated the conservation movement at a time when American species were threatened by unrestrained hunting. James H. McCommons (A&S '81), a journalist and professor at Northern Michigan University, crafts a biography that focuses on not only Shiras' photography techniques but also his work in shaping groundbreaking environmental legislation during the Progressive Era.
Cover image: Banwari Mittal (left) and Ko Shun-Yu on the John A. Roebling Bridge in Cincinnati, Ohio.
This article appears in the Spring 2021 edition of Pitt Magazine.