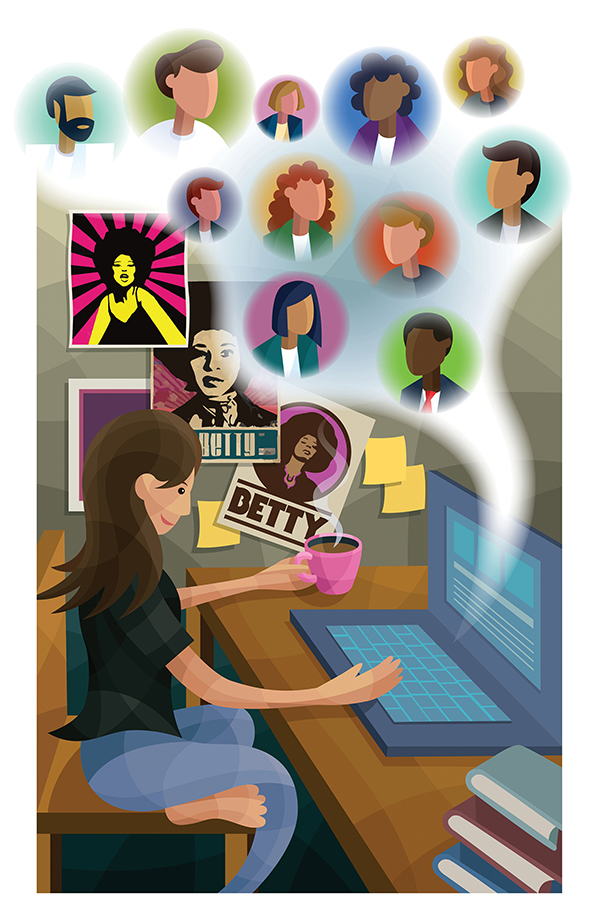 After working for more than four years toward her PhD, Danielle Maggio had finally reached her big moment. She had just finished her dissertation defense and was hoping to be awarded a Doctor of Philosophy. When her academic journey began, she never imagined she would hear the news while sitting in her home office, by herself.
But even though the pandemic has put a halt to in-person defenses, Maggio wasn't alone. Virtually, more than 40 family members and friends—from California to Chicago to the Netherlands—filled the Zoom window as Maggio discussed: "'Sound Projector': Reissuing, Representing and Reclaiming the Music of Betty Davis."
Davis, a friend of Maggio's, had an international following in the 1970s as an American funk singer and cultural icon. Today, Davis, 76, lives in Pittsburgh, where her family moved when she was a youngster.
She was also with Maggio for the dissertation. Not in person. Not virtually. But her presence was everywhere, marked by LP album sleeves that adorned Maggio's "Wall of Betty" in her office. Maggio's interest in Davis stems from her long-held passion for music and record collecting, which grew into intellectual curiosity of music's sociocultural implications.
During her dissertation defense­—surrounded by her years of research that had accumulated in the form of LPs, papers and books­­—she presented and defended her research to a pre-approved committee of academic experts, who would then determine whether to bestow upon Maggio, the candidate, the title of "Dr."
Up until 2020, defenses were in person. But because the global pandemic has prevented in-person gatherings, PhD programs everywhere have been taking dissertation defenses online. There's a silver lining, though: It can enable the candidate's family and friends anywhere to participate in the academic rite of passage, says Holger Hoock, the J. Carroll Amundson Chair of British History in Pitt's Department of History and associate dean for graduate studies and research in the Kenneth P. Dietrich School of Arts and Sciences.
Moral support is always welcome, he points out, for PhD students at the pinnacle of "years of study, research and writing that are demanding and unpredictable in non-crisis times."
And these aren't "non-crisis" times. Emphasizing student-centered "compassionate flexibility," Hoock collaborates with the Dietrich School's graduate programs to set expectations and find solutions for students that take into account pandemic disruptions to research, compounded by racial injustice and violence also affecting society at large.
So far, so good: In the past year, Dietrich students have proven their capacity to excel under challenging circumstances by continuing to publish papers, receive national fellowships and earn doctoral degrees.
In December 2020, Maggio (A&S '17G, '20G) joined the school's doctorate ranks, receiving glowing praise from her committee as well as family and friends. "I feel like the defense was so special in a virtual format because more people were there than if it was in person," she says. "Most of my friends have never seen me talk in that type of academic tone."
Joanna Obuzor, Maggio's longtime friend, had never before attended a dissertation defense. "I had no idea what to expect," Obuzor says. "If it hadn't been for this weird COVID world, I wouldn't have seen it, not have been there.
"But," she says, "I'm so glad that I was."
This article appears in the Spring 2021 edition of Pitt Magazine.