It's easier than ever to submit your own Class Note for publication consideration!
1942
Martha Wandrisco Neff A&S '42 celebrated her 100th birthday on Oct. 1, 2020, with her family and friends. In honor of her 96th birthday, the Martha Wandrisco Neff Research Award in Macular Degeneration was established to support graduate student research in Pitt's Department of Ophthalmology.
1967
Frederick N. Frank A&S '67, LAW '70 was named an adjunct professor at Pitt Law, where he teaches the course "The Press and the Law." He is an expert in media law and a founding partner of the Pittsburgh law firm Frank, Gale, Bails, Murcko and Pocrass, P.C.
1968
Kenneth Walsh A&S '68 retired from his second career as a teacher at a Jesuit, tuition-free middle school for boys. In 2020, he self-published three books: "Bible Stories for All Without the Dogma: A Part of Cultural Literacy"; "The Teacher's Supplement to Bible Stories for All"; and "The Ethics Seminar Guide: Contemporary Ethical, Moral and Resonsibility Issues Based on Bible Stories." He lives in Baltimore.
1972
Diane (Olszewski) Downs SHRS '72 shows off her treasured copy of "Nationality Rooms Recipe Book," a collection of recipes that was originally published in 1975 by the Women's International Club at Pitt. She notes that her revered edition has survived multiple moves and is responsible for many memorable meals.
Tulasi Joshi A&S '72G was honored for his support of Nepali students by Bidya Devi Bhandari, the president of Nepal, during a ceremony in Dhangadhi, Nepal. He received a medallion, framed certificate and celebratory shawl wrapping. He is a professor emeritus at Fairmont State University in West Virginia, where the international student office is named in honor of him and his wife for their philanthropic leadership.
Mark F. Seltzer A&S '72 was named an honorary member of the American Society of Addiction Medicine (ASAM) for his legal representation of doctors and professionals suffering from addiction. The founder of Seltzer & Associates in Philadelphia, he is an attorney who specializes in disability insurance law and insurance bad faith. His work with ASAM includes a chapter that he co-authored in the sixth edition of "The ASAM Principles of Addiction Medicine."
1977
Steven Sybert A&S '77 retired after 43 years in journalism, which included 36 years with The Pittsburgh Press and Pittsburgh Post-Gazette. While at Pitt, he was sports editor for The Pitt News and the mascot for the Pitt hockey club.
1978
Shannon Jones III GSPIA '78 was named interim assistant city manager for the City of Austin. The position oversees city services relating to health, the environment, culture and lifelong learning. He was the director of Austin Public Health before retiring in 2017.
1979
Steven Vance A&S '79, of the Pittsburgh-based wedding entertainment company Steven Vance Entertainment, earned the "Best of Weddings" Award from The Knot and the WeddingWire "Couples' Choice" Award. It is the 10th time that Vance, an electric violinist, has received each award.
1980
Debra McCusker A&S '80 is an IT faculty instructor at Alamance Community College in Graham, North Carolina. Under her leadership, the school's IT systems security program recently became a National Center of Academic Excellence in Cyber Defense Education, a designation awarded by the National Security Agency.
1981
Marianne Spampinato UPJ '81 published "Betsy the Rescue Dog" (Fulton Books), a children's book about a farm dog whose owners must leave her behind. She is a writer who lives in Johnstown, Pennsylvania. This is her second book.
1982
Sandra Acmovic Thompson A&S '82, DEN '87 received the Head Start Oral Health Champion Award from the Pennsylvania Head Start Association and Healthy Smiles Task Force for her outstanding service in children's oral health. She serves as the dental administrator for Allegheny County Health Department.
1984
Gordon Vanscoy PHARM '84, BUS '91G was named one of 10 EY Entrepreneur Of The Year Award winners for the year 2020. He is the founding CEO and chairman of PANTHERx Rare, the largest independent specialty pharmacy as well as the only rare disease pharmacy in the United States. He is an adjunct associate professor in Pitt's School of Pharmacy.
1989
Tina (Herman) Buck A&S '89, SCI '92G co-published "Guidance for Librarians Transitioning to a New Environment" (Routledge). A workplace guide for librarians, the book is a blend of advice, encouragement, research and reflection. She is an electronic resources librarian at the University of Central Florida in Orlando.
1993
Theodore A. Schroeder A&S '93, LAW '97 was named co-chair of Littler Mendelson P.C.'s award-wining Career Advocacy Program. He is the office managing shareholder of the firm's offices in Pittsburgh and Charleston, West Virginia. Previously an adjunct professor at Pitt Law, he regularly lectured on topics relating to employment law and federal litigation practice.
1995
Len Benning UPJ '95 was named director of security for the Consumer Financial Protection Bureau in Washington, D.C. Prior to this role, he was the Bureau's emergency coordinator. Throughout his career in the federal government, he has served in the U.S. Government Accountability Office, U.S. Department of Agriculture and Federal Emergency Management Agency. He lives in Ashburn, Virginia.
1997
James Acierno A&S '97 holds a doctoral degree in life sciences from the University of Lausanne in Lausanne, Switzerland. Specializing in human genetics, he is a consultant for the Centre Hospitalier Universitaire Vaudois, also in Lausanne, and a scientific advisor for LunaPBC in San Diego, California.
2000
Melissa (Silberman) Cohn A&S '00 received multiple honors at the Cruises Inc. National Conference, including highest-performing travel agent nationwide and top-selling agent overall. She also won the Vision Award—for successfully adapting her business approach in response to the challenges of 2020—as well as the Cruises Inc. Marketing Award for Best Social Media Strategy. Earlier in 2020, she received the OPAL Award for her outstanding performance and leadership in the community. She is an independent vacation specialist in Dix Hills, New York.
2002
Danielle (Hodnicki) Dietrich A&S '02, LAW '05 was named chief diversity officer at the Pittsburgh office of Strassburger McKenna Gutnick & Gefsky, where she is a shareholder. She focuses her practice on the representation of women and diverse-owned businesses and has a history of leading gender-equality and diversity initiatives within the local bar association.
Diana Tuorto A&S '02 published "How Angel Horses Become Unicorns" (independently published), a picture book about a girl named Gianna whose ill horse hopes to become a unicorn. She is a horse-loving children's author who lives in Buffalo. This is her fifth book.
2004
Christopher Shorter GSPIA '04 was appointed the first-ever chief administrative officer for the City of Baltimore. Prior to this role, he was assistant city manager for the City of Austin, where he oversaw departments relating to health, environment, culture and lifelong learning.
2005
Robyn Cutright A&S '05G, '09G published "Ancient Households on the North Coast of Peru" (University Press of Colorado), a volume that investigates prehistoric Andean societal organization at the household level. She is an associate professor of anthropology at Centre College in Danville, Kentucky.
2006
Lindsay Semich Andrews BUS '06 received the Pennsylvania Institute of Certified Public Accountants' 2020 Women to Watch Award, which recognizes women who enhance the accounting profession through their personal accomplishments as well as their encouragement of others' success. She is a partner at Louis Plung and Company in Pittsburgh.
2007
Christine Hippert A&S '07G, GSPH '07 published "Not Even a Grain of Rice: Buying Food on Credit in the Dominican Republic" (Lexington Books). As part of the series "Crossing Borders in a Global World: Applying Anthropology to Migration, Displacement, and Social Change," the book examines how food, debt and survival intersect with race, gender, class and citizenship. She is a professor of anthropology at the University of Wisconsin-La Crosse and specializes in food security and community development.
Christina Patel EDUC '07 received the Woman on the Rise award—which recognizes young women in the beginning of their careers who are positively impacting the community in Columbus, Ohio—from YWCA Columbus during its 2020 Women of Achievement event. She is a director of development for scholarships and student support at The Ohio State University, as well as an active board member at the Central Ohio Chapter of the Association of Fundraising Professionals and the Create Columbus Commission.
2009
Christopher Solomon GSPIA '09 has written "In Search of Greater Syria: The History and Politics of the Syrian Social Nationalist Party" (I.B. Tauris), which will be published in May 2021. The book explores the evolution and ideology of the party, beginning with its founding in 1932. He is a writer, editor and analyst who specializes in the history and politics of the Middle East. He lives in Pittsburgh.
Elizabeth A. Whalen A&S '09 is an assistant professor at Middle Tennessee State University, where she founded and coordinates its Tourism and Hospitality Management program. Through the program, she continues to create new industry partnerships and provide new opportunities to students interested in tourism and hospitality, despite the pandemic.
2010
Michael A. Berger A&S '10 was named treasurer of the Theodore Roosevelt American Inn of Court, a professional organization of judges and lawyers. He is an attorney in the employment and labor practice group at Forchelli Deegan Terrana LLP in Uniondale, New York.
2012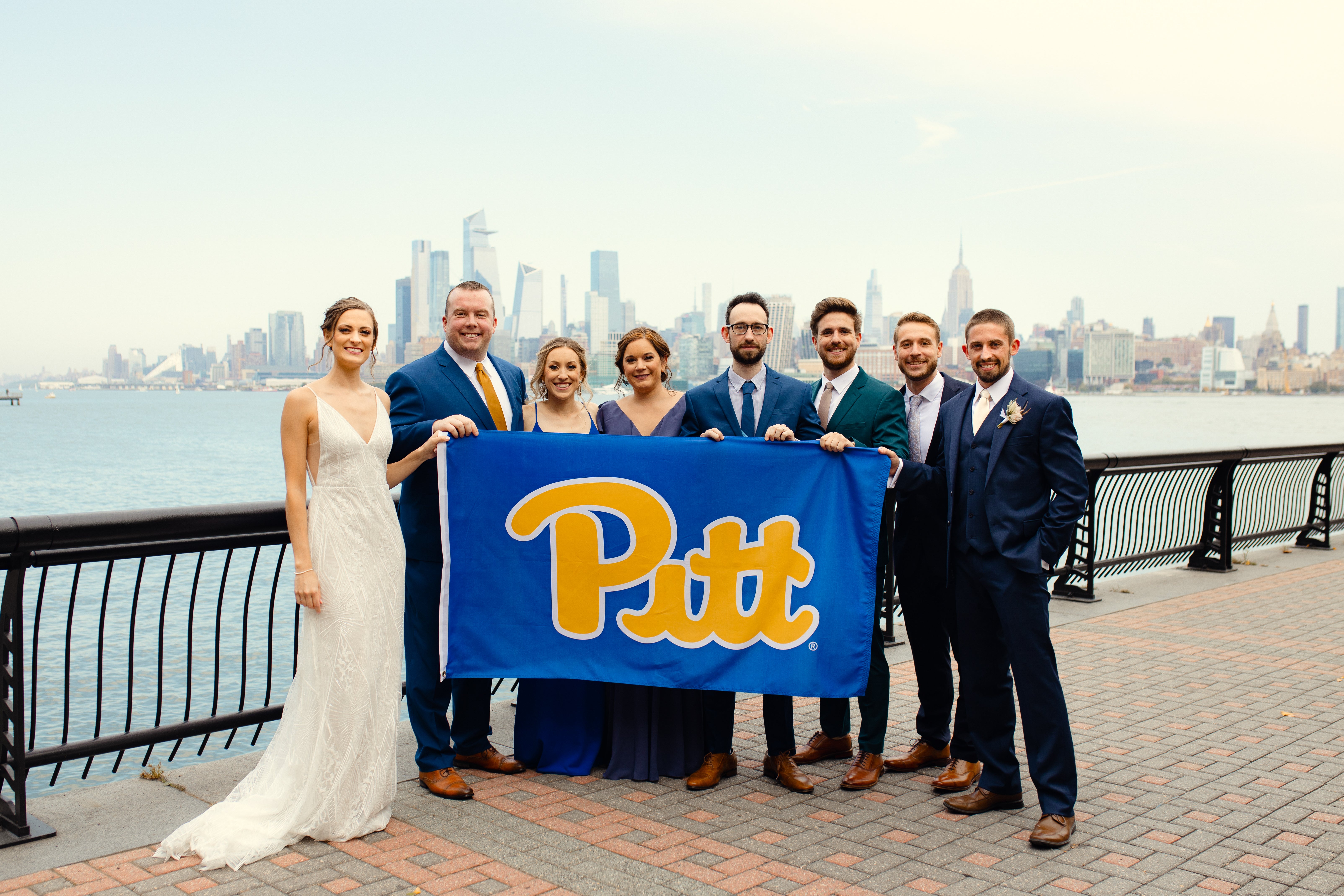 Scott Bronder A&S '12 and Jessica Van Natten A&S '13 were married on Oct. 10 in Hoboken, New Jersey. Panthers alumni and longtime friends—James Dougherty A&S '13, Lauren Bucher A&S '13, Jillian Hillegas A&S '13, Michael Foy A&S '12, Keith Kennedy A&S '14 and Benjamin Kennedy­­ BUS '12—celebrated with the happy couple.
Natalie Fiato A&S '12, GSPH '16, GSPIA '16 is a reproductive health program coordinator at Nationwide Children's Hospital in Columbus, Ohio. Her role supports Columbus City Schools in the provision of comprehensive sexual health education and outreach. Prior to this role, she was a wellness coordinator at The Ohio State University.
2013
Sean McFarland A&S '13 and Emily Ward SHRS '13 were married in a small ceremony on Oct. 31, 2020, in Rhode Island. They met in London as Pitt students and later got engaged outside of the Cathedral of Learning.
Gabriella E. Vreeland A&S '13 is a marketing and business assistant at the central Pennsylvania law firm Saxton and Stump, where she helps implement marketing programs and development strategies. Prior to this role, she was a marketing assistant and assistant project manager at JEM Group, LLC, a woman-owned construction services firm in Camp Hill, Pennsylvania.
2014
Maria "Mo" Maciejewski EDUC '14 is the founder and CEO of Evescco, a fitness lifestyle brand that offers live virtual classes and one-on-one coaching packages. Her goal is to help others manage stress and improve mental wellness through physical activity. She lives in San Diego, California.
2015
Julie Miller SCI '15G received the Pennsylvania Library Association's New Librarian Honors Award, which recognizes a new librarian—one who has been in the profession for fewer than six years—for improving library service at the state or local level. She is an interlibrary loan manager at the Warren Public Library.
2017
Allison R. White A&S '17 was admitted to the Pennsylvania Bar Association and made associate at Caesar Rivise, PC, an intellectual property law firm. She practices both prosecution and litigation in matters concerning trademarks, copyrights, and the biological, chemical and medical fields. She lives in Philadelphia.
2018
Ron Wiafe EDUC '18G was named dean of students at Hood College in Frederick, Maryland. He has worked in higher education for more than 17 years and, prior to this role, was Gettysburg College's director for student rights and responsibilities.
2019
Tchetchet Digbohou EDUC '19G was elected to a 3-year term as a member of the National Scholarship Provider Association's Board of Directors in January 2021. During his term, he will provide support to scholarship professionals in institutions across North America. He currently serves as the scholarship manager for the POISE Foundation, a Pittsburgh-based nonprofit focused on empowering all members of the Black community.
2020
Lydia Hearn CGS '20 received Alpha Delta Pi's Dorothy Shaw Leadership Award, the highest individual honor for the sorority's collegiate members. The award recognizes juniors and seniors who demonstrate service, scholarship, leadership and commitment to their campus community.