No education could have fully prepared Ken Gormley for what he witnessed at Orphans' Court.
The docket there involved both adults and children — often because of heartbreaking circumstances — which led to cases involving estates, trusts, wills, guardianships, parental rights, adoptions, civil commitments, inheritance, or estate tax matters.
In many of these cases, the future of people's lives or their rightful inheritances hung in the balance.
Not enough of those before the judge could afford steady legal representation, let alone hire the likes of Gormley, an attorney with a law degree from Harvard University, who had also earned his B.A. in political science from the University of Pittsburgh summa cum laude.
Much of what drove Gormley to Orphans' Court and to practice law in the 1980s was a desire to help many of the people who ended up there. Some of the emotional storylines he found there reminded him of the tensions and complications encountered by the working-class, steel-town families of his youth. Much of what he saw he never forgot.
"It was a living soap opera," recalls Gormley (A&S '77), who had been fresh out of law school at that time. He often did pro bono wills and estate cases for residents in Swissvale, his childhood neighborhood on the outskirts of Pittsburgh.
Today, three decades later, Gormley is the president of Duquesne University, just down the street from his undergraduate alma mater. But his early experiences in Orphans' Court live on in the pages of his novel, "The Heiress of Pittsburgh" (Sunbury Press), which was released in October. Built around the story of a young, unmarried woman who has a child, the novel is also a tale of three generations and the issues and choices they must confront. The protagonist, Shawn Rossi, is an attorney who finds himself in Orphans' Court arguing a case of paternity and inheritance. But the book, Gormley says, is also a much broader and multilayered exploration of values and what's worthy of being inherited.
It's clear that what's worthy to Gormley doesn't have a price tag.
After earning his law degree in 1980, he says he turned down some lucrative job opportunities so he could return to Pittsburgh, where he wanted to contribute to what he calls his beloved hometown.
In fact, he describes his novel as a "love story to Pittsburgh." The book evokes rich, scenic memories of Kennywood and iconic places such as the George Aiken restaurants, where rotisserie chickens spin in the windows and lime Jell-O is a menu favorite. Characters look across the horizon at night and see the smoke and fire blasting from the Hazelwood mills. Students on Pitt's campus see the Cathedral covered in soot.
A storyteller at heart, Gormley says he began writing in third grade, but credits his four years spent as a reporter and features writer with the Pitt News for teaching him to develop character and dialogue. Even at Harvard, he remained a Pitt News correspondent, writing on fox hunting in New England and witchcraft in Salem.
Throughout his career as a lawyer and constitutional scholar, he's also written several acclaimed nonfiction books, including "Archibald Cox: Conscience of a Nation" (Perseus Books); "The Death of American Virtue: Clinton vs. Starr" (Crown), a New York Times bestseller chronicling the Clinton impeachment; and "American Presidents and the Constitution: A Living History" (NYU Press).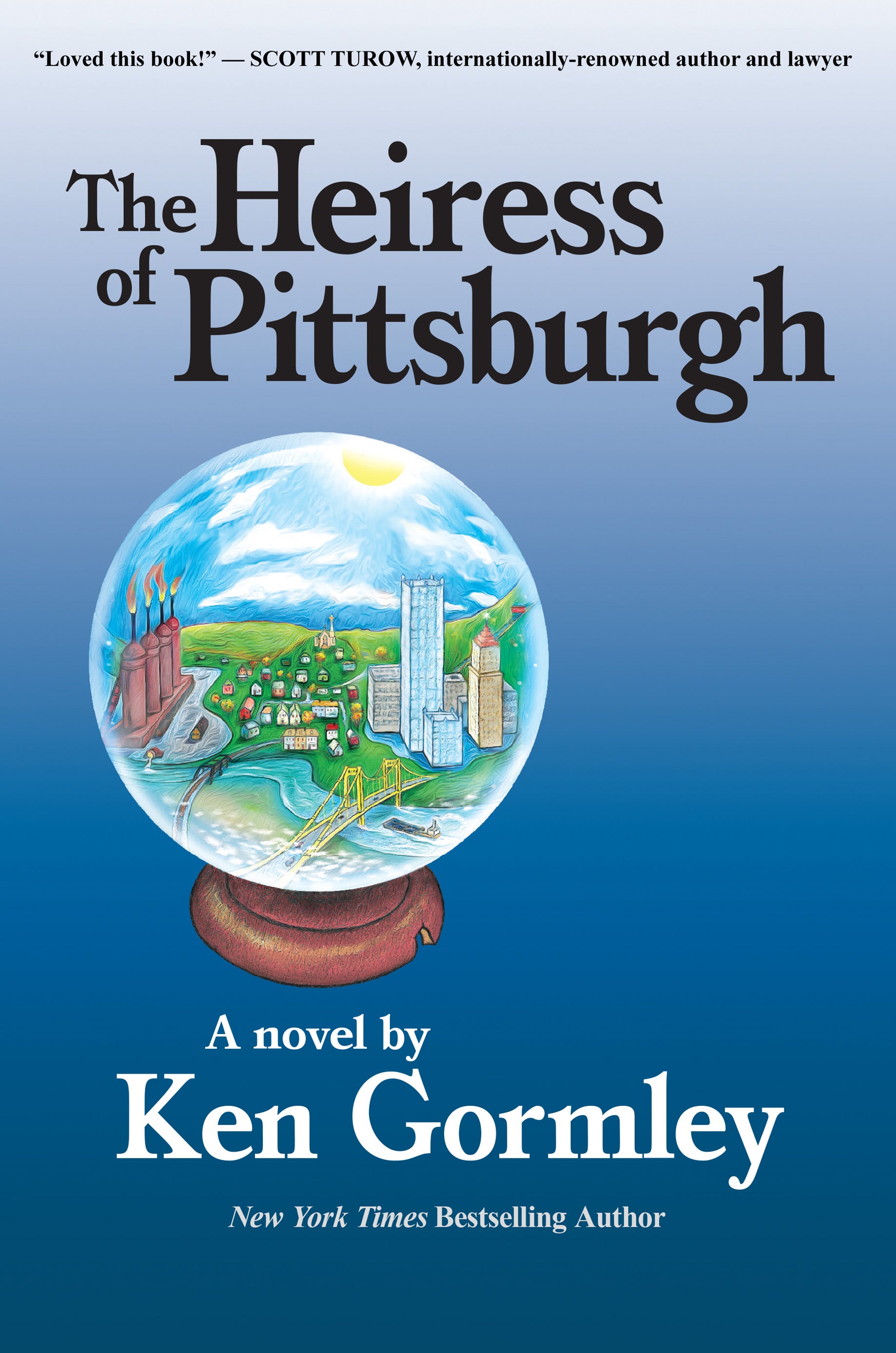 "The Heiress of Pittsburgh" is the university president's first published novel, written over years in the scant free time amid his busy professional life. He says he would frequently pull out his legal pad and scribble away while traveling on cross-country or international business trips. Once, he even used a donation envelope to jot down some thoughts that came to him during mass in his Catholic church. And when he had the time, he'd write in his attic and later in his office, built over the garage in his suburban Pittsburgh home.
"There's something very soothing to me about just sitting in a chair with a pen and just scribbling thoughts," he says. "For me, it's as much fun as going to the movies, to be inventing this stuff."
There are several Panther paw prints on his novel. Cartoonist Matt Kambic (A&S '76), whom Gormley knew from home and worked with at the Pitt News, is the illustrator for the cover and for the map that lays out the geography of the story's setting. Jess Brallier (A&S '75), a former editor with the Pitt News and another Gormley friend, provided thoughts and advice along the way; the book club of Michelle Keane Domeisen (A&S '77, BUS '82G), Gormley's classmate and neighbor from Swissvale, read the book twice, providing invaluable feedback; an influential Pitt political science professor with whom Gormley once studied, William J. Keefe, has a minor character in the book named for him. And a laudatory blurb appears on the book's back cover from one of Gormley's Pitt writing professors and inspirations, author Lee Gutkind.
In addition to Gutkind, the novel has received plenty of praise, including from internationally renowned author and lawyer Scott Turow, who called it "a twisty, fulfilling legal thriller."
As for book sales — little has changed from Gormley's Orphans' Court days in the 1980s, when he opted to contribute to his community rather than go work for a high-powered law firm. All proceeds from "The Heiress of Pittsburgh," he says, will go toward a creative writing program at Duquesne to benefit the next generation of enthusiastic and inspired writers.
Sample the Story
Listen to an excerpt of "The Heiress of Pittsburgh" performed by the author himself. 
Cover image: Ken Gormley works on edits for his novel "The Heiress of Pittsburgh" at his home.