Brett Bankson's work as a PhD student in Pitt's Department of Psychology is highly analytical. To escape the nitty-gritty of academic research, he heads into the kitchen, where cooking serves as an exciting — and filling — distraction.
As it turns out, he has some serious culinary chops. In September, Bankson won BravoTV's "Top Chef Amateurs," a spinoff of the original "Top Chef" cooking competition. 
We asked him to share some of his best advice for home cooks of every level. 
On setting goals and expectations for home-cooked meals:
I think everyone at home, to a certain degree, asks themselves, "Is this as good as when I get it at a restaurant?" But that shouldn't be what home cooking is about. The only thing that matters is: Do I feel nourished by the food? Does the food give me pleasure? Those are the boxes we need to be ticking. 
Also, home cooking inherently must fit in the routines and lives of the people who are doing and experiencing it. It doesn't mean making everything from scratch; it only requires as much effort as you want to put into it.
On (not) following recipes:
Following recipes is hard. I'm very bad at following recipes. I wouldn't say there are no rules in the kitchen — it's good to learn from others' hard work — but if you want to change the recipe because you don't have a certain item, that's OK. I'm always looking for substitutions. And if the dish doesn't work, great, try cooking it differently another time.
Bankson's go-to cooking supplies and techniques:
I'm not saying everyone needs to go buy a mandolin, but shave your vegetables: Shave your celery, your kohlrabi, your jicama, everything, and you'll have thin, delicious little jewels of vegetables.
Also, microplanes: They are a great way to add flavor. Use microplanes for cheese, nutmeg — and especially citruses, which you should never be without. 
And stock your kitchen with high-quality essentials: Salt, oils and spices are a must, and make sure they aren't six years expired.
Foods worth coming back to:
I'm obsessed with beans. They're fun to cook and the broth you get from cooking your own beans is out of this world. They're just legumes, but there's nothing like them. There's no need for complex recipes: Let your food be itself.
One dish I've made a bunch is gnocchi alla Romana with a tomato soubise (a simple, onion-based sauce), but instead of using polenta, I use chickpea flour. It's a little bit creamier. Every time I make it, people are amazed, and I tell them, "You can make this, too." [Check out the recipe, below!]
On (not) enjoying cooking:
People don't have to enjoy cooking. Many people don't, and that's fine! Any way we can remove stress and fear from cooking and feeding ourselves and others is great. I don't want to yuck anyone's yum; if someone has a positive experience with some aspect of food or cooking, as long as it's not harming people or the environment, then hey, that's their yum. They deserve it.
Cook Like a Top Chef
Brett Bankson's Chickpea Gnocchi alla Romana with Smoky Tomato Soubise and Pickled Shallot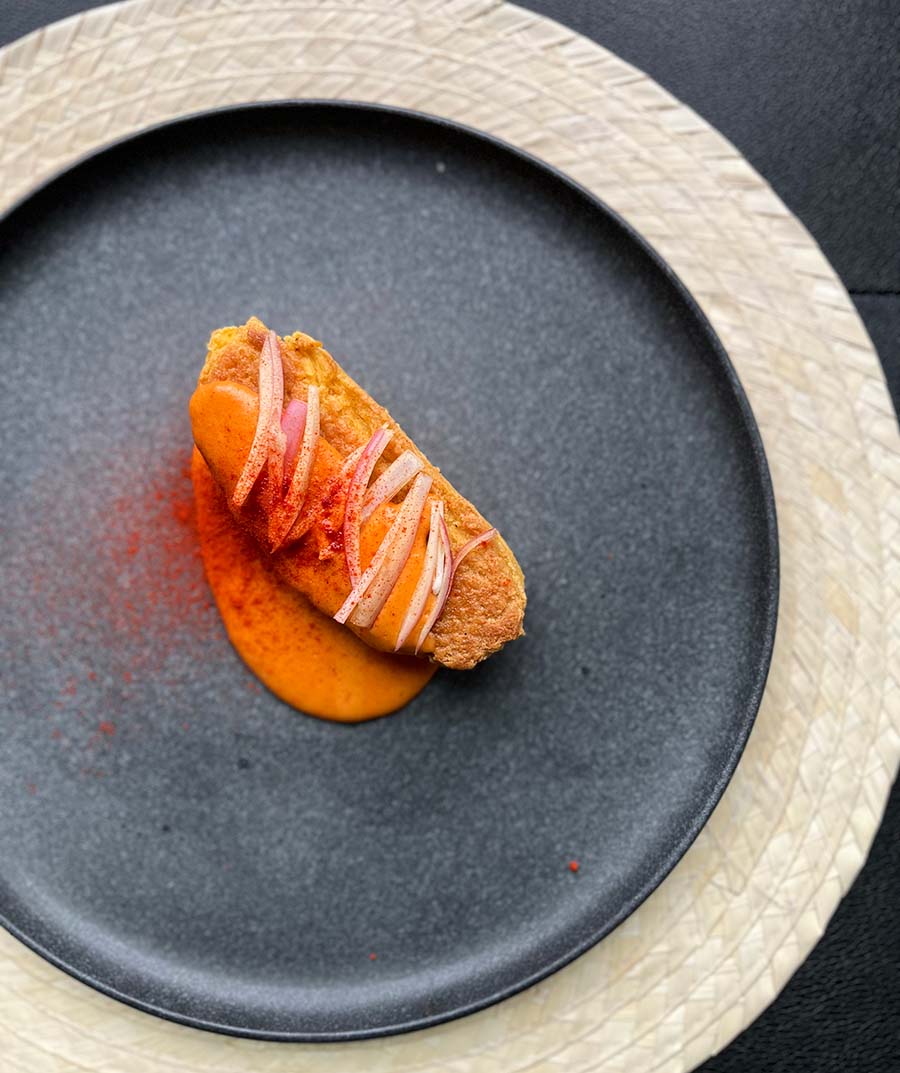 Serves 8 for a light main course
For the gnocchi:
6 cups water
8 tbsp olive oil
2 tsp kosher salt
Black pepper, to taste
3 cups chickpea flour
4 eggs, beaten
Make the batter: Bring water, olive oil, salt, and black pepper to boil. Slowly whisk in chickpea flour, lower heat to medium low, and whisk constantly for 10 minutes. Mixture will have small lumps throughout and will eventually coat bottom of the pan –– no worries! Remove from heat and transfer to mixing bowl. Allow to cool slightly while doing next step.
Temper the beaten eggs: drop 2 spoonfuls of chickpea batter into eggs and whisk.
Pour tempered egg mixture into mixing bowl with chickpea batter and whisk to incorporate. An immersion blender can be used at this point to remove lumps from the batter, but this is optional and will just yield a more silken texture.
Pour mixture into a greased sheet pan or baking dish and spread to a thickness of < 1 inch. Allow mixture to cool + set at room temperature or in refrigerator for at least 30 minutes.
For the pickled shallot:
1 shallot, thinly sliced
2 tsp apple cider vinegar
½ tsp kosher salt
½ tsp sugar
Combine shallot, vinegar, salt, and sugar. Let sit at room temp for at least 15 minutes.
For the caramelized tomato soubise:
3 cups milk
8 tbsp butter
4 tbsp all-purpose flour
4 cloves
4 allspice berries
1 tsp ground white pepper
4 tbsp butter
2 white onions, diced
1 tbsp canola oil
5 tbsp tomato paste
2 tsp smoked paprika
1 tsp nutmeg (ideally freshly shaved)
Make béchamel: Heat milk in saucepan until steaming. Melt 4 tbsp butter in non-stick or enamel sauté pan over medium heat. When melted, pour in flour while whisking and cook for approximately 3 minutes until roux has taken on some sandy brown color, is bubbling, and is no longer as chunky as when flour was first poured in.
Lower heat to medium low and gradually add heated milk: Slowly pour in about ¾ cup and whisk vigorously until fully incorporated to avoid lumps. Then, add about ½ cup milk at a time while whisking until all milk has been added and mixture has a loose consistency. Lower heat and add cloves, allspice, and white pepper. Stir occasionally for 15-20 minutes until sauce has thickened and reduced slightly. Transfer sauce to heatproof bowl and wipe skillet clean.
Melt onions: Heat remaining 4 tbsp butter over medium low heat and add diced onions when melted. Cook onions over medium low heat, avoiding browning, for about 30 minutes or until translucent and just beginning to caramelize. Purée onions until very smooth in food processor or with immersion blender.
Add onions to bowl of béchamel sauce.
Add aromatics to soubise: Wipe skillet clean again and heat canola oil over medium heat. Add 4 tbsp tomato paste and stir constantly as paste begins to sputter and take on color. After about 3 minutes or when tomato paste has darkened in color (without burning), lower heat to medium low and add onion + cream mixture.
Whisk loosely to incorporate all 3 components and add smoked paprika, nutmeg, and last tbsp of tomato paste. Let mixture heat together, and salt to taste.
Remove from heat and pour mixture over fine mesh strainer set over a heat proof bowl. Force mixture through strainer with a spatula.
Set aside sauce until gnocchi are baked.
Final assembly:
Preheat oven to 400 F.
Cut chickpea batter into rectangles approximately 1.5"x3". Transfer to greased baking sheet or dish. Bake for 25 minutes, rotating tray halfway through. If desired, the gnocchi can be set under the broiler for several minutes after baking for additional crisp (ovens vary in broiling capability so just keep your eye on them!).
Meanwhile, heat tomato soubise. To assemble, transfer 2 gnocchi to each plate. Spoon soubise over the length of each gnocchi. Arrange a scant amount of shallot over top of each gnocchi and sprinkle smoked paprika over each gnocchi.
Enjoy!
Cover image: Brett Bankson, right, with his "Top Chef Amateurs" mentor, Stephanie Cmar. 
This story was posted on January 5, 2022. It is from Pitt Magazine's Winter '21-'22 issue, which will be mailed in January 2022.