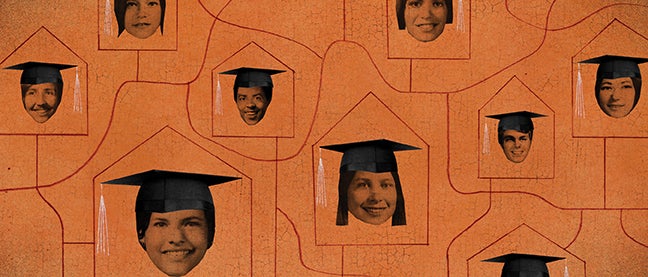 Chancellor Patrick Gallagher looks into the camera and smiles.
"I'd now like to ask all of the Pitt degree candidates if you will stand," he says.
Oriana Garcia, wearing a white dress and a mortar board, rises to her feet. It's a Sunday morning, the day that was supposed to be the University of Pittsburgh's spring commencement ceremony. But instead of standing among her fellow graduates in the Petersen Events Center, she's in the living room of her family's home in Doylestown, Pa. Her family sits nearby while the chancellor joins them (along with thousands of other graduates and their families) live over the internet.
Garcia, who has just earned a degree in business, once had a clear picture in her mind of what it would be like to graduate from college—and it looked nothing like this. But the COVID-19 pandemic changed many of her expectations. In March, when the Pittsburgh campus closed for in-person learning, she had to adjust to the idea that she wouldn't be able to return to the classrooms that had once felt like home, nor would she be able to spend the final weeks of her senior year celebrating with friends. And commencement, she later learned, would have to be postponed until it is safe to hold. 
But Garcia rolled with the changes as best she could. She was happy to hear that the University would be holding a virtual celebration for the class of 2020. She knew it couldn't replace the in-person ceremony still to come, but it would give her and her family a social distance-friendly way to commemorate her accomplishments.
Garcia's mother, Mariella Pesantez, helped make the morning feel extra special, presenting her daughter with fresh flowers and a home-cooked breakfast. Her brother, Carlos (SCI '19), gave Garcia his old mortar board to wear. Then, they tuned in along with at least 8,000 others around the country and the world for the first online gathering of its kind in Pitt's history.
The program includes some traditional commencement elements, including brief speeches from University administrators and student representatives. But there is also a slideshow of memorable campus moments from the past four years set to the "Pitt Victory Song," and videos of congratulations from the University's deans and an array of notable Pitt friends and alumni including Mark Cuban (A&S '76) and Pennsylvania Governor Tom Wolf.  It is topped off with a nostalgic round of "Sweet Caroline" played by members of the Pitt Band.
Toward the celebration's end, Gallagher makes the request for degree candidates to stand. "It is my very great privilege," he says to the audience of family and loved ones gathered around the world, "to present to you right now, these makers of history, the University of Pittsburgh class of 2020. Congratulations!"
In Garcia's living room—and in countless other homes—cheers and applause punctuate the moment. 
"It's really special knowing that in hard times people want to be supportive of each other," she says when the presentation is over.
For her mother, the experience marked an important message she knows her daughter will carry with her. "It's the sense of being positive," Pesantez says, "even when things don't turn out the way they're expected, and being grateful."
Garcia may be unsure of exactly what the future holds but with her degree, the Pitt community and her family behind her, she's prepared to take it on. That is, after a little more celebrating and a champagne toast.
Watch the ceremony here:
This article appears in the Summer 2020 edition of Pitt Magazine.