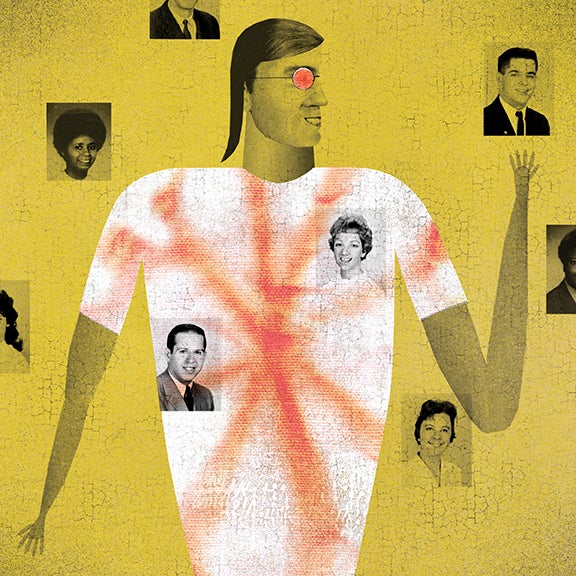 Time stands still between the pages of Kaye Andrews Huber's tidy scrapbook. The photographs preserved there, each tucked into white mounting corners, capture an era gone but far from forgotten—particularly today. 
Huber (UPB '68, A&S '70) is on the green campus of the University of Pittsburgh at Bradford, under the vaulted ceiling of a room in the Frame-Westerberg Commons. She's standing with one hand cradling the large scrapbook as her smiling former classmates cluster around to get a glimpse of the photos and the memories they hold.
"Cheerleading's start at Pitt at Brad," reads a neatly scrawled caption under one of the photos. "We bought sweaters + made skirts –8 of us."
The group has gathered for the first induction of members to the newly formed Pitt-Bradford Emeritus Alumni Society, an organization for graduates from 50 or more years ago. It's the first society of its kind at any of the regional campuses. And for the inductees, there's a lot to reminisce about.
These alumni are among the earliest students of Pitt-Bradford, which opened in 1963, initially as a two-year institution. Back then, the land that now makes up campus was an airfield. They attended classes in a building in the middle of town, and some lived in the old Emery Hotel, which had been converted into student housing. For young scholars like Huber and her friends, it was a time of excitement and invention as they watched the school grow up around them—and participated in its formation.
The idea for the society began when two early graduates, Frank (UPB '66, A&S '68) and Mary Margaret Cattoni (UPB '66, A&S '68, SCI '69G) Rizzo, endowed the 1960s Emeritus Alumni Scholarship Fund in 2013 to honor the campus's 50-year anniversary and the stellar education they received there.
"Frank and Mary wanted a way to rally 1960s alumni and get them involved with the Pitt-Bradford Alumni Association," says Lindsay Hilton Retchless (UPB '98, GSPIA '17), Pitt-Bradford director of alumni relations. She eventually pitched the idea of creating a special society, and the Rizzos were all in.
Frank led the charge to reunite as many '60s alumni as he could for the induction. He started a Facebook group where members swap old photos and memories of the good old days.
"I've loved reconnecting with people," he says. "I'm hearing stories that I didn't even know happened."
As some of the old crew reunite in person at the induction celebration, they laugh over stories about adhering to dining room dress codes, being tutored at professors' dining room tables, and hopping over the border to New York state, where the drinking age was 18. Surrounding them today is a campus vastly different than the one they first knew, and yet it's the same in many ways. It's still a welcoming, inventive and exciting place where students make memories to last for years.
The society plans to organize future reunions, support current students through its scholarship, and collect and preserve significant books, records and other ephemera, such as Huber's scrapbook.
"The Emeritus Alumni have their very own, distinct version of Pitt-Bradford," says Retchless. "These are the students who got this place started, and we want to make sure we preserve their stories."
This article appears in the Summer 2020 edition of Pitt Magazine.