Drumroll, please. This year, football fans will meet Crissy Shannon (A&S '20), the new head drum major for the University of Pittsburgh's Varsity Marching Band—and the first woman to hold the position in the band's 108-year history. A senior history and Russian major from Midland Park, N.J., she's performed with the band since she was a first-year student. Before she high-stepped into her role, Shannon spoke with Chancellor Patrick Gallagher.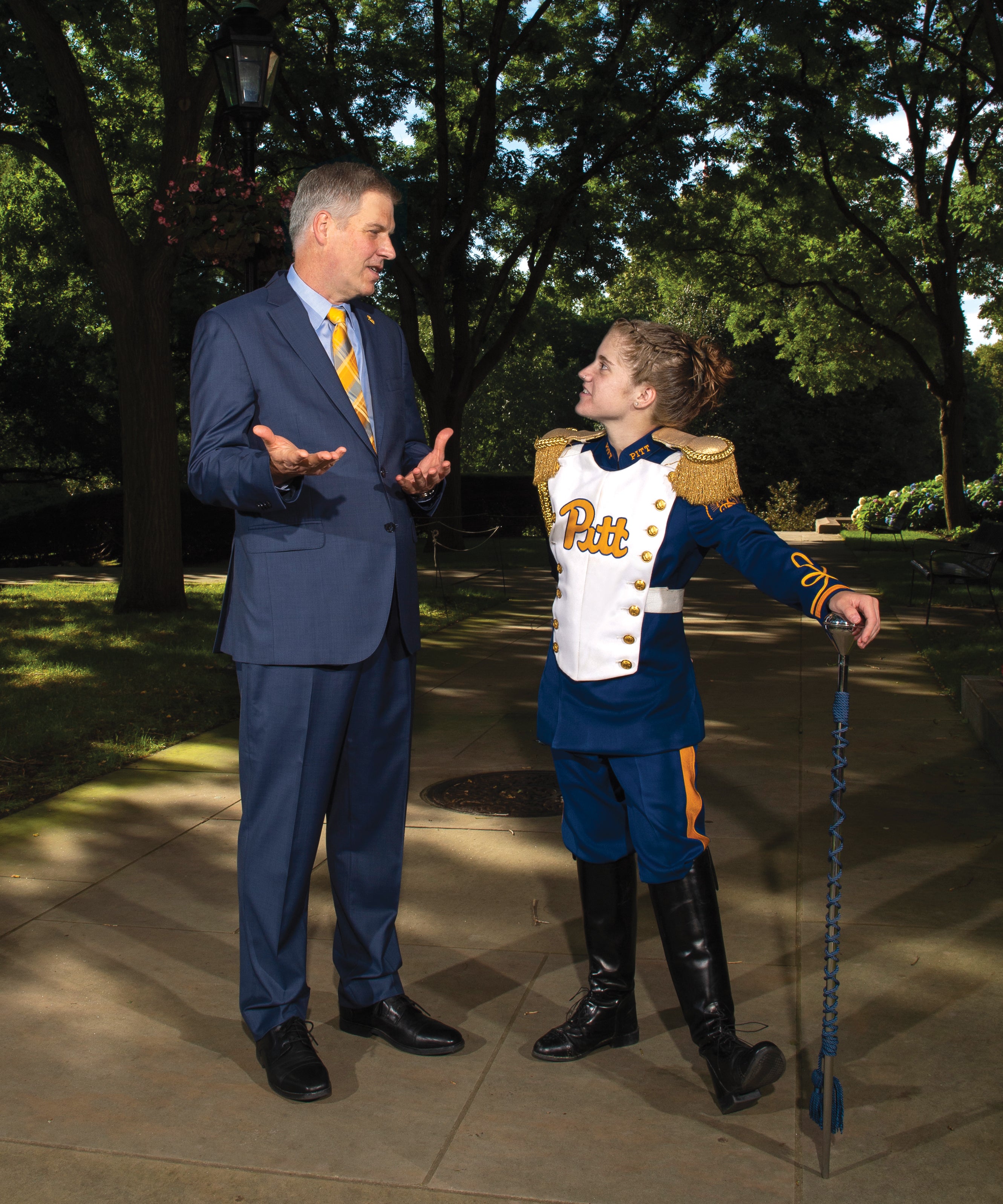 Gallagher: Congratulations! I'm curious: How did you discover marching band?
Shannon: I was in seventh grade, and I became interested in marching band because my sister was in it. For the first five years, I was a member of the color guard. I switched to mellophone for my senior year, which is when I also became the drum major. Joining the Pitt Band was the natural thing to do once I got to Pittsburgh.   
Gallagher: What motivated you to audition for head drum major?
Shannon: When I first saw Pitt's drum major perform pregame, I thought, "Oh, I want to do that!" I wanted to be a part of this exclusive line of drum majors who have done that same backbend for over a century, and to count myself as a part of such a unique tradition. I also felt I had the experience, skills, and insight to serve the band in the best possible way. The head drum major shares a lot of important responsibilities with the assistant drum majors, including teaching the band our marching technique, giving feedback in rehearsals, and keeping morale high.
Gallagher: How does it feel to be Pitt's first female head drum major?
Shannon: Really good! I think it's important to recognize that my earning this spot means just as much, if not more, to so many Pitt Band women, both past and present, as it does to me. Many women in the band have reached out to me to say how happy they are to finally see me in this role, so I feel a huge sense of responsibility to them and to prove there's nothing we can't do.
Gallagher: You've carved out your own spot in Pitt's history, clearly. What is one thing that, from your perspective, is quintessential Pitt?
Shannon: Without a doubt, the alma mater. It has so many wonderful lines about our University—especially in the extra verses, though we rarely sing them! It's a lovely symbol of the spirit of our University and of what brings us all together at Pitt: as sons and daughters of all "castes and classes, creeds and races," gathered as one at the knee of our "Dear old Pittsburgh, Alma Mater."
Gallagher: Let's talk game time. What can fans expect as you take on this new role? 
Shannon: Well, I'm pretty short. So, bring your binoculars! But the differences stop there, and we'll continue to energize and entertain fans—as always!
Cover image: Crissy Shannon
This article appeared in the Fall 2019 edition of Pitt Magazine.