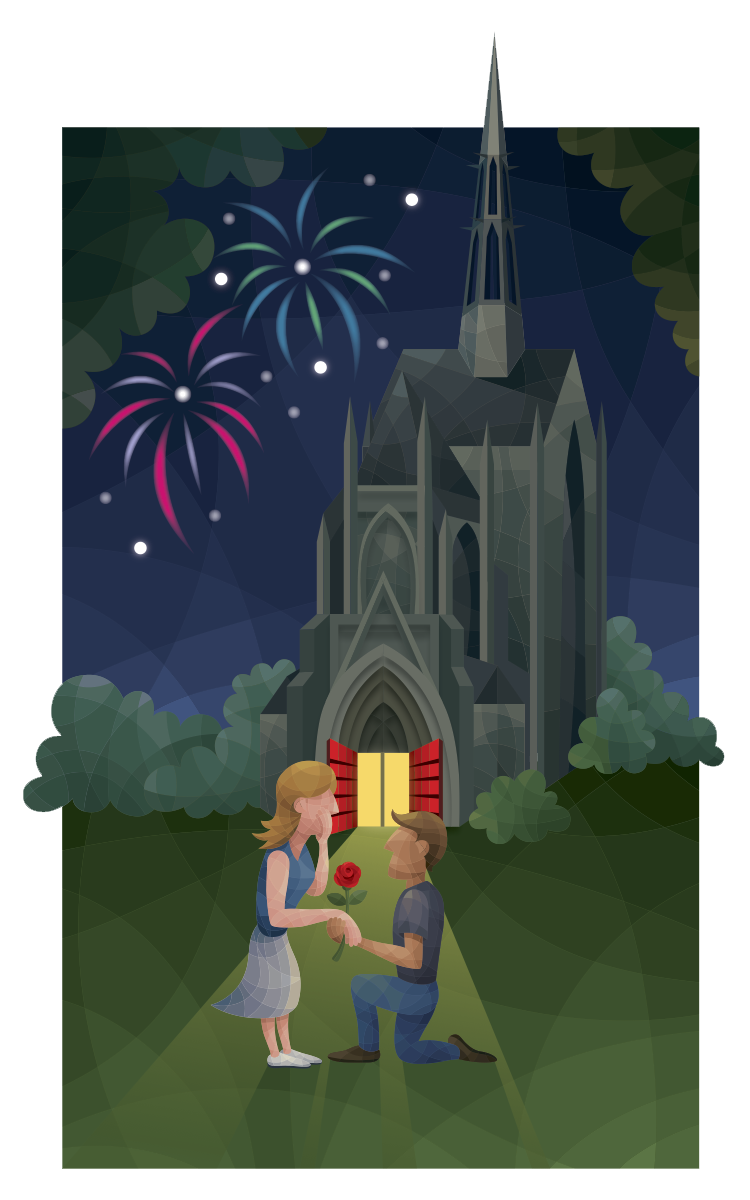 The Pitt alumnus has a plan. It is the Friday evening of Homecoming Week, and while waiting for the celebratory laser and fireworks show to begin, Harry Crytzer and his family stroll around the outside of the Cathedral of Learning. Reaching the flagpole, he points to Heinz Memorial Chapel, its open front doors spilling light across the darkened lawn. The chapel is open, he says casually to his wife, Theresa. Why don't we take a tour?
With their 12-year-old son, Toby, in tow, the Crytzers walk to the neo-Gothic landmark, where Theresa quickly discovers that they aren't really going to take a tour. Waved on by a greeter, Harry (CGS '94, '11) walks his wife down a side aisle to the chapel's main altar, where he procures a red rose, gets down on one knee, and promises "to take the garbage out and clean the basement as best as I can."
The Crytzers are one of dozens of couples to participate in I Do, I Do ... Again!  Held every Homecoming weekend, the event gives all couples—married or not—an informal opportunity to share their love and renew their dedication to each other. When Harry learned about this event, he knew he wanted to bring Theresa, his partner of 22 years.
"He kept it a secret that we were even coming here tonight!" says Theresa, a Pitt assistant professor in the Department of Rehabilitation Science and Technology. After snapping a photo together at the altar, the Crytzers walk down the center aisle, arm in arm, to the grand sounds of the organ. Their smiles are contagious.
 The occasion is a chance for alumni to reconnect with each other and a unique part of their alma mater, says Patricia Gibbons, Heinz Memorial Chapel director. Dedicated in 1938 and renowned for its architectural allure, the nondenominational sanctuary has played host to hundreds of weddings and countless concerts and events.
Along with the Crytzers, the evening's visitors include a couple that has attended the I Do, I Do celebration every year since it began in 2012, and another that is celebrating their 40th wedding anniversary. Though you don't need to have been married at Heinz to enjoy the event, several couples who were return, this time with their kids. Shannon Perry (A&S '93) and her husband, Mark, wed in the chapel in 1997.
"It's the only school I applied to," says Shannon, referring to Pitt. "I knew I wanted to be here; I knew I wanted to get married here," she remembers. "It was a dream."
After sharing a smooch at the altar, the Perrys head toward the chapel's front stairs to catch the laser and fireworks show in front of the Cathedral of Learning. Twenty years after their wedding, the couple has made a new memory—one of love renewed—in the place where their lives together officially started.
This article appeared in the Summer 2018 issue of Pitt Magazine.