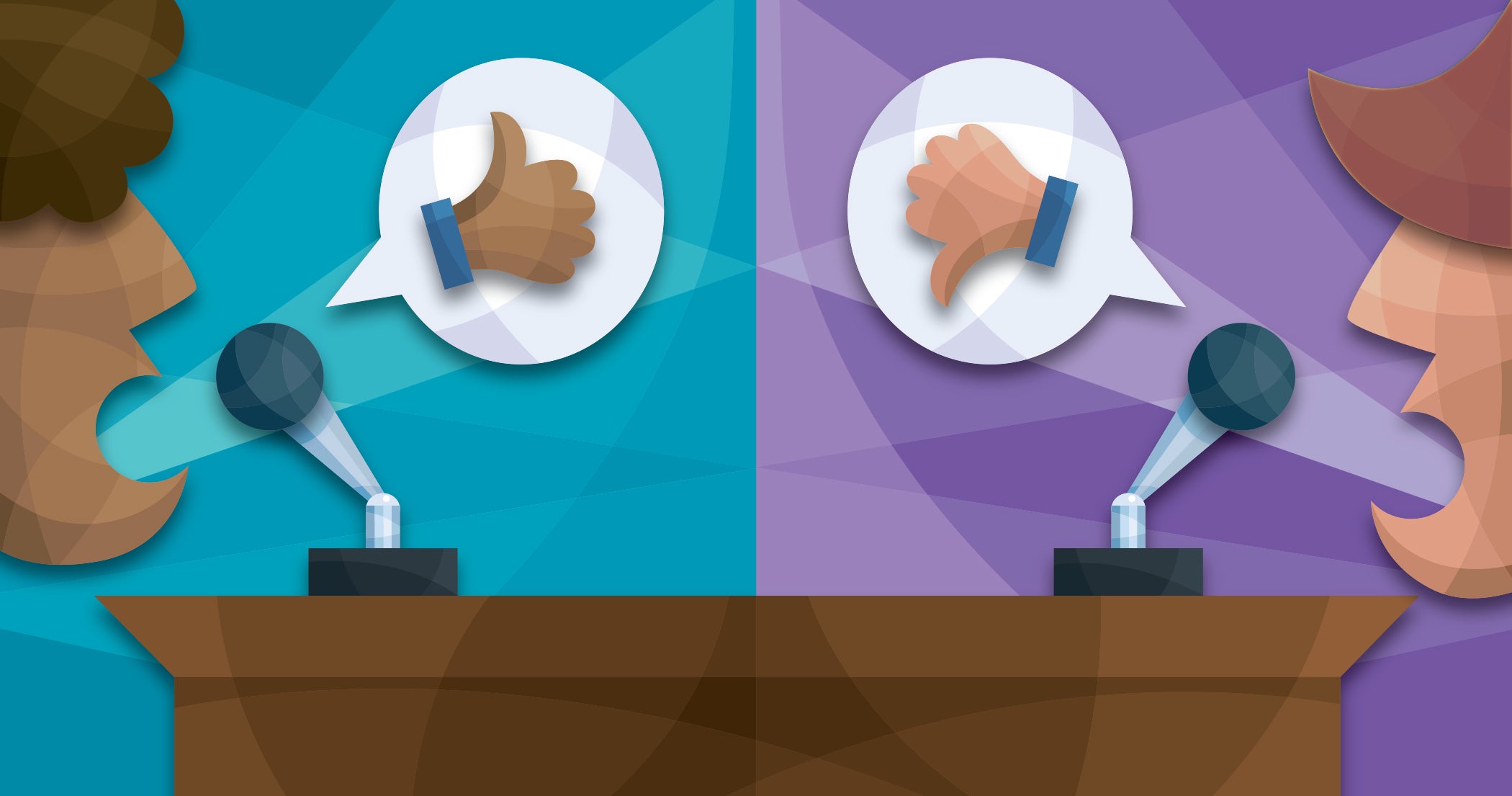 A nervous energy fills the room in the moments before the debate begins. There's a shuffling of papers as some participants conduct a quick, final review of their notes. Others welcome the distraction of friendly chatter. In just a few minutes, the Pittsburgh City Debate will kick off, matching members of the William Pitt Debating Union (WPDU) with top orators from Duquesne University for a spirited, thoughtfully crafted exchange.
The Pitt teammates have spent hours preparing for today's big showdown. They have dug through reams of research at Hillman Library and hammered out arguments in the group's "squad room" on the 11th floor of the Cathedral of Learning. By now, they have learned just about everything they can about the assigned topic: "Pennsylvania should lower its corporate tax rate." It's a tough, nuanced subject, but Pitt's debaters—who have been appointed to argue on the "against" side—are ready to take it on.
Even before the official argument begins, some Pitt debaters are already immersed in a good-natured dispute—but not on the topic listed in the program. Teammates and undergrads Izumi Presberry, Henry Ferolie, and Aaron Hill are jokingly arguing over which celebrity Presberry most resembles. Is it the star athlete or the famous recording artist? They banter back and forth, enjoying the mental gymnastics of debate even before they step to the podium.
They have an easy camaraderie that comes, in part, from the time they spend together preparing for and traveling to collegiate and community debates throughout the year. There are about 20 students in all who elect to participate in about 10 policy debating events at universities and conferences each year. Teammates, who are supported by graduate student assistant coaches, also initiate, plan, and participate in local public debates, tackling issues that are important to the Pittsburgh community.
The moderator calls the teams to the front of the room and Presberry, Ferolie, and Hill straighten up, their faces tensing with concentration. Game on.
By the end of the first round of argument, it's clear that the WPDU's enthusiasm and mastery of the subject can make even discussion of corporate tax rates engaging. Their argument is well organized and highly researched. After multiple back-and-forths and a 10-minute question-and-answer session with the student audience, the Pitt debaters are in good spirits—and rightfully so. The audience votes and the announcement is made: Pitt secures a City Debate victory for the second year in a row.
Winning is great, says Eric English, the WPDU's associate director and a lecturer in Pitt's communication department, but it isn't the primary incentive for many involved. It certainly wasn't his when he was a Pitt undergrad and WPDU member some 20 years ago.
"Debate is incredible," he says. "It motivates students to do all sorts of research and read all sorts of things that they might never come across in their classes." It also builds critical thinking skills, confidence, and friendships, adds English (A&S '01, '13G).
It's easy to see what he means as the teammates, grinning widely, congratulate each other on their victory. They pass around their trophy, which is destined for a place of honor back in the squad room where they will soon be preparing together for the next big debate.
This article appeared in the Summer 2018 issue of Pitt Magazine.