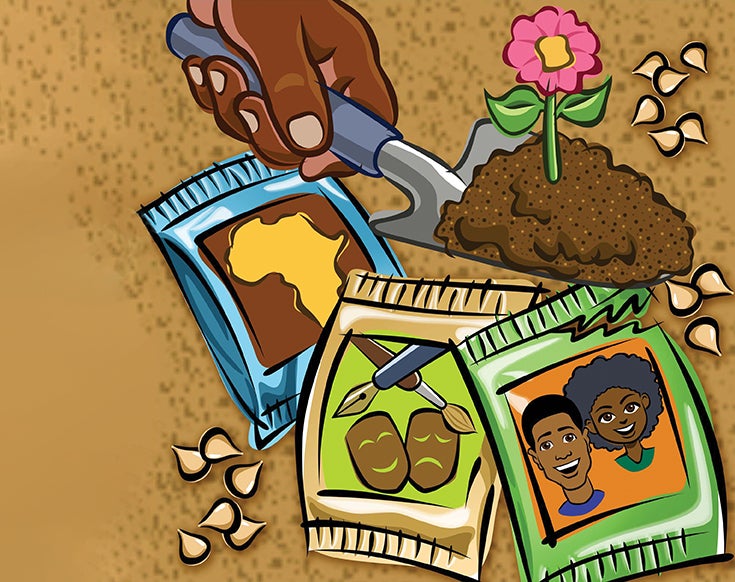 The girl is luminous, surrounded by a field of sunbathed purple flowers. Most of her braids are swept back in a blue headband, but one brushes her cheek as she looks away and out of frame. She wears a slight, almost distracted smile.
This is "Black Joy," a photograph by Dhael Monfiston, an artist and Pitt junior majoring in writing. It depicts her younger sister just days after the killing of George Floyd. She "is in middle school, an age where she is starting to question some of the complexities of life," Monfiston writes in an artist's statement. "It is important that we teach our younger generations to keep on fighting but also remember to take time for themselves."
The photograph is part of "Black Lives in Focus: The Exhibition," a special art exhibit that bloomed along the walkway between the Cathedral of Learning and Heinz Memorial Chapel for two weeks in September. The outdoor gallery featured 21 visual artists and 10 writers—all from Pitt or Southwestern Pennsylvania. Their work was reproduced on 8-foot-by-5-foot mesh canvases lining the popular thoroughfare.
The exhibit is just one component of a four-part University initiative launched in the fall to explore a central question: "What do we learn when Black life is in focus?"
"Black Lives in Focus is one way for Pitt to bolster diversity," says Bria Walker, an assistant professor in Pitt's Department of Theatre Arts. "Everyone who has come in contact with this initiative—just the sheer nature of it—has had to reflect on their own biases, what they know about the Black experience." 
But the project is also about self-empowerment, providing a platform not just to show that Black lives are valuable and multifaceted but also worthy of pride and honor.
Walker worked alongside Sylvia Rhor Samaniego, director and curator of the University Art Gallery, to develop the initiative.
The three other inaugural projects are the "Say Her Name Memorial Gown," a project that uses fashion to pay homage to Black women killed by police; "Black Built Pitt," a multimedia tour of historically important sites of Black history on the University's Pittsburgh campus; and the establishment of an online hub for related events and programs across the University. The Black Lives in Focus initiative was launched by the Office for Equity, Diversity and Inclusion with support from the Center for Creativity, the University Art Gallery, the Department of Theatre Arts and members of the University and Pittsburgh communities.
Isaiah Spencer-Williams, a graduate engineering student, visited the exhibit one sunny afternoon. He paused before each of the compositions until he reached a canvas emblazoned with a short poem—his poem.  It reads:    
"We learn that our history has given birth to our present future, and that our resilience will give birth to endless futures not yet imagined."
In addition to being a burgeoning engineer, Spencer-Williams is a spoken-word artist who uses poetry to meditate on the ways, he says, that "creativity will continue to be essential to survival" for Black people. He was thrilled when his work was selected for inclusion in "Black Lives in Focus: The Exhibition," which has been traveling to Pitt's regional campuses since its debut.
This initiative is "so cool," he says. "It's really genius to have all of these different and unique perspectives together because no one group will bring change."
At stake, he believes, is how to reimagine and build a society that is more just and fair, more respectful of how all lives find opportunity and creativity.
"Change will be collective," he says. "We must come from all walks of life to reach people."
For him, the exhibition is a reminder that a garden is most beautiful when all the flowers bloom.
This story was posted on January 12, 2022. It is from Pitt Magazine's Winter '21-'22 issue, which will be mailed in January 2022.