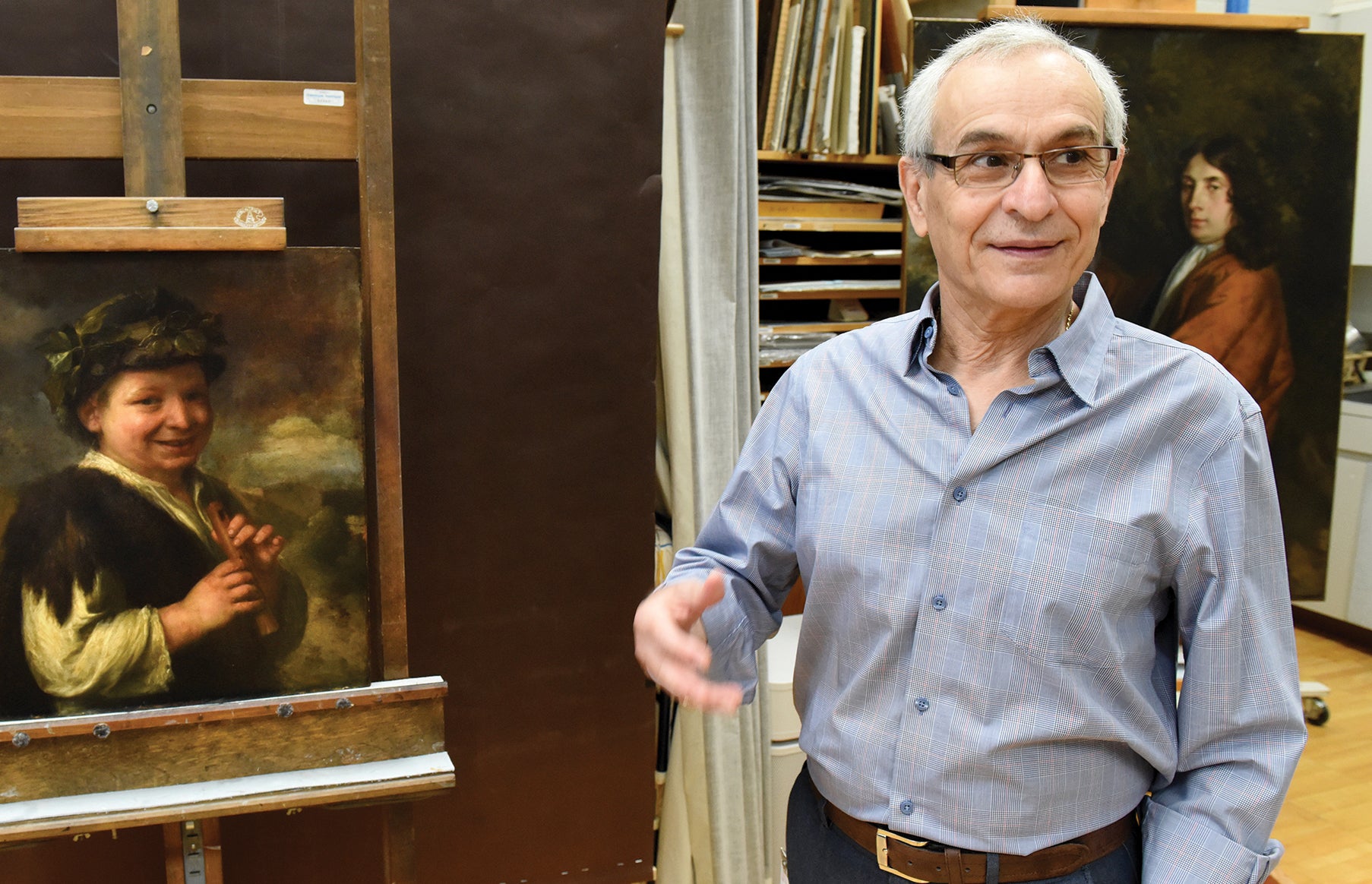 Miss Ann Day didn't look her best. Damage of unknown origin was splattered across her face, wide-brimmed hat, and hand muff, as well as the red curtain backdrop. The painting of Day, created by British portraitist Sir Joshua Reynolds in 1760 and later acquired by Pittsburgh's Carnegie Museum of Art, is considered a masterpiece. But as art researcher Costas Karakatsanis studied the piece, he could see that the years had taken a toll.
It would need to be restored. Yet the museum's conservation experts didn't know what had caused the portrait's damage, making their work more difficult. So Karakatsanis and colleagues decided to discover what had happened to Miss Day.
However, Karakatsanis (A&S '74, '78G) isn't formally trained in art history. The native of Cyprus studied chemistry at Pitt and worked in materials science at Bayer for three decades before retiring and volunteering at the museum. The curators at the Carnegie Museum of Art soon found that his inquisitive scientific mind and love for art made him an excellent archival researcher.
"Each painting has a history," he says.
While investigating on the Internet, Karakatsanis found a critical clue: a late 19th-century art catalog that mentioned the painting's encounters with fire and attempted restoration. These newfound details—and those he's unearthed relating to other artworks—have helped museum staff make informed restoration choices.
Karakatsanis's sleuthing skills have led him beyond the purview of any volunteer before him. He has cocurated two separate exhibitions at the museum involving art he investigated. The most recent, Created, Collected, Conserved, reunited Miss Day with six of the museum's other paintings that had once belonged to one of Britain's most prominent art collections—a hidden connection Karakatsanis's dogged research helped reveal.
This article appeared in the Fall 2019 edition of Pitt Magazine.