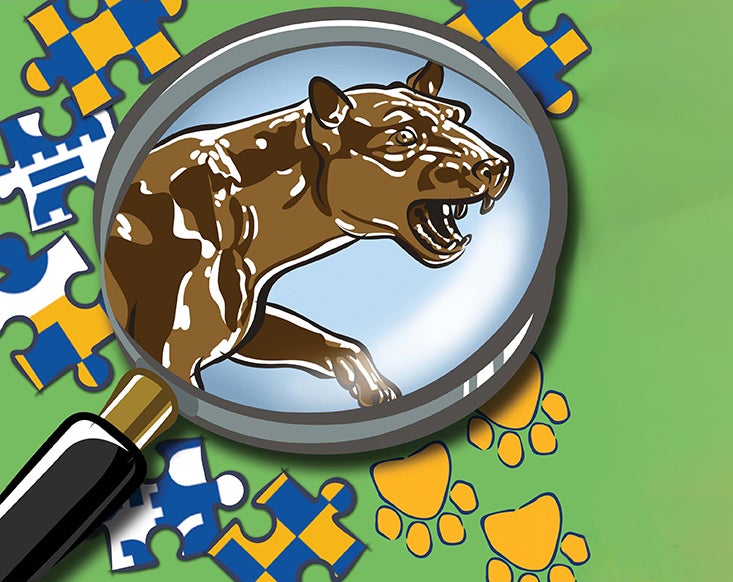 At first, the clue doesn't ring any bells.
"A kiss on these steps means you're destined to be together."
Kissing? ... Steps?
Anusri "Nush" Nagalla is drawing a blank. The Pitt senior doesn't think she's heard of any place on campus that has to do with kissing and steps.
She feels a little anxious. This is the scavenger hunt's first clue, and she already needs a little guidance.
No worries. Sharon You is here to help. As vice president of traditions for the Blue and Gold Society student organization, You knows that some Pitt students are unfamiliar with some of the University's most beloved traditions, especially amid the disconnect caused by the pandemic. That's why she knew the event in September would be more than just fun—it would also be a good opportunity to get people up to speed.
The Pitt Alumni Association's Traditions Scavenger Hunt, held on the Thursday of Homecoming week, is an interactive way for students to explore campus and get in touch with its deep-rooted heritage.
Nagalla, a political science and communications double major, is excited to participate. Earlier in the afternoon, she wrapped up a class and trekked over to Alumni Hall, where members of the Blue and Gold Society, including You, were waiting in the lobby to give scavenger hunters the rules of the game: Follow the clues written on sandwich boards around campus and send a picture of yourself at each destination to the Pitt Alumni Student Network.
When Nagalla asks for a hint, You points her across Fifth Avenue toward Heinz Memorial Chapel. There, Nagalla learns that, according to legend, couples who kiss on the steps of the sanctuary are destined to host their wedding there. She snaps a quick selfie.
The next clue opens her eyes to the ODK Walkway, a part of campus history she's walked hundreds of times. The stone path that leads to the Cathedral of Learning honors Pitt members of Omicron Delta Kappa, one of the first honor societies of national scope on campus. She takes another photo for the Pitt Alumni Student Network.
Nagalla knows the answer to the next clue right away. Where are the victory lights? Glowing at the top of the Cathedral after every football or sports championship win.
Now she's on a roll. The name of the street where music festivals are held and the game day shuttle service begins? Bigelow Boulevard, of course. It's her favorite place—representing a crossroads of her academic and personal lives at Pitt. In the Cathedral nearby, Nagalla's taken a class in the Polish Nationality Classroom and pet therapy dogs in the Commons Room. On the street itself, she was awed by Homecoming laser and fireworks shows her first and second years.
She takes a selfie here, too—but this one is mostly for herself.
Next up, the nose you rub for luck. She heads to the panther statue in mid-prowl outside the William Pitt Union. She gives Roc's snout a pat in hopes of good fortune on an upcoming exam.
Nagalla plans to be in law school this time next year. Her time as a Pitt undergraduate is quickly drawing to a close. But when she finally makes it back to Alumni Hall at the end of the scavenger hunt, she's feeling a new and deeper sense of closeness to her alma mater, just as You and her fellow Blue and Gold Society members had hoped.
Nagalla learned about Pitt's treasured traditions. But—even better—she discovered her own role in the living history of the University she loves.
This story was posted on January 12, 2022. It is from Pitt Magazine's Winter '21-'22 issue, which will be mailed in January 2022.