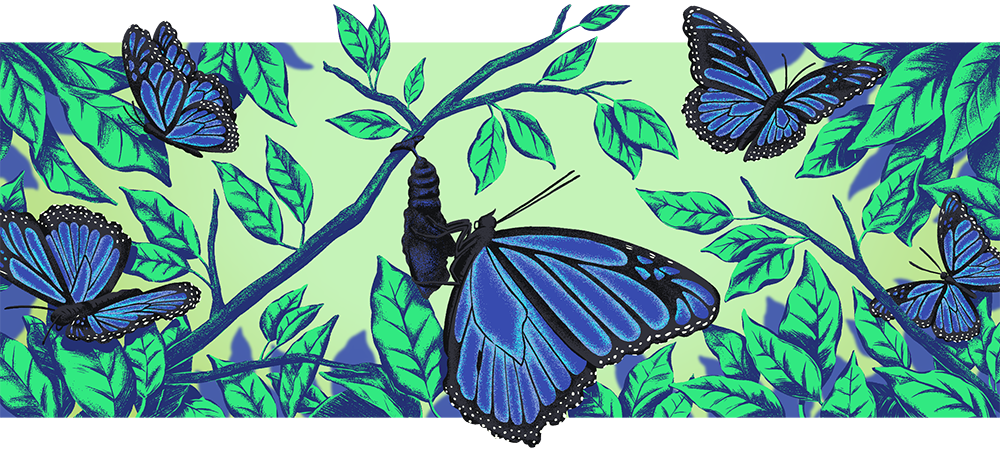 The big blue cart is piled with books, clothing and dorm room décor. As Danielle Obisie-Orlu wheels it into her residence hall in Bouquet Gardens, it's already clear that life on campus will be different this semester. Everyone she passes wears blue-and-gold face coverings. Little buckets of cleaning supplies wait outside each unit for post-move  wipe-downs. Even the cart she pushes was carefully disinfected before she even touched it.
But Obisie-Orlu doesn't find the changes surprising. Instead, observing her peers' responsible efforts, she beams with pride.
That's because the sophomore, who is president of the Resident Student Association and a political science and international and area studies double major, is one of a group of Pitt students who spent part of the summer assisting University officials to plan for fall term amid the pandemic. She was a member of Provost and Senior Vice Chancellor Ann E. Cudd's Reimagining Education Task Force. The task force was broken into working groups consisting of faculty, experts, staff and students.
"I wanted to be involved," Obisie-Orlu says. "I wanted to make the residence halls a place where students feel cared for. I think the collegiate experience is important, and it was important to create an environment where we can thrive."
While students contributed to planning efforts in many different ways, Obisie-Orlu helped to create the Pitt Community Compact. The pledge articulates a shared commitment to care for each other and to be conscientious about handwashing, face coverings, physical distancing and other measures.
Working with students from across the University and Vice Provost and Dean of Students Kenyon Bonner, she helped to craft the themes and specific actions of accountability that make up the compact. All members of the University community were asked to read and commit to the compact's ideals of safety and personal responsibility.
South Oakland is not just students, she says. "There are families, faculty and staff here. We had to do what we could to make it safe for everyone."
A number of other safety and precautionary measures were put into place to help start the year off right. Students living on campus were asked to shelter in place for seven days prior to arrival and seven days after move-in. Most classes started remotely. Face coverings are required and parties are a no-go.
Much has changed in the effort to keep everyone healthy, but much has also remained the same, including the student body's communal spirit.
Malena Hirsch, president of Pitt's Graduate and Professional Student Government and a member of the working group that crafted the Community Compact, says she believes most students want to build a strong culture of community, tapping into the same sense of togetherness that's emerged during other challenging times on campus.
"We're all in this together," she says.
This article appears in the Fall 2020 edition of Pitt Magazine.