Who could blame John Gismondi—one of Pittsburgh's most successful trial attorneys—if, on this 2019 summer day, the Pitt alumnus spent his time preparing for his next important case or enjoying time with his wife, Lisa, and their three children?
Yet, neither he nor Lisa are thinking of work or leisure on this day. They are thinking about the families of Homewood, a predominantly African American Pittsburgh neighborhood that has long struggled with high unemployment, abandoned homes and gang violence.
The Gismondis, who run The Gismondi Family Foundation, want to help children there through education, so they can pursue whatever dreams they wish. That's why the couple is in Homewood at Pitt's Community Engagement Center (CEC), which is part of Neighborhood Commitments, Pitt's effort to help Pittsburgh's underserved communities through long-term assurances of investment, infrastructure, programming and staffing.
Months of effort by the Gismondis, Pitt and the community have resulted in the creation of PittEnrich—a multi-pronged program to improve educational outcomes for the community's elementary school children. The plan, laid out to the Gismondis on this day, offers 90 hours a week of in-school tutoring in math and English provided by Pitt students. It also welcomes students and their families to Homewood's CEC on Saturdays for tutoring, mentoring and enrichment activities.
PittEnrich involves Pitt's Schools of Education and Social Work, as well as other University offices, plus local elementary school principals, community nonprofit leaders and—most importantly—Homewood residents.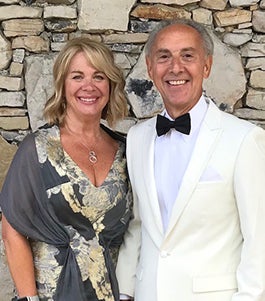 The PittEnrich program, funded by a grant of $325,000, fits well with The Gismondi Family Foundation's priorities. "Lisa and I have a strong interest in supporting the basic necessities for local residents, things such as food, shelter, clothing, health care and education."
The program, formally launched in early 2020, is aimed at leveling the playing field for disadvantaged youth.
"Many of these children are starting a 100-yard dash 40 yards behind their competition simply because they lack the early age skills in math and reading," says Gismondi (A&S '75, LAW '78). "We hope this program helps them to narrow that gap."
Students in Homewood could use that boost. In 2018, 76% of elementary school students scored below proficiency for reading and 88% were below proficiency in math. Those numbers are evidence of a web of systemic problems, including lack of funding and resources—not a lack of care or effort on the part of the neighborhood's families.
In addition to PittEnrich, The Gismondi Family Foundation has made many other gifts to support families and students, including a safety van for UPMC Children's Hospital; an endowment with Catholic Charities for a Christmas program for needy families; a renovation of Gismondi's high school library; an endowment with Pittsburgh CLO for high school musical theater programs; and an endowment to fund public service jobs for Pitt law students.
Gismondi, who grew up in Uniontown, says neither of his parents attended college, but he found his way to success through family support and because he learned how to harness the power of education. That privilege is what he and Lisa are hoping to pass along to Homewood youth by stepping up to help.
When the COVID-19 pandemic struck, "step up" is exactly what The Gismondi Family Foundation did. Almost immediately after Pittsburgh's schools went online, they responded with a donation to purchase 150 computers for families in the Homewood area.
"The laptop has truly been a blessing to my daughter Sacara," says Kimberly Dixon, mother of a Homewood student, who notes that she had been worried about ensuring that her child kept pace with her classmates.
Additionally, the Gismondis contacted UPMC and set up a hardship fund to help hourly rate employees pay for unanticipated childcare costs so that critical health care workers could continue to report to work.
The ties between the Gismondi family and the University trace back decades. After Gismondi earned two Pitt degrees, his early success in the courtroom prompted the School of Law to make him one of the school's youngest adjunct professors. He is now in his 35th year of teaching Trial Advocacy. About 15 years ago, he designed and endowed a broad curriculum of courses designed to train the courtroom lawyers of tomorrow. He continues to oversee the course content and select the instructors who serve in the John P. Gismondi Civil Litigation Certificate Program at Pitt Law.
"One of the great traditions in the law is mentoring law students or young lawyers, and I thought it would be useful, and unique, if Pitt Law could offer a specialized training curriculum for aspiring courtroom lawyers," he says.
The family's generosity to Pitt has also reached beyond academics. They recently made a gift in support of Victory Heights, a facility upgrade program that will make Pitt more competitive in the Atlantic Coast Conference. Whether it's assisting Pitt in advancing its broad mission or coming to the aid of the community at large, the Gismondis, through The Gismondi Family Foundation, are motivated to give back.
"We get a lot of satisfaction out of helping those in need," Lisa says, "and if that motivates others to lend a hand, that's even better."
Gifts: Boxed
Gifts of any amount to Pitt show appreciation for a life-long relationship with the University while supporting students today and into the future.
"Merit scholarships usually go to those with the best grades," says Anthony Delitto. "However, there are students who must work to pay tuition, and don't always have the study time to get the highest grades. We admire those students who have that determination and persistence to overcome obstacles." To support such scholars in the School of Health and Rehabilitation Sciences, he and his wife, Ronna S. Delitto, both faculty members in the school, have created the Physical Therapy Scholarship Fund for Persistence and Determination with a $100,000 gift.
The estate of Judith A. Bancroft (NURS '61) created the Judy Bancroft Undergraduate Nursing Scholarship Endowment. Proceeds from the $100,000 fund will provide support for tuition and other education-related expenses for one undergraduate student in the School of Nursing who has financial need. "Judy always valued her degree from Pitt and believed it was the foundation of her future success," says Patty Hale, former student, longtime friend and manager of the Bancroft estate. "She believed that all registered nurses should attain a bachelor's degree for entry into practice and would be pleased to know she's helping a worthy student become a quality caregiver."
This article appears in the Fall 2020 edition of Pitt Magazine.