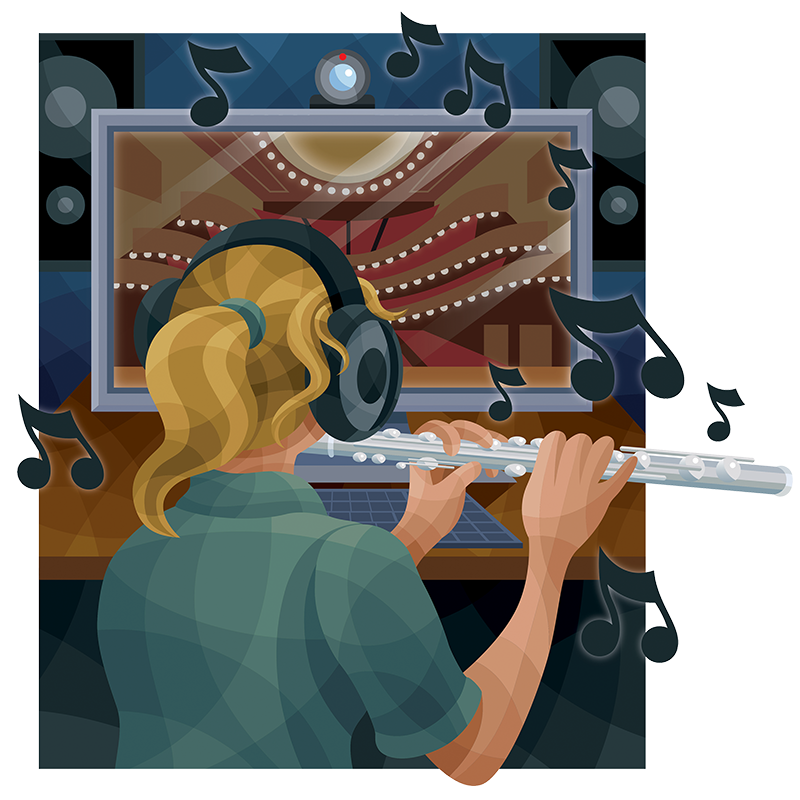 Her instrument is primed. The sheet music is laid out before her. Karinna Martin brings her flute to her lips, ready to play the traditional Christian hymn "Veni Creator Spiritus" with the rest of the University of Pittsburgh Symphony Orchestra. But she isn't in a concert hall or even a practice room. The sophomore engineering major is alone in her bedroom in Panther Hall. She's closed her door to avoid disturbing her suitemate. The Wednesday evening practice sessions can get loud.
Although there are no live concerts scheduled due to COVID-19 restrictions, Martin still has a reason to practice. So do the other 44 orchestra members who will join her via Zoom, instead of where they performed in pre-pandemic times—the rehearsal rooms in Bellefield Hall or the Music Building. In this new normal, the musicians practice wherever they are: residence halls, apartment buildings, living rooms and even campus lawns.
Technology brings them together, but making music virtually isn't without challenges. The orchestra players (students joined by some faculty and alumni) can see Martin press her flute's keys on the Zoom call, but they can't hear her performance. For good reason. A video call with 45 people tooting, honking, strumming and drumming at one time would be chaotic. Audio distortion and lagging video would sabotage any digital performance. So, the musicians wear headphones to listen to a recording of the music, and they play their parts to a muted Zoom screen, all while recording their individual performances.
Roger Zahab, orchestra conductor and senior lecturer in the Department of Music, directs the performers in silence. The challenge makes him as much magician as musician. He and a team of sound engineers will eventually weave each part into a cohesive video that showcases the orchestra's work. That's no easy task, especially with the ambitious pieces he's planning for the orchestra this year. He doesn't want COVID-19 to rob the musicians, mostly non-music majors devoted to the joy of music, of "the experiences of playing works that are important and instructive."
For Martin and others, sharing individual recordings for a collective video performance spurs a different kind of stage fright. Unlike during live performances, where the noise of the instruments blends together, the separate recordings make it easy to spot mistakes.
Martin is one of the orchestra's three flutists, but she is the only flutist playing her part in three of the four pieces. It's a responsibility she doesn't take lightly as she spends her spare time playing her sections over and over, recording herself and listening to the playback, striving for excellence.
It's Martin's second year in the Pitt orchestra. Last year, it served as a welcomed creative break from her classwork. Now, in a world filled with the pandemic's social restrictions, she says the activity has given her some sense of normalcy. That's because she knows that, even as she plays her flute alone in her residence hall, she and the other musicians are still finding a way to make music together.
This article appears in the Spring 2021 edition of Pitt Magazine.