Even in his mid-50s, Louis Fox showed no signs of slowing down. He worked hard as a successful precious metals trader and merchant banker, and he played hard as an avid pilot and competitive sailor.
One day, though, he noticed his vision wasn't as sharp as it had been. Maybe it's time to get glasses, he thought. So he met with an ophthalmologist, who gave him some unexpected news.
"The doctor said I had basically experienced a stroke in my right eye," Fox remembers today, almost 20 years later. "I asked how he was going to fix it, and the answer was, 'You can't.'"
Fox had suffered a central retinal vein occlusion (CRVO)—a blockage in the vein leading away from the eye. In most cases, the condition gradually leads to blindness. The diagnosis was shocking, but Fox doesn't accept bad news without hunting for solutions. Throughout his life, he's always found ways to overcome obstacles, both personal and professional.
"As a trader you have to adjust quickly. There should always be a way to accomplish what you want," he says.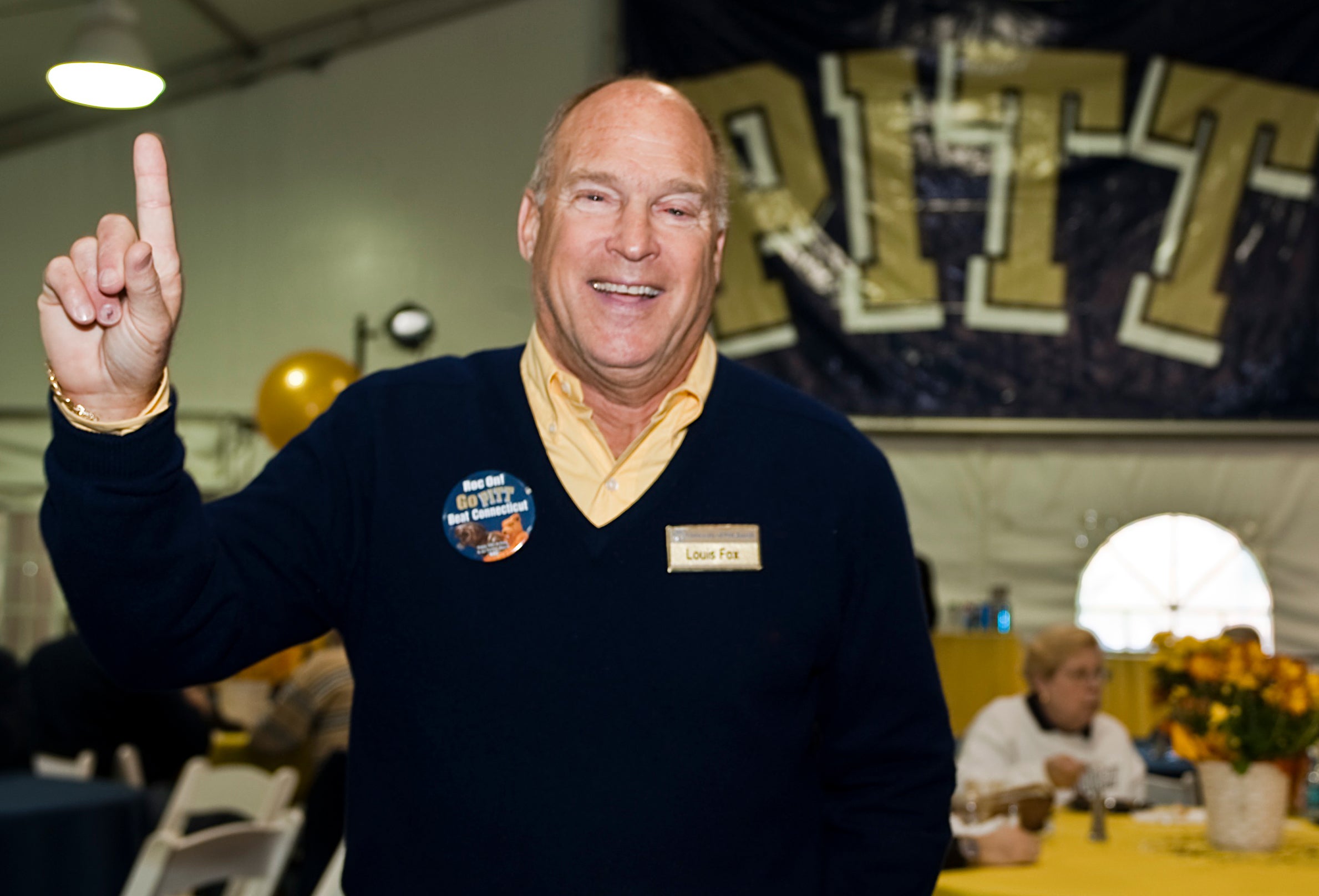 But he received more devastating news just two years later—another CRVO, this time in his left eye.
"It was three days before my daughter's wedding, and I remember thinking, 'My God, I won't be able to see my daughter get married!'" he recalls. "Of course, I didn't lose my sight that quickly, but it was the first thing that went through my mind."
Fox (A&S '64), determined to restore his vision, underwent some experimental treatments, but improvements were either temporary or nonexistent. Then, one morning while his wife, Dorothy, was watching television, a news story flashed onto the screen, highlighting the University of Pittsburgh's work in regenerative medicine.
"Louis! Come see what your alma mater is doing!" she shouted to her husband.
As they watched, they learned about how Pitt researchers are exploring novel ways to treat diseases and injuries by manipulating human cells and tissues to regrow or repair themselves. They immediately comprehended the work's promise.
Fox soon traveled to Pittsburgh from his home in Connecticut to learn more. He met with Pitt researchers and was inspired by their ambitions to advance the possibilities of regenerative medicine, particularly toward treating vision problems. To help accelerate those efforts, the Foxes made a $3 million gift to create the Louis J. Fox Center for Vision Restoration of UPMC and the University of Pittsburgh.
The center supports research within Pitt's Department of Ophthalmology and the McGowan Institute for Regenerative Medicine.  Although current work isn't directly tackling the vision problems that challenge Fox, the center's primary focus on optic nerve regeneration could change the way degenerative eye diseases are treated, potentially helping him—and millions of others—in the future.
"When I made the gift, I said, 'This is to develop the field for the benefit of everyone,'" he recalls.
José-Alain Sahel is appreciative. "When I met Louis, I was very impressed with his enthusiasm for our research," says Sahel, who is chair of Pitt's Department of Ophthalmology, director of the UPMC Eye Center, and a renowned expert in vision restoration. "Without question, Louis is dedicated beyond his philanthropy to make big things happen for people with vision loss."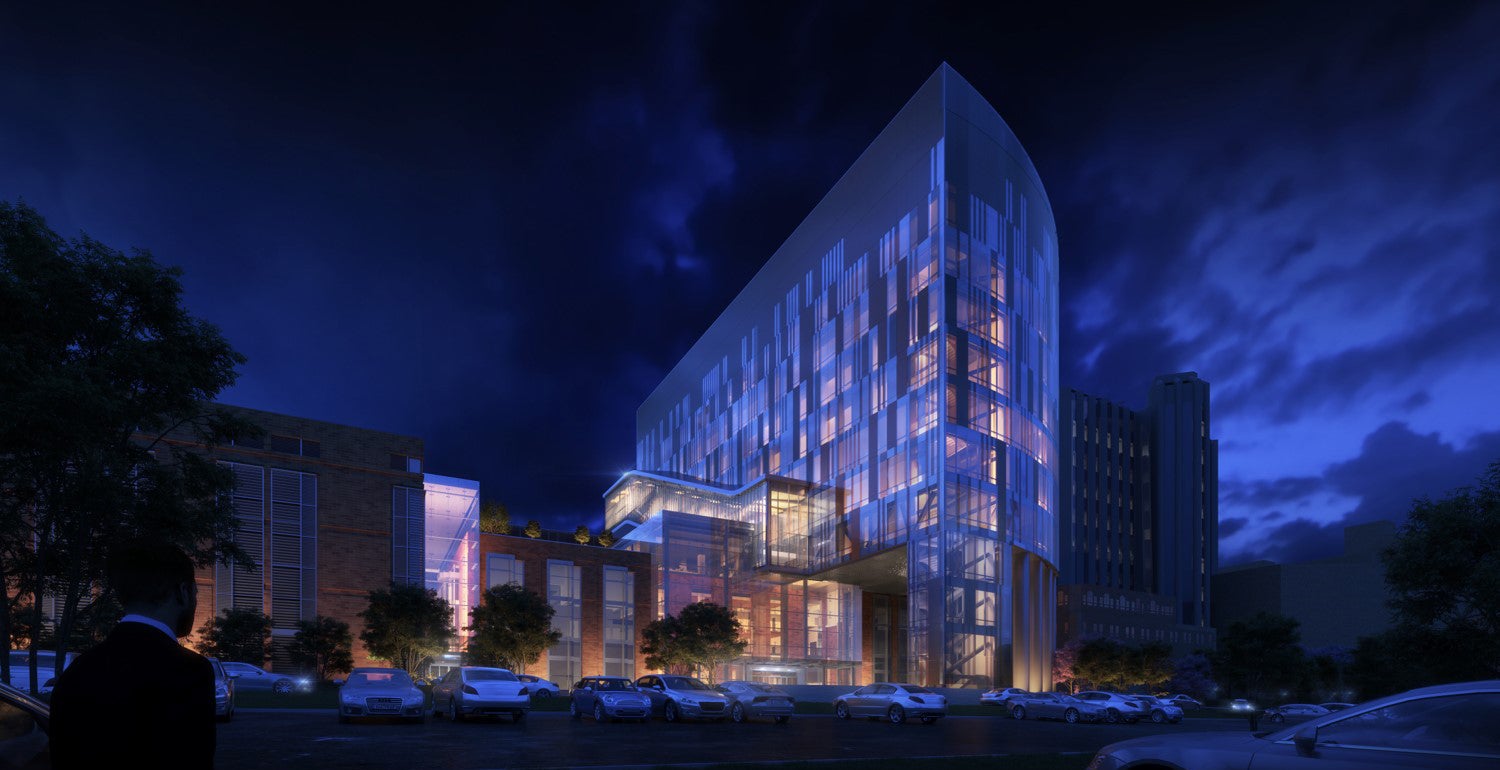 As work at the center advances, Fox has taken an active role in finding additional revenue to support the research and to help recruit some of the best minds in the field.
Soon, the center will have a new hub. Ground has been broken on UPMC Vision and Rehabilitation at UPMC Mercy, a state-of-the-art building that will house several facilities, including the center. There, work will continue on applying regenerative medicine to vision problems and using newly created knowledge to offer translational patient care.
Today, Fox has no vision in his left eye and very little in his right eye, but he refuses to let that limit him. Though he can no longer fly airplanes, he's become active in equine competitions, a pursuit that has him steering show horses through obstacles on a complex course, aided only by a trainer speaking through an earbud. He's excelled. As a blind rider, he not only qualified for the National Arabian Championship Horse Show but also won top 10 nationally in his event.
Just as he pushes himself to live fully, he persists in his goal to help others through the Fox Center. He imagines a day when doctors will never again be forced to say to those facing blindness, "Nothing more can be done."
Gifts: Boxed
"Creating an endowed scholarship allows alumni and friends to help the next generation while showing their appreciation for the life-changing power of a Pitt education."—Chancellor Patrick Gallagher
"Libraries preserve the story of who we are, the best and the worst of what we have thought, said, and done throughout thousands of years," says Brian Wongchaowart (A&S '10). To help ensure that future generations continue to learn from that accumulated knowledge, he's created an endowed fund to support students conducting independent research in the humanities that draws upon the University Library System's Archives and Special Collections.
Connie Cibrone (A&S '78, BUS '83G) recently endowed the Ross and Angeline Cibrone Scholarship fund in the Katz Graduate School of Business. "I want someone else to have the same opportunity to go to Pitt that I did and the same good fortune that I have had in my career," she says. The fund honors her parents and, when possible, will be awarded to children of widows and widowers.
Chuck Bleil (ENGR '78) funded his education through loans and work-study. After successful careers, he and his wife, Mary Zeis (ENGR '78), created the Bleil/Zeis Engineering Legacy Fund in 2006 and the Marie B. Zeis Memorial Scholarship in 2008. Recently, they launched the Bleil Family Scholarship in the Swanson School of Engineering. Their combined scholarship gifts exceed $230,000. "We want to recognize and support students like Chuck," Zeis says, "and allow other students to have the life that we had through a Pitt education."
This article appeared in the Fall 2019 edition of Pitt Magazine.