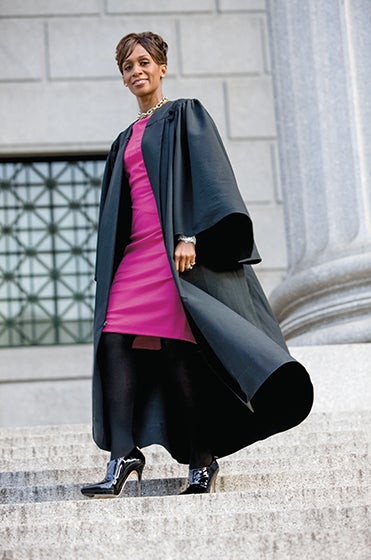 Early in her law career, Shawndya Luisa Simpson tried the case of a chilling murder witnessed by a college student named Dionne. Distressed, the young woman told Simpson she planned to quit school, but the lawyer urged her not to give up. "Stay in school. I'll be here for you," she promised.
Simpson knows how support can infuse hope into trying circumstances. Money was tight in her family's Brooklyn, N.Y., home, but Simpson was determined to go to college. Her mother and her grandmothers, Panamanian immigrants who worked long hours tailoring clothes and cleaning hotels, urged her to get as much education as possible.
She attended Pitt, majoring in information sciences with a plan to break into the burgeoning computer industry. Instead, she found herself increasingly interested in law. After earning a bachelor's degree, she enrolled at Pitt's School of Law, where the attorney-in-the-making found a network of people invested in her success. She recalls how one professor, Kevin Deasy, now the associate dean of students, always offered words of encouragement and helped her secure funding for bar exam preparation courses.
After Pitt, Simpson returned to New York, where her career blossomed. She rose from assistant New York attorney general to bureau chief to civil court judge. In 2016, she was elected to the Supreme Court of New York State, becoming the first Panamanian American to serve in the role.
Outside of the courtroom, Simpson (SIS '87, LAW '90) mentors dozens of prospective Pitt Law school students and serves on Pitt's Board of Trustees as a newly elected member. And, after nearly 25 years, she still connects with her first mentee, Dionne, who went on to earn a PhD, bolstered by Simpson's guidance.
"I didn't accomplish all these great things by myself," the justice says, "and I'll never forget that."
This article appeared in the Winter 2018 issue of Pitt Magazine.