What can you do with a sweet tooth and a Pitt degree in chemistry? If you're like alumna Tara Kennedy Griffiths (A&S '09), you can craft a career out of regulating the quality of chocolate, the world's most popular treat. Griffiths didn't plan for her professional life to take such a tasty turn, but that's exactly what happened when she landed a position in a laboratory at The Hershey Company in Hershey, Pennsylvania, shortly after graduation. She's now been with the company for 10 years and says she still enjoys applying her scientific mind to out-of-the-box challenges. (The taste tests are a nice bonus, too.)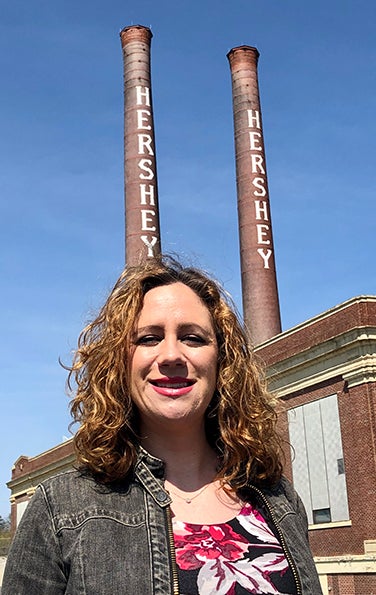 What do you do as a quality-assurance representative?
The team I support is responsible for making all of the fluid chocolate that is then going to the lines to make all of the finished products—Kisses, milk chocolate bars, Hershey's Syrup, Cookies 'N' Creme bars. ... So, I'm in charge of making sure the chocolate is meeting quality assurance and food safety specifications on a daily basis.
How do you use chemistry for that?
In my current role at the plant, we have a lot of different pieces of equipment for monitoring the chocolate's viscosity, fat and moisture content, particle size and many different physical properties that are important to know for the candy's quality specifications. Part of what I learned at Pitt was how to work with this equipment, which I now help maintain at the plant.
Do you get to do taste tests on the job?
There are times when it might be appropriate to perform an informal taste at the plant. Hershey has a panel of trained taste testers and sensory scientists who perform official taste tests.
What is your favorite candy made at the factory?
The Take 5, for sure. It's very underrated. I keep thinking that one of these days the world will understand that this is the best candy bar that anyone has ever made. And working with the Hershey's milk chocolate, I definitely have a new appreciation for the classic Hershey's chocolate bar.
What would people be most surprised to learn about working at Hershey?
People are surprised by just how large our presence is—most of our chocolate is made in Pennsylvania, and the West Hershey plant, where I work, is the largest chocolate-making factory in North America.
Do you ever get tired of chocolate?
No. Never. That was the hardest thing about being away from work on maternity leave recently—not having a steady flow of fresh chocolate.
This article appears in the Fall 2020 edition of Pitt Magazine.