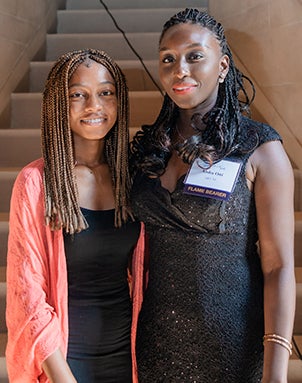 When she applied, Aisha Shettima wasn't actually planning to go to Pitt.
Both her parents had attended the University after arriving in the country from Nigeria. Shettima had envisioned a vaguely different journey for herself, away from a big, urban campus. But then ...
"The lure of making my parents proud won out in the end," she laughs now.
So, it was with a touch of apprehension that she found herself in the candlelit expanse of Heinz  Memorial Chapel the evening before her first day of classes in 2005, participating in Lantern Night. The Pitt tradition invites incoming female students to receive the symbolic Light of Learning from alumnae. That night, Shettima's flame-bearer was her own mother, Tikillo Shettima (SCI '86).
There, in the hushed sanctuary, something clicked for the new college student. She felt, she says, like she had become a part of something bigger than herself. She had joined her mother as a member of a vast and supportive community.
Shettima (A&S '12), thrived at Pitt and later embarked on a career opening the doors of education-based communities to others. She is the operations manager at Global Talent Initiative, an international education program she cofounded with her husband, Oluwadamilola Oni (LAW '09). They have brought hundreds of students from African countries to study at universities throughout the U.S., including Pitt.
All came full circle in 2019, when she served as the flame-bearer for her own daughter, Omolara Oni. "I realized why my mother couldn't stop smiling at my Lantern Night," she says.
She looked at her daughter, about to forge her own way forward at Pitt and beyond, and thought, "This girl is about to open a door to a world of possibilities."
And, like all Pitt students, her path is lit by those who walk ahead of and beside her.
This story appears in the Fall 2020 issue of Pitt Magazine.