Back in 1997, Samuel McCullough received an unexpected phone call. It was from Tom Ridge, governor of Pennsylvania. He was reaching out to offer the business man an extraordinary opportunity, one that would surely shape the rest of his career and change his life.
Yet, it was an opportunity that he could very well have missed.
Four decades earlier, McCullough and his father sat in their family's Edgewood home, east of Pittsburgh. High school graduation was just weeks away, and the two were talking about the teenager's future — but in sharply different terms.
"It's time for you to go to work," McCullough remembers his dad telling him.
His father was only voicing what was expected, but McCullough wanted something different.
"No," he respectfully responded. "I'm going to college."
"There's no need for that," his dad argued. "Look at me, I didn't get past the eighth grade, and I'm doing OK."
McCullough loved his dad, who worked hard at his blue-collar job to provide for the family. But the young man wanted to do more than "OK" with his life.
So, he didn't follow his father's advice. Instead, in the fall of 1956, he enrolled at Pitt. On the same day as his first class, he began an evening job doing back-office operations at Mellon Bank to help cover Pitt's tuition and the room and board his father charged.
Between work and school, McCullough (BUS '60) had practically no free time. But he never wavered in his chosen path, earning a degree in business in 1960. He believed he was building himself a life of opportunity.
He was working full-time at Mellon Bank when he heard that an Ivy League graduate education would boost his prospects for advancement. Unfazed and proud of his Pitt education, he instead applied to the bank's executive training program, setting his sights on the national lending department.
His motivation for success paid off — so much so that he became a vice president at 33, even though, he says, "there was another unwritten rule, that you couldn't be a V.P. under the age of 35."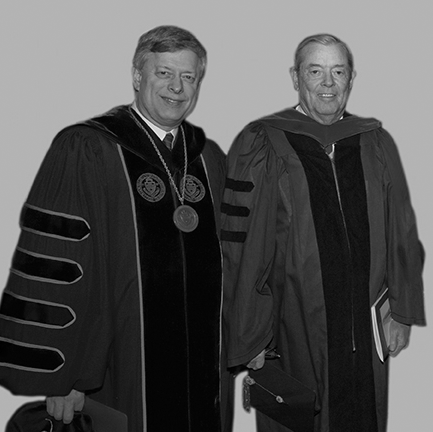 He continued to ascend, eventually becoming president and CEO of Meridian Bancorp, based in Reading, Pennsylvania. Under his leadership, Meridian became one of the nation's largest banks, with assets growing from $1 billion to more than $17 billion. Meridian merged with CoreStates Financial in 1995, with McCullough at the helm.
Then came that call from Governor Ridge. He wanted McCullough to become Secretary of the Department of Community and Economic Development (DCED).
To accept would mean a nearly 90 percent pay cut. But McCullough knew — having struggled with the impediments of state and federal regulations for years—that he could help businesses navigate through bureaucratic obstacles.
"I accepted Governor Ridge's offer because it was a way for me to give back to the state that I had called home all my life and had given me so much," says McCullough. "But I said I would only do it for two years."
Two years later, he couldn't walk away.
"Well, we had so much going on, and Tom was so interested in economic development, that I stayed for five and a half years doing trade missions all around the world, bringing new business to the state and helping Pennsylvania companies expand overseas."
His time as DCED Secretary wasn't his only service to his community. Always one to squeeze every minute out of the day, McCullough found time to serve on the University of Pittsburgh's Board of Trustees from 1999 until 2007.
Despite his professional workload, he says he never thought of passing up the trustee opportunity.
"Because I worked full-time while I was getting my bachelor's degree, I didn't have much of an on-campus college experience," he reminisces. "When I was asked to serve as a trustee, I thought it would be a great way to get back to Oakland."
His Pitt ties go beyond his trustee years. He endowed the Samuel A. McCullough Chair in Finance; and he and his wife, Katharine, have created the Samuel McCullough MBA Scholarship Fund and provided for the Samuel and Katharine McCullough Scholarship Fund in their estate plan.
The gifts, he says, exemplify his gratitude. "I went to Pitt because it was something I felt I had to do to move ahead. Without the degree, I wouldn't have ended up at Mellon Bank, I wouldn't have done the things I did in business."
He hopes that his financial support will help students find their own way to build bright careers that enable them to do OK — and then some.
Gifts: Boxed
Endowed student resource funds provide support beyond tuition, enabling access to co-curricular activities such as experiential learning and research opportunities.
Sonia Gormley endowed a $25,000 student resource fund in the Graduate School of Public and International Affairs to honor her late husband, Dennis M. Gormley, a beloved former faculty member and senior research fellow at the Matthew B. Ridgway Center for International Security Studies. "Teaching was my husband's lifelong passion," she says. "He loved his students and he loved teaching at Pitt. It feels good to know that his legacy will live on in the students this fund will support."
The Arthur and Joan Boyd Family Foundation created the Arthur D. Boyd, MD '53, '57 Student Resource Fund in the School of Medicine with a gift of $50,000. The fund gives preference to medical students who were undergraduate student-athletes.
Kahren Jones Arbitman, (A&S '71G, '81G) and Michael Arbitman, made a $100,000 gift to endow the David Wilkins Endowed Graduate Student Resource Fund to support graduate students in the Department of History of Art and Architecture. The gift honors David Wilkins, professor emeritus and former head of that department.
Gerald (A&S '79) and Catherine Smith pledged $150,000 to endow the Gerald and Catherine Smith Student Resource Fund in the School of Computing and Information. The fund is reserved for students pursuing a digital narrative and interactive design major.
This story is from Pitt Magazine's Winter '21-'22 issue, which will be mailed in January 2022.