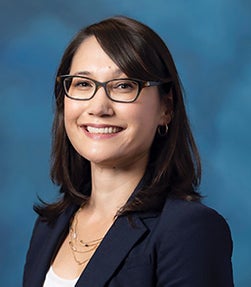 At a time when the world is changing faster than ever before, it's comforting to know that some aspects of our community stay the same: Pitt alumni keep doing remarkable things every day, and the Pitt Alumni Association is ready to help you deepen connections and engage with your alma mater.
Over the past few months, we have been combing through the more than 3,000 responses to our alumni survey. (See a snapshot of results to the left.) We learned that you have great pride and affection for Pitt and are eager to tell others about all the University is doing today.
You also told us you want more opportunities to connect with one another and with our students on a professional level. We heard you, and we've been working to expand Pitt Commons, the platform that helps members of our community establish networking and mentoring relationships tailored to their specific interests and career goals. Now more than ever, network equals opportunity—and joining Pitt Commons is a simple and effective way to grow your network.
If you have not done so already, I encourage you to try Pitt Commons. If you already have, be sure to check in regularly. We've added several new features recently to help enrich the lives of alumni from every era, along with students, as we continue to strengthen the Pitt community.
Speaking of new features, I'm also excited to unveil our new PAA logo. We think the design captures the innovative, prestigious and fun nature of our organization, and we hope you do, too.
Finally, for the past 100 years, University of Pittsburgh alumnae have marked the beginning of the school year by passing the Light of Learning from one generation to the next. Although the 100th annual Lantern Night looked a bit different than its predecessors, it still celebrated the unique, life-changing opportunities afforded by a University of Pittsburgh education. Thank you to everyone who shared their memories for the online celebration, which was more inclusive than ever.
Stay safe, stay connected and Hail to Pitt!
Nancy Merritt
Vice Chancellor for Alumni Relations
Network = Opportunity
To address challenges of the current job market and to offer skilled help for your short-term business needs, Pitt launched Projects on Pitt Commons, a marketplace to connect recent grads and employers. The program provides a practical and mutually beneficial solution to the national dip in employment opportunities and shrinking budgets.
Projects on Pitt Commons encourages alumni to post remote, time-limited work assignments for their organizations, engaging students and alumni seeking temporary employment. The Pitt Commons community is growing but needs new participants to continue to thrive. To join the platform and post a project for fellow alumni or students looking to develop their skills, visit commons.pitt.edu.
A Century of Light
In August, the Pitt Alumni Association celebrated the 100th annual Lantern Night. This year looked a little different—safety restrictions prevented the usual Heinz Memorial Chapel ceremony—but the Light of Learning was as bright as ever on Aug. 18, the day before fall classes began. All incoming residential students received their own LED candles and were asked to display them in their windows at sundown. But that was only the beginning. The Pitt Alumni Association is planning more celebratory activities throughout the 2020-21 academic year. Learn more at alumni.pitt.edu/lantern100.
Thanks for the Memories
Alumnae have been sharing their Lantern Night reflections online. For more memories, or to share your own, visit: pi.tt/lanternstories.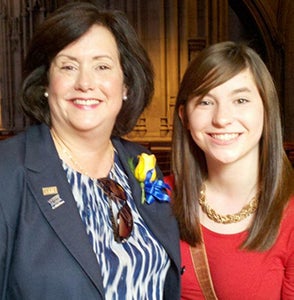 What made my Lantern Night ceremony so special was sharing it with my mom! Both of my parents are Pitt graduates, but getting to share the beginning of this new chapter with my mom was so important to both of us.–Maggie McMahon (A&S '17)
I remember heading to the Lantern Night ceremony in 1995 with the new friends I met within the first week of arriving at Pitt. These same young women would become my roommates, sorority sisters and lifelong friends, and they are people I am grateful to have shared four years at Pitt with.–Colleen McLaughlin (A&S '99)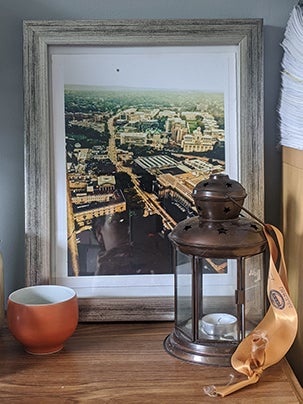 I remember feeling very vulnerable. I was away from my family for the first time. I was a woman in science, a Latina and a first-generation college student. Yet despite all the things that made me vulnerable, I remember feeling totally protected by the community of women who had come before me. I felt like I belonged at Pitt. That sense of belonging is what gave me courage, and still gives me courage, to keep pushing for my dreams. My lantern sat on my desk all throughout my time at Pitt, reminding me of the strength of Pitt women. I brought it with me as I transitioned to graduate school and it still sits in my office today. This year, I will become a doctor. Whatever dreams come next for me, no matter how difficult, my lantern, and the strength of Pitt women, which my lantern represents, will stay with me.–Sara (Winter) Troutman (A&S '16)
This section appears in the Fall 2020 issue of Pitt Magazine.