New job? Big move? Just married? Don't forget to submit your own Class Note!
1969
Nadine Rosenbaum Tolvin EDUC '70 and husband Jeff Tolvin, of Manhattan, hadn't seen friends Suzanne Balis Freed A&S '69 and Gary Freed A&S '69 since their undergraduate days at Pitt. Having lost touch in the years since, the couples, with a little help from social media, recently reconnected in Atlanta. They say they hope their story inspires other alumni to reach out to one another and get together — no matter how long it's been!
 
1975
John C. Rafferty Jr. UPJ '75 received the Perkiomen Valley Chamber of Commerce 2023 Marvin J. Lewis Community Service Award, given to a community member who has made a significant positive impact in Perkiomen Township, Pennsylvania. A former state senator, he's an attorney with Hamburg, Rubin, Mullin, Maxwell and Lupin and a member of the Disciplinary Board of the Supreme Court of Pennsylvania.
1977
Pitt might feel like the center of the world sometimes but Cynthia (Amore) Hernandez SCI '77G actually brought us there! (Well, kind of.) She poses with Pitt Magazine in front of Ciudad Mitad del Mundo — the Middle of the World Monument — in Quito, Ecuador, a place that is crossed by the equatorial line that connects the northern and southern hemispheres.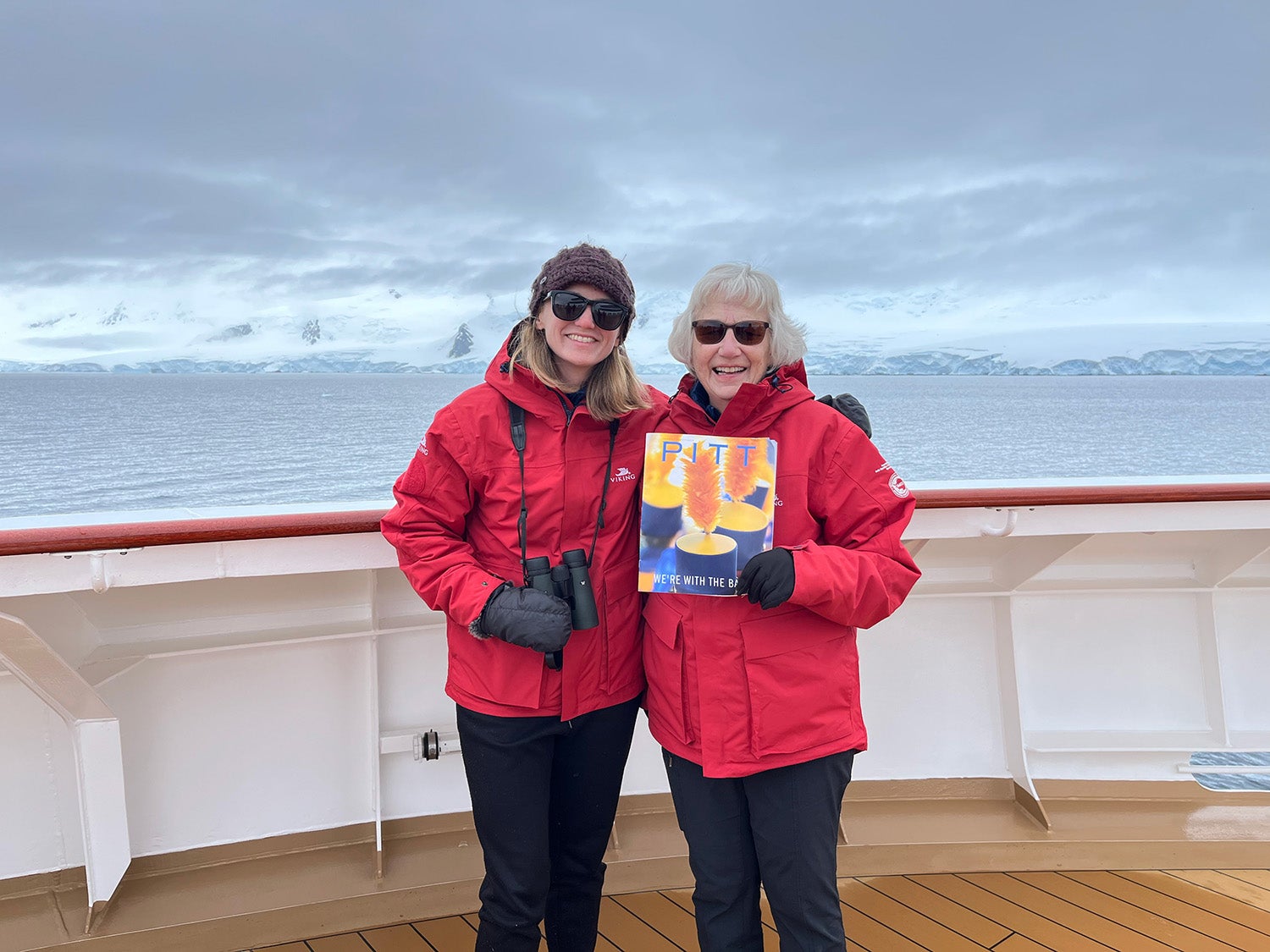 Donning matching jackets and a love for Pitt, mother and daughter Roxana Rozek BUS '77G (right) and Jessica Rozek A&S '06 can't help but smile despite the bone-chilling temperatures of Antarctica.

1980
Alan Kovitz BUS '80G independently published "A Book of Values: Your Personal Guide to Meaning and Happiness." Based in Dover, Delaware, he's a business and interpersonal coach whose clients are primarily entrepreneurs and those with entrepreneurial minds.
1981
Lee Goldman Kikel A&S '81, EDUC '83G published "Perseverance: One Holocaust Survivor's Journey from Poland to America" (Populore Publishing Company), which recounts the trauma her father experienced during the Holocaust and the life he built with his family in Pittsburgh. Having retired as a rehabilitation counselor in the mental health field, she has traveled to schools, libraries and bookstores across Pennsylvania to discuss the book. It was adapted into a play that premiered in April 2023. She lives in Pittsburgh with her husband, son and two dogs.
1984
Janet Goldberg A&S '84 will publish "The Proprietor's Song" (Regal House Publishing) in July 2023. Featuring some of California's most remote and haunting landscapes, the novel alternates between narrators who are each dealing with mysterious personal tragedies. The author lives in Northern California and has taught writing at San Francisco State University, City College of San Francisco, and Golden Gate University.
1985
Megan Schreiber-Carter A&S '85 presented at the 2023 Writers Conference of Northern Appalachia. An author and third-generation native of the Pennsylvania Wilds' Allegheny Mountains, she hosted a session titled "Appalachian-Mountain and Forest Scenes: Story Craft, Mountain-Forest Cultures, and Unvarnished Voices of Homegrown Characters."
1988
Alexander F.C. Webster A&S '88G retired in 2019 as dean and professor of moral theology emeritus at Holy Trinity Orthodox Seminary in Jordanville, New York. In 2010, he retired from the U.S. Army with the rank of chaplain (colonel) after almost 25 years of service, including multiple deployments to Afghanistan and Iraq. He continues to teach two online graduate courses in moral theology for Holy Trinity Orthodox Seminary, as well as undergraduate courses in religious studies as an adjunct professor at George Mason University in Fairfax, Virginia.
1990
Marsha Cassel A&S '90 opened Kitchen on Main, a restaurant on East Main Street in West Middletown, Pennsylvania. Located in a 200-year-old house with a newly renovated interior, Kitchen on Main offers a fresh take on healthy foods while staying true to the homey, classic feel of its historic surroundings.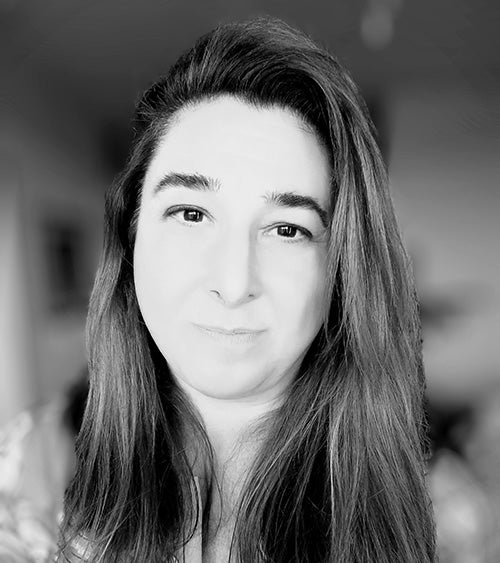 Maria Harrington SCI '90G '08G published the paper "Virtual Nature Makes Knowledge Beautiful" in Frontiers in Virtual Reality, a premier international peer-reviewed open-access journal. An information scientist and faculty member at the University of Central Florida, she was invited to write a review paper of her work and findings over the past 14 years. The paper presents a viewpoint on immersive informal learning applications built as digital twins of the natural world.
1991
Brian Felgoise A&S '91 published "Filthy Rich Lawyers: The Education of Ryan Coleman" (Speaking Volumes, 2022), a fast-paced legal thriller that puts a satirical spin on his experience as a class-action lawyer. The novel was a finalist in the humor, comedy and satire category of the 2022 American Fiction Awards.
1992
David Welch A&S '92 wrote a book about General Motors called "Charging Ahead: GM, Mary Barra and the Reinvention of an American Icon" (HarperCollins Leadership), which is being published in multiple languages, including German and Chinese. Welch is the Detroit bureau chief for Bloomberg News and has won numerous awards as a business writer for Bloomberg and its Businessweek magazine.
1993
Arzu Arda Kosar A&S '93 showcased her artwork in the collaborative exhibition "sub/Terrain" at the Clara and Allen Gresham Art Gallery in San Bernardino, California. Inspired by years of thought-provoking conversations, she worked with two other artists to map their relationships with the spaces they occupy, examining themes of connection, time, place and temporality through video, installations and interactive work.
Christopher Kurtz MED '93 was selected to be the executive assistant to the 39th surgeon general of the Navy, Rear Admiral Bruce Gillingham. Kurtz entered the Navy in 1989 through its Health Professions Scholarship Program, earning his medical degree from Pitt and completing a residency in orthopaedic surgery at Allegheny General Hospital in 1998. Certified as a surface warfare medical officer, he has deployed in support of Operation Enduring Freedom and Operation Inherent Resolve and completed tours in Japan, Virginia and Washington, D.C. His awards include the Legion of Merit, the Meritorious Service Medal, the Navy Commendation Medal and the Navy Achievement Medal.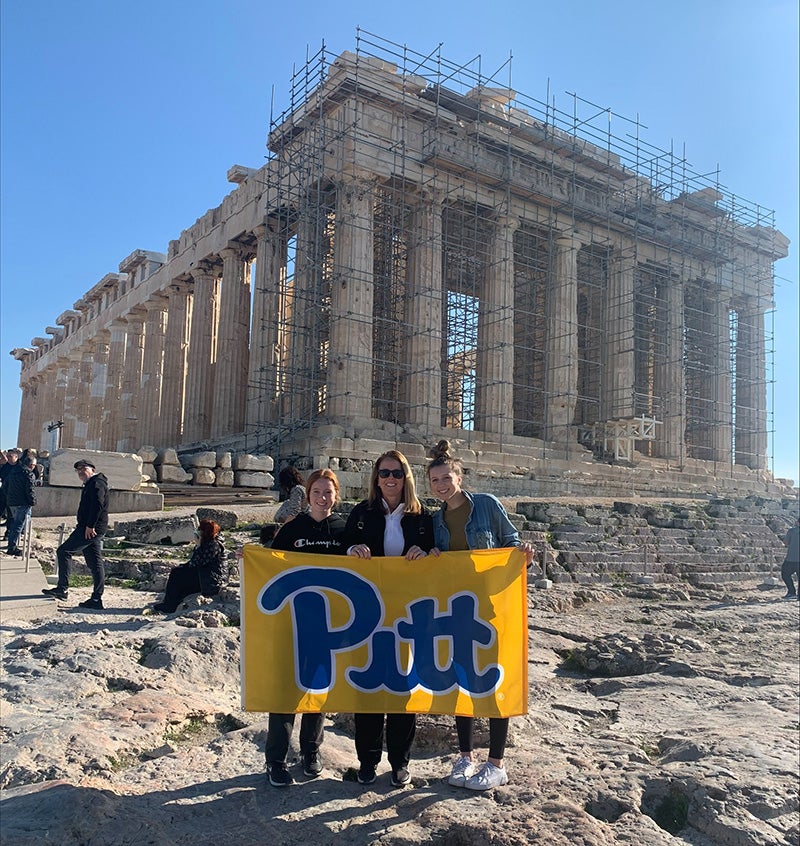 1994
Amy (Miller) Aggelou EDUC '94, SHRS '17G and her family made sure to pack their Pitt pride on a recent trip to Greece. She's a faculty member in the School of Health and Rehabilitation Sciences, and her daughter Anastasia (right) is currently an undergraduate student. Behind the camera is husband Sotiris Aggelou A&S '95, who played basketball for the Pitt Panthers.
1995
Steve Kozarovich A&S '95 of Louisville, Kentucky, became a shareholder of PriceWeber, a marketing, advertising and public relations agency. He has been with the company for 11 years and serves as senior account director and lead of the sweets and snacks practice. With prior experience as an editor and publisher, he's received multiple awards from the Public Relations Society of America Bluegrass Chapter as well as dozens of journalism awards and a Silver ADDY from the American Advertising Federation.
1998
Amanda (Ryan) Johnson SHRS '98 was recently promoted to deputy group director of the State and Population Health Group at the Centers for Medicare and Medicaid Services (CMS) Innovation Center. She previously led the Division of Encounter Data and Risk Adjustment Operations at CMS in the Center for Medicare.
2000
Michael A. Malia LAW '00 became a name partner at the law firm Peri Stewart Malia, which has offices in Fairfield and Sea Girt, New Jersey, as well as New York. He's a founding member of the firm and has more than two decades of experience as a trial attorney.
2001
Christopher Burdick A&S '01 became a deputy assistant secretary in the Office of Legislative Affairs in the United States Department of the Treasury.
2004
Troy Rider A&S '04 became the chair of the board of directors of the YMCA of Reading and Berks County, where he has been a volunteer and board member for more than 12 years. He's an attorney at the Pennsylvania law firm Barley Snyder and a committee member for United Way of Berks County.
2005
Meghan Hultquist A&S '05 was a 2022 recipient of the Toledo 20 Under 40 Award. She is the president of HQdigital, a boutique digital marketing agency and consultancy that works with businesses worldwide. Active in the local community, she is a founding member of Toledo Women for Good and leads a working group for the City of Toledo Human Relations Commission. She was appointed to Toledo's social justice committee in 2021.
Cameron Skelton A&S '05 became vice president, talent management and chief inclusion officer at Northwest Bank, where she has worked for nine years. In this new role, she leads the bank's strategic talent management and inclusion efforts, including the recently launched Employee Resource Groups. She has a master's degree in organizational management and leadership from Springfield College in Massachusetts and a leadership certificate in diversity and inclusion from Cornell University, among other certifications.
2007
David Morris SOC WK '07G joined Cognitive Dynamic Therapy Associates, a multispecialty psychological group practice with offices in Pittsburgh's Oakland neighborhood and Wexford, Pennsylvania. A licensed clinical social worker, he sees clients with conditions such as attention-deficit/hyperactivity disorder, oppositional defiant disorder, anxiety, depression, child trauma, obsessive compulsive disorder and performance anxiety as well as those experiencing relationship difficulties and parenting challenges.
2009
Samantha Card A&S '09, BUS '12G published "The Athlete Advantage: Success Beyond Game Day" (Sammi from Miami LLC, 2022), a guide to translating athletic experience into career success. After playing softball for the Panthers as an undergraduate at Pitt, she earned a master's in business and transitioned into the corporate world. Today, she is a business coach, mentor and author.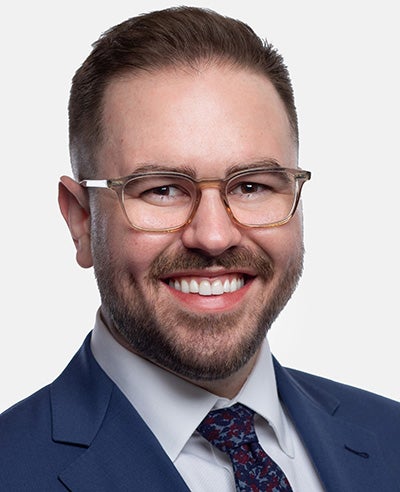 Ryan A. Haddad A&S '09 became a partner at the Reed Smith LLP Pittsburgh office. Previously an associate, he's a member of the energy and natural resources group and has built a multidisciplinary energy transactional practice on the foundational elements of natural resource development and operations, primarily in oil, gas and related sectors. He also has a burgeoning practice representing project developers in the emerging carbon capture and sequestration industry.
2011
Jeffrey Antico A&S '11, EDUC '12G received a PhD in education from Notre Dame of Maryland University. His doctoral dissertation was titled "Stress and Life Satisfaction: The Impact of a Gratitude Journal on Students Enrolled in the International Baccalaureate Diploma Program." He lives and teaches overseas in Vienna, Austria.
2012
Jennifer Frey A&S '12G will become the inaugural dean of the University of Tulsa Honors College, effective July 2023. She's currently an associate professor of philosophy at the University of South Carolina, and her academic research focuses on virtue and happiness. Her nonacademic writing has appeared in First Things, The Hedgehog Review and The Wall Street Journal, among other publications. She's also the host of a philosophy and literature podcast titled "Sacred and Profane Love."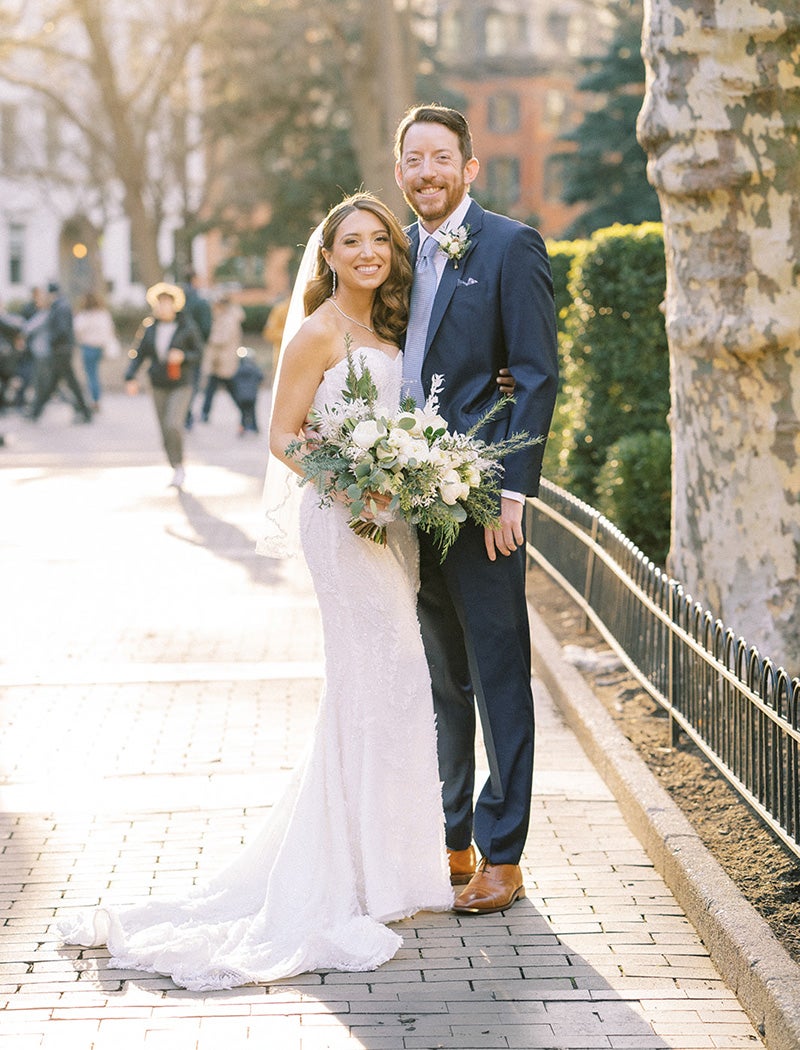 Kathleen Bampfield A&S '14 and Robert H. Eichman Jr. BUS '12 were married in Philadelphia on Dec. 30, 2022. Hail to married life!
2018
Jennifer White SHRS '18G and husband Sean Williamson NURS '22G visited Ho Chi Minh City, Vietnam, where they touted their respective Pitt programs. She's an assistant professor in the Department of Occupational Therapy, and he will soon be joining the Department of Nurse Anesthesia as an adjunct professor.
New job? Big move? Just married? Don't forget to submit your own Class Note!
This edition of Class Notes was published on May 5, 2023. It is part of Pitt Magazine's Spring 2023 issue.