He was raised by liberal parents. But he lived in a conservative town. Yet he attended a progressive church. It's no wonder that, throughout his childhood, Noah Jennette felt he was always "straddling lines."
"I tried to conform to one side or the other, thinking there was a right answer at one of the two ends of the spectrum," recalls Jennette, a Pitt junior with a major in psychology and minors in religious studies and political science. "I was wrong. I now realize there is value in having a diversity of thought, with people all along the spectrum."
This new perspective was shaped, in part, by the University's Office of Interfaith Dialogue and Engagement (OID), which he first heard about two years ago. The office was hosting one of its "coffee and conversation" events, inviting the campus community to gather and talk openly about tough, sometimes divisive topics. Jennette, who had been looking for ways to interact with people of varying beliefs, eagerly joined the conversation. He appreciated the opportunity to unite over differences.
"The overarching objective," says Emiola Jay Oriola, OID's program manager, "is to create a space where people can step out of their comfort zones, learn from and with people, tell and hear their stories and have their perspectives understood."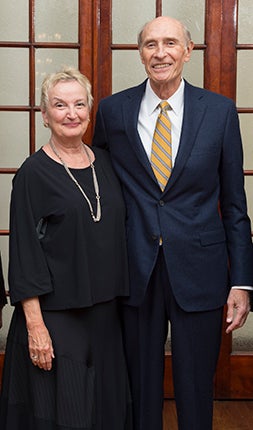 That's just the kind of environment alumnus Leonard "Len" Berenfield hoped to foster when he initiated the creation of OID with a 2017 gift. The power of fellowship is something he knows well.
Berenfield (ENGR '64) grew up in Pittsburgh's bustling East Liberty neighborhood in the 1950s. The area boasted more than 500 businesses and a diverse population that exposed Berenfield to people of different faiths and races. "Our street was a real ethnic melting pot," he remembers.
While studying engineering at Pitt, and during his first job at a Westinghouse facility in Pittsburgh, Berenfield continued to live in a heterogeneous world. But in 1965, he moved to a small oil patch town in rural Pennsylvania to help run a facility for the family business, which manufactured steel drums used to transport lubricants, foodstuffs and chemicals.
His new home wasn't exactly a melting pot.     
"When you live in a town of 15,000 people, and you're one of 26 Jewish families, you stand out," Berenfield says. "To some people, you're not welcome."
Even his two school-age children were subjected to ethnic slurs.
He and his family persevered, despite sporadic hostility, until 1978, when Berenfield's company expanded again. Cincinnati became his family's new home so he could build and operate a new Ohio-based facility. He ran it well, too, and in 1985, he became president of Berenfield Containers Inc., which became the country's third-largest manufacturer of steel-drums, as well as a producer of fiber drums.
Berenfield and his family felt more accepted in a diverse city, but he didn't forget the intolerance they had once faced. Then, while volunteering in community building efforts, he met with his friend Rabbi Abie Ingber, the founder of the Center for Interfaith Community Engagement at Xavier University. Berenfield was inspired by the way the center facilitated understanding across religious and cultural lines. He decided that his alma mater, where he had already created scholarships and a fellowship, should have an interfaith program, too. Pitt officials enthusiastically concurred.
So, in 2017, Berenfield committed $250,000 to establish OID, with a mission to create spaces for interfaith dialogue, build bridges for relationships to develop and encourage unity in diversity.
It's a mission the Pitt community embraced.
"Part of my goal of going to college was to interact with people of different belief systems. But on a big campus, people still gravitate to their own groups," says Jennette, who is now on OID's student advisory board. "We need places where people can sit down with each other and not be nervous about sharing who they are and can ask questions about other cultures."
"Learning how to interact, engage with and understand people from various backgrounds is a skill needed not only in college, but in life," says Oriola, who points out that participants don't need to belong to a particular faith—or any at all.
Since its creation, OID has helped to unite the campus, even making space for healing. In the aftermath of the anti-Semitic attack at Pittsburgh's Tree of Life synagogue in 2018, OID hosted a workshop for students, faculty and staff. It gave members of the community a chance to process their emotions through dialogue and understanding—goals OID works toward all year long.
And now, even as the coronavirus pandemic physically distances the community, the office is working to maintain connections, checking in with student organizations and offering resources and virtual engagement.
Berenfield, whose endowment will support the center in perpetuity, hopes that his Pitt initiative becomes a model for cross-community engagement around the country. But for students like Jennette, OID is already a model for finding peace and understanding among difference.
Gifts: Boxed
Cornelia "Cookie" Howard created the first named scholarship in the School of Computing and Information (SCI). Her $50,000 pledge over the next five years will support the school's graduate students and honors her son, Russell "Rusty" Howard (SCI '00, '03G), an SCI staff member who died in 2016. Howard has also included a $1 million bequest in her estate plan to endow the Russell "Rusty" A. Howard II Memorial Fellowship.
One of Albert Chung's favorite things about teaching at Pitt was mentoring undergraduate students in his lab. "You give them a taste of what research is like and then watch them get excited about adding to the world's knowledge base," says Chung. Even in his retirement, he and his wife, Cynthia (A&S '77, EDUC '79G), will continue to spark discoveries through a $100,000 gift to create the Albert and Cynthia Chung Endowed Undergraduate Research Fund in the Department of Biological Sciences.
Ian (A&S '73, BUS '74G) and Suzanne Bodell have pledged $250,000 to create the Bodell Family Fund over the next five years in the University of Pittsburgh Office of Veterans Services to support the office's highest and most immediate needs. "Neither my wife nor I served in the military, but we feel a deep sense of gratitude for what our armed forces do for us. Many need help acclimating back into civilian life and into school," Ian Bodell says. "I hope this gift helps."
Cover image: Emiola Jay Oriola, left, and Noah Jennette
This article appears in the Summer 2020 edition of Pitt Magazine.