Alfred Moyé was having quite a year. It was 1972, and he'd been teaching organic chemistry for several semesters at Pitt after finishing his dissertation on inorganic chemistry. His colleagues and students were so impressed with him that he received an outstanding teaching award from the School of Arts and Sciences.
Others were impressed, too, including Pitt Chancellor Wesley Posvar, who asked Moyé to become dean of student affairs. He declined. "I was coming off a great year in the classroom," he explains.
The chancellor wasn't taking no for an answer, however. "He called me to his office," recalls Moyé, "informed me that, if I took the position, the chemistry chairman would grant me a leave of absence with no loss of time to tenure."
The offer was persuasive. "I decided if he wanted me that badly, I should accept," says Moyé (A&S '68G). "I've always thought that if somebody thinks I can do something, I shouldn't say 'no' without looking at the opportunity carefully."
This philosophy helped him forge a diverse and successful career—and it's how he ultimately landed at Pitt. As an undergraduate at West Virginia Wesleyan College, a promising young Moyé was encouraged by Professor John Wright to pursue a PhD in chemistry. But Moyé—one of only four African Americans in his entering freshman class—had doubts:
"I told Dr. Wright I barely had money to put soles on my shoes. I wanted to get out of school and make a little money."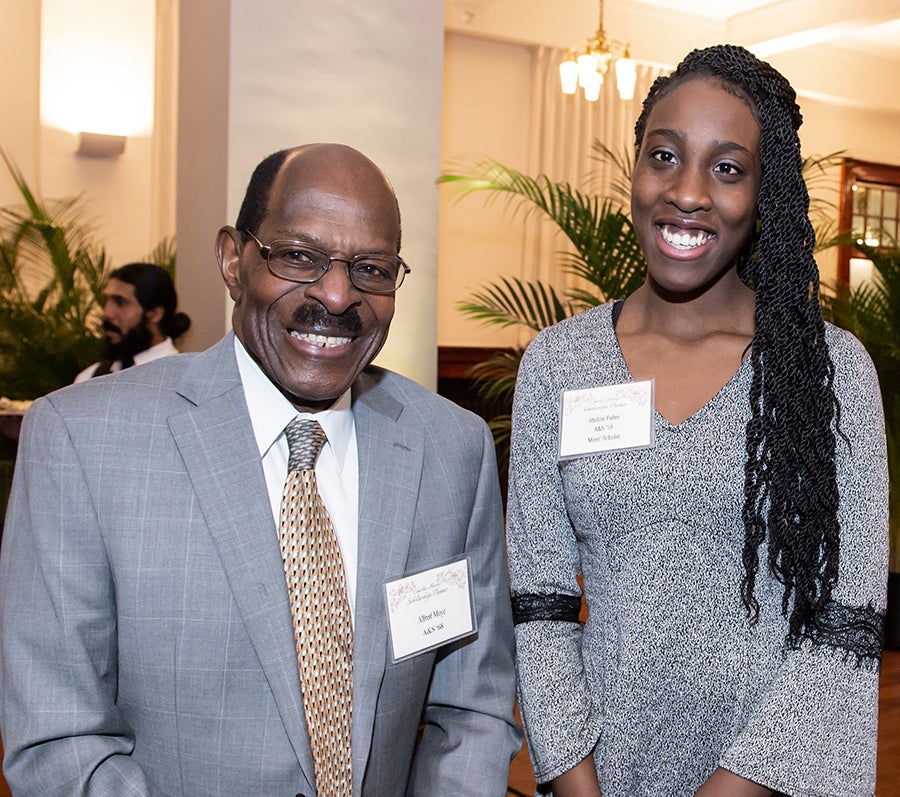 Wright persisted. One day, as Moyé headed to math class, the professor asked him again. "I relented and said yes," he remembers. "When I came out of class, Dr. Wright told me I'd been accepted to the University of Michigan, even though I hadn't officially applied."
Moyé's academic trek eventually brought him to Pitt, where—with his mix of intellect, warmth and integrity—he excelled. A year after becoming a dean, he was named vice chancellor for student affairs.
More unexpected opportunities beyond the University emerged as he became deputy commissioner and then deputy assistant secretary for higher and continuing education in President Jimmy Carter's administration.
Pitt continued to play a role in his career. Moyé was serving as vice president for academic affairs at Chicago's Roosevelt University in 1982 when a Pitt connection enabled him to meet with executives at video game and electronics company Atari. He made a pitch for computer donations to the school. Atari agreed to Moyé's request and subsequently hired him as national educational sales manager and director of the Atari Institute for Education Research in 1983.
A year later, his academic and industry background made him uniquely qualified to fill a new position at Hewlett-Packard to manage its engineering education programs. Within weeks after Moyé started, his manager asked him to bring to HP a course that was required of every entering electrical engineering and computer science student at MIT. Having taken the course, the manager thought it would be a good place to start to upgrade the computer science skills of engineers whose college curricula hadn't included computer science courses.  
Great idea, but Moyé was uncertain how to move forward. Yet, by working with MIT professors and HP engineers, he piloted the first course three months later. Subsequently, combining video technology with live instruction, the course was offered widely in the company. He proudly called it "a smashing success."
Throughout the years, he remained connected to Pitt and joined the Board of Visitors for the School of Arts and Sciences. Eventually, he established a fund to support African American students doing research with computer science professors. In 2000, Tonya Groover (SCI  '07, '10G) was the first recipient.
"She was astonished to find how few African American students enrolled in CS," remembers Moyé. Diversity struggles weren't lost on him: "I taught organic chemistry 31 and 32 and coordinated the labs for all sections. In my lectures and all the laboratory sections, there were very, very few Black students." 
So, the scope of Moyé's fund changed as Groover helped create a program for a diverse mix of high school students to participate in computer science summer programs at Pitt. "After Tonya graduated, my gift became an undergraduate scholarship program for African American students in STEM disciplines," says Moyé, encouraging those high school students to say "yes" to studying at Pitt, just like Wright encouraged him years ago.
Last year, Moyé, now a member of Pitt's Board of Trustees, created another scholarship, which encourages Black students to pursue interdisciplinary studies that bring together informatics training in the School of Computing and Information with fields in the arts and sciences. Increasingly, advancements are emanating from such collaborations. Moyé points out the need for more diversity among creative teams—using, as an example, facial recognition software, which often struggles to identify Black faces.
"You design from your own experiences," he says, "which is why it's important that there is a variety of backgrounds among those who make, test and implement the algorithms that shape innovation so the new applications work for everyone."
It's also his way of creating opportunities, just as others once did for him.
Gifts: Boxed
Gifts of any amount to Pitt show appreciation for a lifelong relationship with the University while supporting students today and into the future. Alfred Moyé's many years of service to the University inspired us to celebrate gifts from alumni representing four decades—the 1950s, '60s, '70s and '80s.
University of Pittsburgh-Greensburg German Professor Emerita Ruth L. M. Kuschmierz (A&S '53, '55G '62G) marked the end of 2020 by making gifts totaling $405,000. The Ruth L. M. Kuschmierz Endowed German Scholarship Fund and the Endowed German Student Resource Fund support students majoring in German, while the Endowed Fund in German Language and Literature subsidizes instruction of German language, literature and culture at Pitt-Greensburg. She also added to a study-abroad fund that supports students studying in Germany.
In honor of Klaus Hofmann—longtime professor and former chair of what was then the Department of Biochemistry—Robert Wells (MED '64) and his wife, Dotty, made a generous gift to endow the Wells Graduate Student Award. The fund offers financial assistance to high-achieving PhD students.
To support the Kenneth P. Dietrich School of Arts and Sciences' goal of offering an undergraduate research experience to all arts and sciences students, Douglas Hosler (A&S '70G) created the Hosler Undergraduate Research Staff Fund. His $100,000 multi-year pledge establishes an endowment to provide support for staff who facilitate research opportunities.
Despite a shortened 2020 schedule, Pitt's volleyball program continues to earn national acclaim. Stephen (ENGR '71, BUS '77G) and Tami (A&S '81) Tritch are helping to ensure the program's future success by making a $300,000 gift in support of volleyball through the Victory Heights initiative and the Student-Athlete Success Fund. The couple previously created the Stephen R. Tritch Nuclear Engineering Faculty Fund to support a professorship.
Cover image: Tushar Karkhanis, Alfred Moyé and Provost Ann E. Cudd in a pre-COVID photo.
This story appears in the Spring 2021 edition of Pitt Magazine.