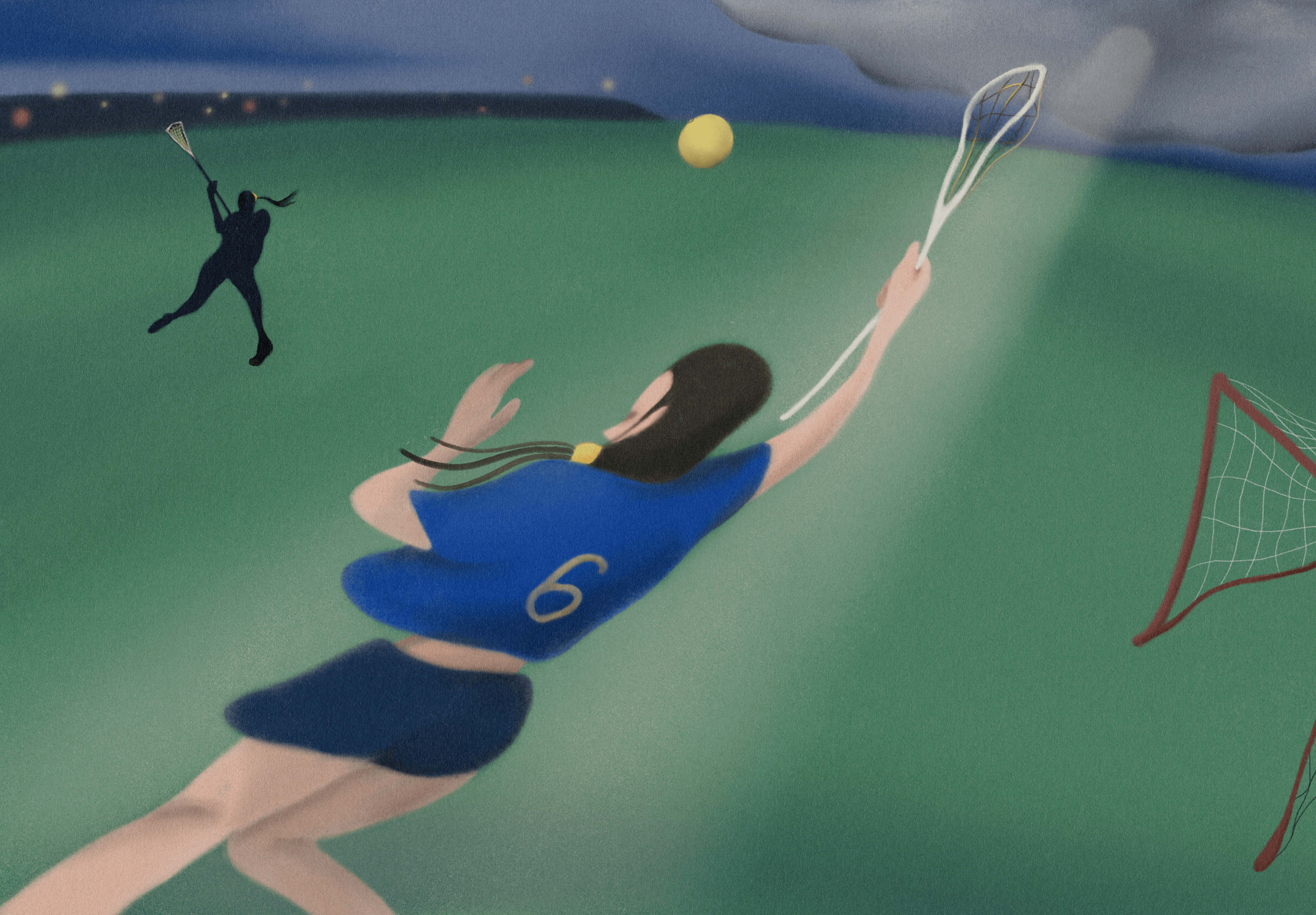 A fading sun broke through the clouds moments before the game began, illuminating Highmark Stadium on Pittsburgh's south shore. It lit up the players taking their positions on the field and the enthusiastic crowd that had gathered to watch them.
It was a frigid evening in late March, but the heat was on for members of the Pitt women's lacrosse team, whose breath rose in the air like smoke as the referee moved to blow the first whistle. They were facing off against University of Akron. From the field, the Pitt team's co-captain, a defender named Therese Pitman, shouted instructions and encouragement.
This was game 6 of the inaugural season of women's lacrosse at Pitt. Never before this year had the sport been played competitively at the University, making this team one for the history books. But putting their names to a first for Pitt isn't what keeps these players going — it's the comradery they have already built.
"We have one of the best sidelines in the Atlantic Coast Conference (ACC)," says Pitman, describing how the members are constantly cheering each other on as they run up and down the field using racket-like sticks called crosses to catch, carry or throw a ball into an opponent's goal.
Pitman calls herself a lacrosse "late-starter," but these days she lives and breathes the sport. She started playing as a sophomore in high school when her upstate New York school established their first team. She also played as an undergraduate and then, while looking for graduate schools to study public administration, she found Pitt and connected with Emily Boissonneault, the head coach of what was then a just burgeoning women's lacrosse program.
Boissonneault, a former professional lacrosse player from Brooklin, Ontario, Canada, came to the University in 2019. She spent two years recruiting players from around the country, including Pitman. She cultivated high school sophomores and drew in transfer students and three Pitt club team players to build the 38-member team.
"Chemistry takes time to build, and we were forced to do it quickly," says Boissonneault. But she is impressed by the team's energy levels and willingness to learn from each other. They inspire and encourage one another, she says. The coach believes this culture is helping the team find its way among one of the top women's sports conferences in the United States.
"I'm impressed with our relentlessness," she says.
Helping, too, is their growing fan base. A crowd of students, alumni and other fans always came out for their home games. They gave the players a warm reception, even at games held in chilly conditions like the one against Akron.
Pitt started that game with a 3-0 lead and then achieved a season best of 11 assists before beating the Ohio team 18-6.
The rest of their season saw similarly favorable results. They won eight games of their 17-game season (seven of those losses were against teams ranked in the top 20 nationally) and made it to the quarterfinals of the ACC Women's Lacrosse Championship. Four players were named to the 2022 All-ACC teams: goalie Paulina Difatta and attack Page Petty earned Second Team All-ACC honors, whereas midfielders Jill Fenech and Dylana Williams were named to the All-Freshman Team.
"We're hungry to do more," says Boissonneault of what next season will hold, and Pitman agrees.
"Every week we play, we learn something new about ourselves and each other, which helps us grow and become better," she says.
That's a win, no matter how you play the game.
This story was posted on May 23, 2022. It is from Pitt Magazine's Spring 2022 issue.