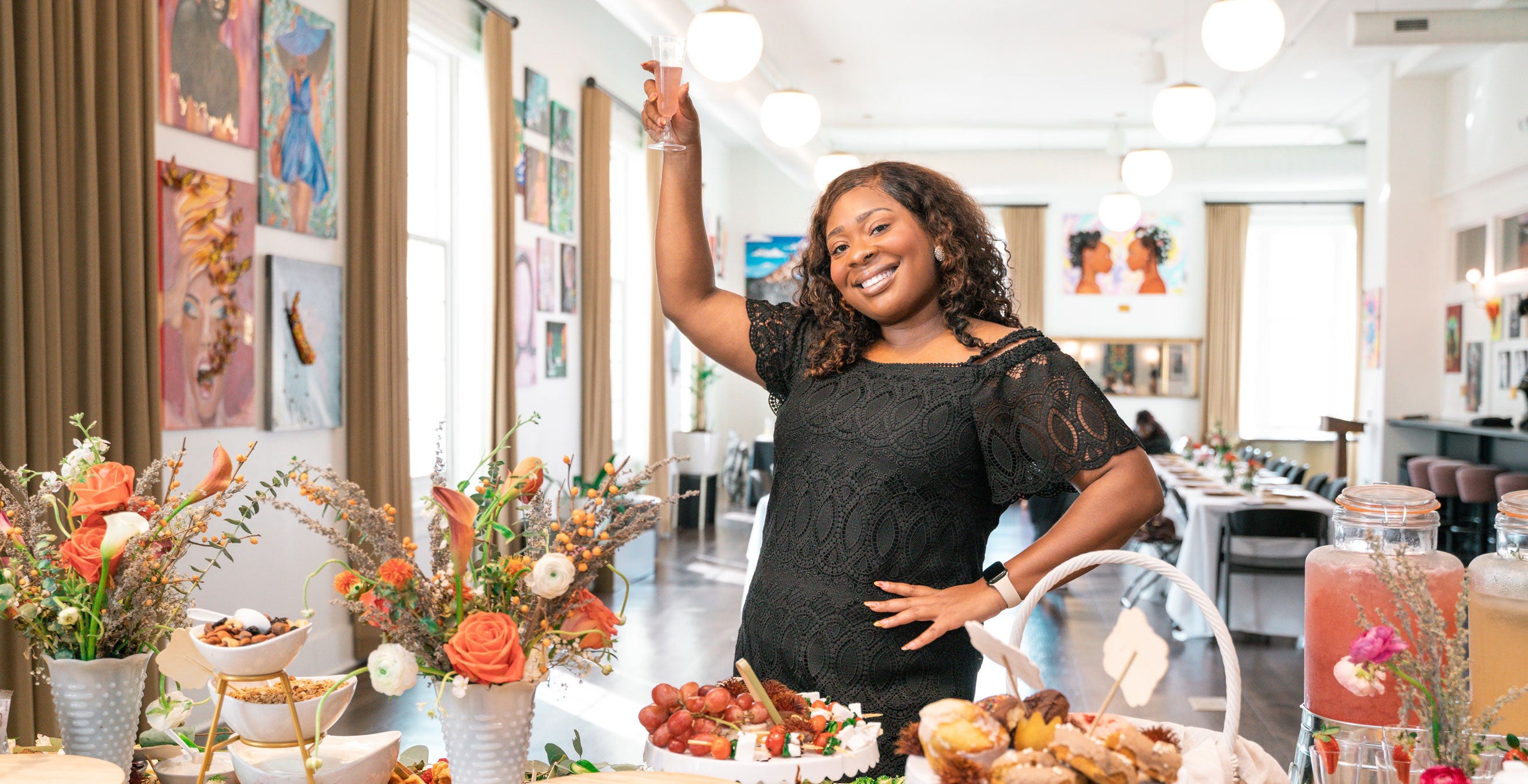 The friends fill the sunny, green backyard with the sounds of their chatter and laughter. Spread before them is a tempting potluck of cheeses, fruits and fresh breads.
It's summer 2020, and the gathering is a moment of collective caring — a fellowship to relieve the anxieties brought on by the pandemic and the civil rights protests ignited by the killing of George Floyd.
Among the group is Tierra Thorne (SOC WK '16G), a wellness worker with Allegheny County's youth support unit. She leaves the picnic satiated by the food and companionship and brimming — surprisingly — with a new business idea. Fine foods, enjoyed in a peaceful setting like the outdoors, can encourage conversation, comfort and connection, she thinks. What if that was an experience she could facilitate for others?
Two years later, Thorne's Pittsburgh-based concierge service, Blanket and Board, is thriving. With a staff of seven, she caters picnics and events and crafts specialty charcuterie boards and food-based gifts. Thorne says she wants each service to have the kind of warmth she found growing up at her family's soul-food-filled table.
Others are taking notice. Last year, the Pittsburgh Penguins and 84 Lumber presented Blanket and Board with a $25,000 EmpowerHER grant for promising woman-owned businesses. Thorne says she's using the funds to continue to grow the company, which she hopes can one day help provide affordable, fresh and beautiful food items to underserved communities.
Thorne's philosophy of caring and sharing was nurtured at Pitt, where she received a master's degree in social work with a focus on community organizing and social administration. She also received her first lessons in business ownership and finance from Pitt's Small Business Development Center.
Still a practicing social worker, as Thorne has found entrepreneurial success, she's also worked to empower others. Late in 2022, Blanket and Board launched a series of boxes filled with nonperishable goods from minority-led businesses. A percentage of the proceeds are donated to nonprofits working within women's rights, racial justice and diversity — demonstrating again how making a difference can also be delicious.
This story was published on February 2, 2023. It is part of Pitt Magazine's Winter '23 issue.