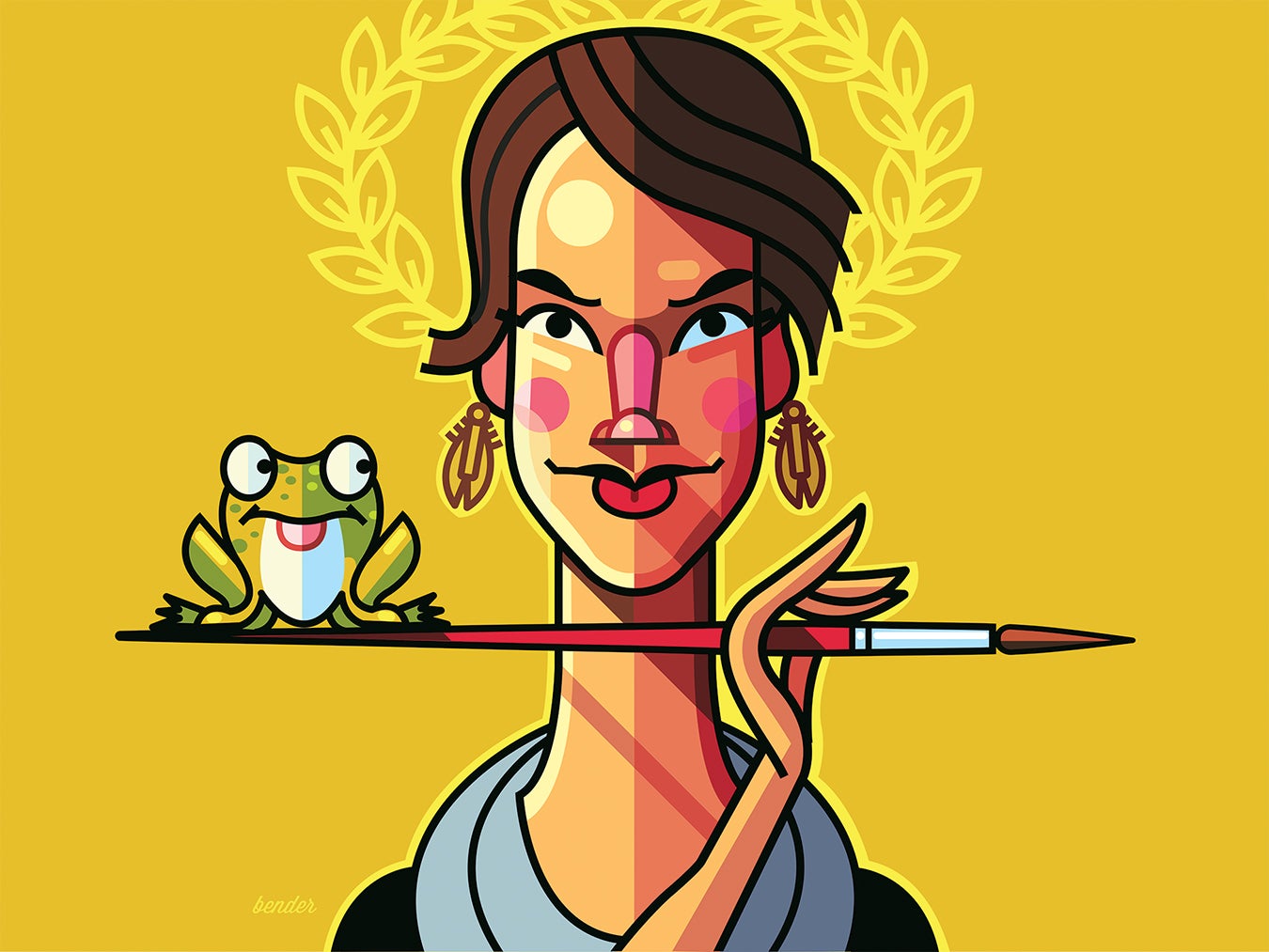 The strangely hypnotic sounds of frog calls, played from a recording, drifted through the crowded lobby in Pittsburgh's Frick Environmental Center. Nearby, a Pitt faculty member led children in a craft project meant to illustrate the unique acoustics of a croak. Meanwhile, artists, scientists, families, and curious passersby mused over amphibian-inspired artwork that ranged from vivid paintings to delicate steel sculptures. 
The evening marked the opening of "Edged Out," an art exhibit and the culmination of a six-month collaboration between artist Ashley Cecil and the Richards-Zawacki Lab, part of Pitt's Department of Biological Sciences. The goal: to share science through art.
Cecil, who has previously partnered with organizations like the Carnegie Museum of Natural History, is inspired by the natural world. After developing a yen to explore frogs as a subject matter, a friend told her about Cori Richards-Zawacki, Pitt associate professor of biology and the director of the Pymatuning Lab of Ecology, an off-campus research facility. In 2017, Cecil approached the scientist to ask if her team would be willing to host her in the lab for a six-month artist residency.
It was an easy decision to make, says Richards-Zawacki. "It's great for us to have other ways of describing and thinking of the science we do," she explains.
The Richards-Zawacki lab—which includes postdoctoral researchers, graduate students, and undergraduates—focuses on ecology, evolutionary biology, and frog conservation. As fodder for her artwork, Cecil shadowed the scientists, attending and participating in lab meetings and accompanying them to the Pymatuning Lab. She learned about threats to frog species worldwide, including how trade, habitat destruction, and rising global temperatures are threatening amphibian populations. With this new insight, she created art that reflects the challenges frogs face.
By focusing on how humans affect frog populations, both the artist and the scientists hope to spur people to action. "Human impact is something that everyone can help mitigate," says Cecil. At the exhibit's opening, the artist and members of the Pitt lab encouraged attendees to participate in frog conservation efforts.
With the scientists' input, Cecil designed frog-themed children's educational materials to share at other community outreach events, beyond the exhibit's frog-call craft. The lab team also asked families to participate in FrogWatch USA, a nonprofit that trains volunteers to recognize and collect data on frog calls to contribute to a national database that tracks populations.
As part of their effort to reach people of many backgrounds, last summer Cecil partnered again with members of the Richards-Zawacki lab to teach at four weeklong camps in Pittsburgh's Homewood neighborhood. Each week, about 30 third through sixth graders designed and performed experiments, analyzed data, and created a public art project, all while learning about frogs.
"It's important that kids realize that there are so many ways to contribute to science," says Cecil. "Including art."
This article appeared in the Winter 2019 issue of Pitt Magazine.