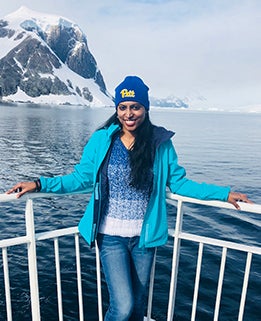 On a ship off the coast of Antarctica, surrounded by the brilliant blues and whites of water and ice, Divya Nawale had a revelation: "It really hit me how special—and how fragile—our planet is." The young woman from Hyderabad, India, was taking part in the 2009 International Antarctic Treaty Expedition. The 12-day journey, led by an environmental preservation organization, is meant to help participants fully understand the significance of what is—for now—the world's most environmentally pristine continent, as well as the threat posed by climate change.
A recent graduate of one of India's most prestigious engineering colleges, Nawale found herself newly compelled to protect the environment. Upon returning home, she threw herself into sustainability and social responsibility work for nonprofits and corporations.
But she soon realized she wanted to do more. "I felt like I needed to have a larger impact," Nawale remembers. And so, in 2015, she started the Master of Public Policy and Management program at Pitt's Graduate School of Public and International Affairs, where she learned the theory and ins and outs of energy and environmental policy development. Before leaving Pittsburgh, she even helped draft the city's Climate Action Plan as a sustainability fellow.
Now, as an international research associate for the Asian Development Bank based in the Philippines, Nawale (GSPIA '16) uses her Pitt-acquired knowledge to help entire governments adopt clean, efficient and sustainable energy policies and programs. She also completed her second Antarctic expedition in 2018—this time as a program director—to instill the Earth-saving spirit in others.
"I think a lot of people just live their life thinking, 'What am I getting?'" But the real question, Nawale says, is, "What could I give back?"
This article appears in the Summer 2020 edition of Pitt Magazine.