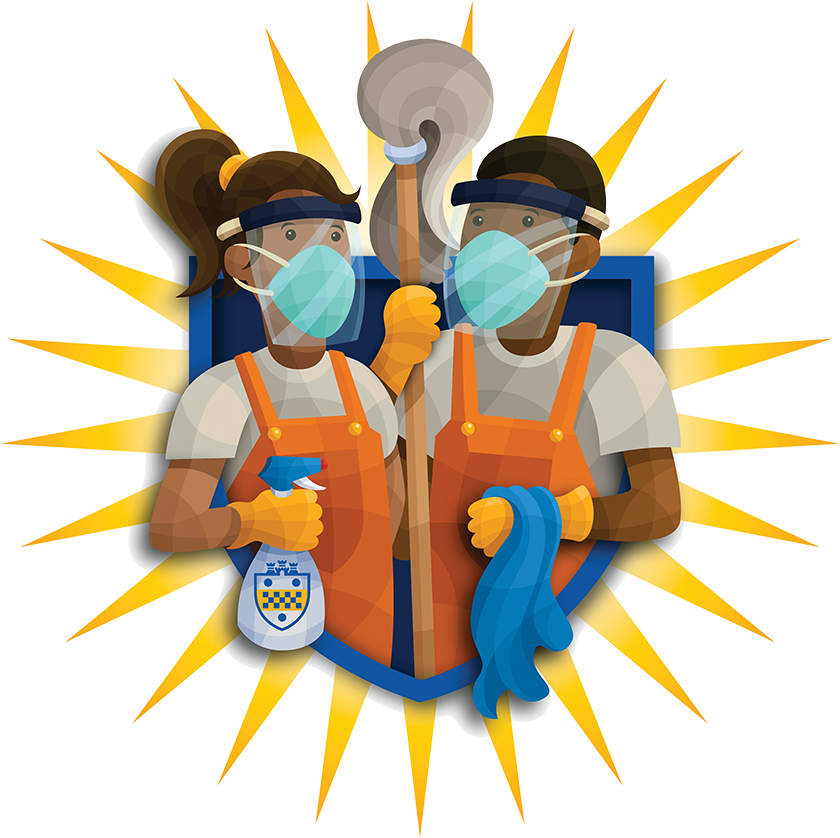 Before Jeff Waddell begins his day's work, he takes a moment to himself.
"I sit down and get my mind right before going upstairs to clean," he says. "You really want to concentrate on what you're doing."
He follows a meticulous routine. In the basement of an apartment building designated as isolation housing for students, Waddell suits up. A blue face covering goes over his mouth and nose. Goggles cover his eyes. A plastic shield guards the rest of his face. He puts on white, hooded coveralls; shoe covers; and yellow gloves. Then he grabs his cleaning supplies and heads upstairs to scrub, sanitize, and disinfect.
Pitt has world-class medical experts to guide its pandemic response and a campus community that's committed to caring for one another by following their advice. Campus spaces have been equipped with sanitizer stations and disinfectant wipes, ventilation has been adjusted to maximize fresh air, classroom capacities have been reduced, and reminders have been posted to keep best practices top-of-mind. But the University's pandemic response has another, vital line of defense: the Pitt cleaning staff.
Day and night, they spray, wipe and deep-clean spaces throughout campus.
Combined with healthy practices encouraged across the University—wearing masks, washing hands and maintaining physical distance—their relentless efforts and careful concern for enhanced cleaning protocols have played a crucial role in the fight against COVID-19.
"Our cleaning staff have one of the most important and unsung roles in keeping the University of Pittsburgh community safe," says Chancellor Patrick Gallagher. "Since the pandemic began, they have risen to this daunting challenge every hour of every day and earned our heartfelt respect and gratitude along the way."
The University's cleaning staff works together to protect students, faculty, staff—and one another, says housekeeping manager Michelle Smith. "We are really trying to keep everybody healthy," she says.
Not everyone has to don as much safety gear as Waddell, who does deep-cleaning of isolation housing in the days after a potentially infected student has recovered and returned to their normal residence. In most cases, face coverings and gloves are sufficient. But no matter where they work, the staff has stepped up, using enhanced cleaning protocols, approved cleaning products and specialized sanitizing equipment.
Their impact often goes beyond the important work of cleaning. Many housekeepers, who work in student housing, have become familiar faces to students. Mei Yu-Kephalogianis, a mother of two daughters at Pitt, treats residents of Nordenberg Hall like her own, recognizing the stress of leaving home and transitioning to adulthood.
"We have to set the example to the young students," she says. She models proper behavior, wearing a mask and maintaining physical distance. Her approach: "Wash your hands, keep clean, have faith and don't be afraid."
The work of Pitt's dedicated custodians and housekeepers hasn't gone unnoticed. Students frequently say thank you, says Yu-Kephalogianis.
During the fall semester, Phi Sigma Rho sorority members even created notes of appreciation for the maintenance staff. Supervisors posted the cards near time clocks across campus for staff to see.
"It makes us happy. We are all trying to do our best," she says.
"We are the front lines of defense," Waddell says proudly of his colleagues. "We know the virus is out there, but we also know what we've done [to fight it]."
This article appears in the Spring 2021 edition of Pitt Magazine.