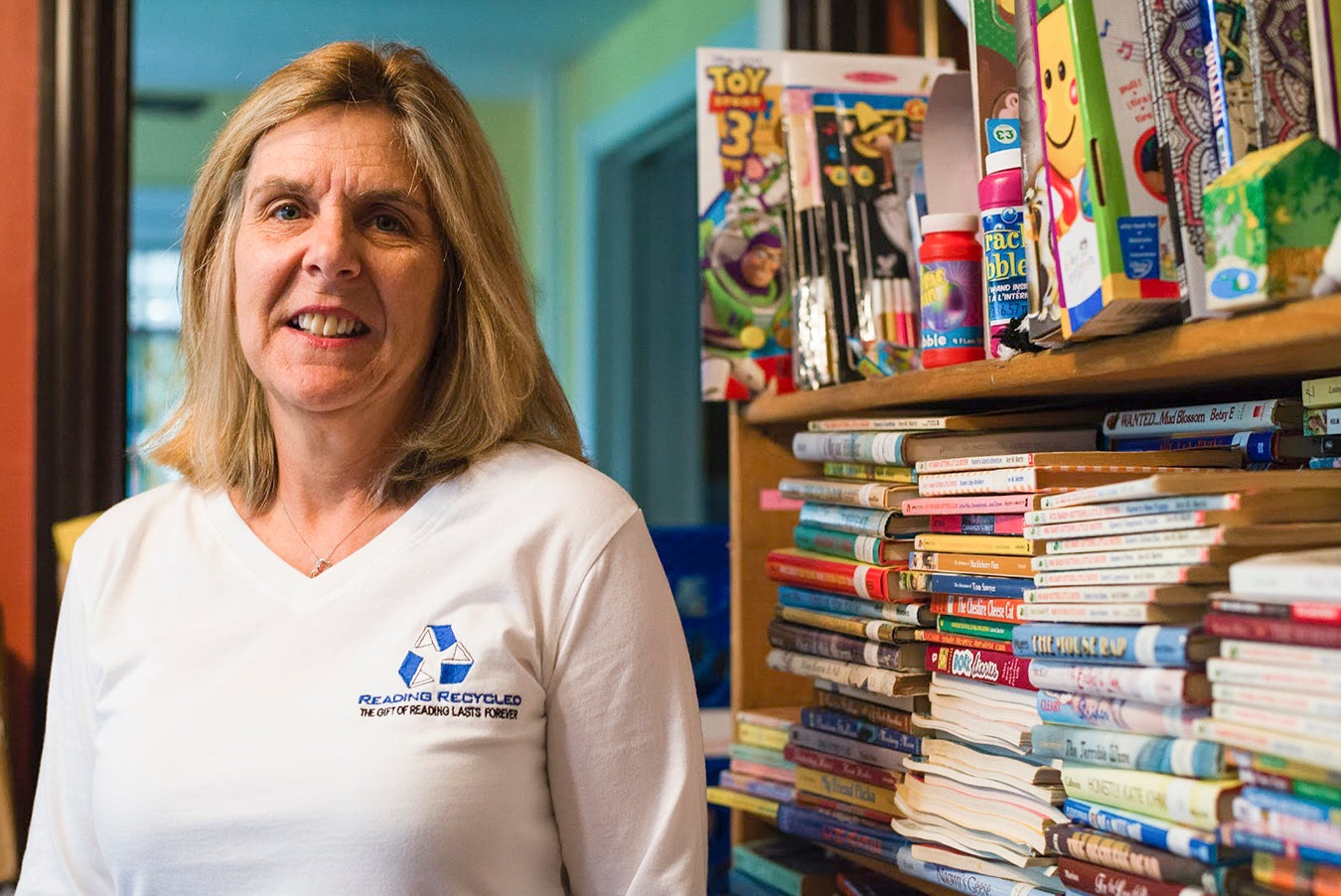 Anne Keenan's living room in Ambler, Pa., is brimming with books. They spill from the shelves and tower in stacks on the floor—perhaps 4,000 volumes in all. The Pitt alumna is an avid reader, but these titles don't belong to her. She will deliver them to young readers in schools, homeless shelters, churches, police stations, and food pantries. Meanwhile, her home will fill again with donated books collected through her nonprofit, Reading Recycled.
Keenan was inspired to start the charity in 2009, after hearing the story of a teenager who had grown up without books. It troubled the former teacher, who still remembers the freedom she felt as a child reading favorites like Harold and the Purple Crayon. She wondered, "What if you could give a child growing up in less than ideal conditions the opportunity to escape through literature?"
Access to books means more than a getaway for the imagination; it can also be a strong predictor of academic success. Yet, many children grow up without age-appropriate books in their home, says Keenan, who pursued literacy education after studying sociology and psychology at Pitt. In some low-income areas of Philadelphia, researchers counted one book per every 300 children. In more affluent areas, the ratio is 13 books per child.
Reading Recycled addresses that imbalance, and has already donated more than 18,000 books across eastern Pennsylvania. Keenan (A&S '81) even hand sews "birthday bags," filled with new books and a toy, for children living in emergency shelters.
"It's just a charity based on heart," she says. "You see a need, you know how to fill it, and you get it done."
This article appeared in the Winter 2018 issue of Pitt Magazine.