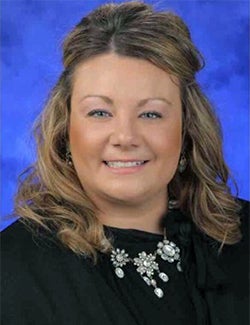 Emotional exhaustion. Withdrawing from patients and colleagues. April Adley had seen it all in her fellow nurses, and maybe even felt it herself sometimes as she moved up the nursing ladder. Many enter the field for reasons Adley shares: They are drawn to the compassion it requires and impact it can make. But with long shifts, stressful work environments and the tendency to put others first, nurse burnout is an all too real, but preventable, phenomenon.
"If we can take care of our employees, then they will in turn be able to better take care of patients and families," says Adley, who is the vice president of nursing services with Children's Hospital and Women's Health at Penn State Health Milton S. Hershey Medical Center.
When COVID-19 arrived, Adley knew that burnout would be a challenge throughout the medical center. Fortunately, she was primed to help: As a doctoral student at Pitt's School of Nursing, Adley had just finished researching ways to mitigate burnout among nurse managers, who oversee large staffs and patient care. In her project, titled "Unboxing Joy: A Revolutionary Bundle to Prevent Nurse Manager Burnout," Adley was able to successfully identify and implement techniques—such as mindfulness and acts of kindness—to help nurse managers find joy on the job.
Now, Adley (NURS '20G) is taking this work to the next level: To prevent burnout in the midst of a global pandemic, she was asked to help lead the implementation of wellness and joy-bringing techniques across the entire medical center—from staff "HERO carts" that provide snacks and meditation guides, to COVID-19-free spaces where health care workers can temporarily escape constant reminders of the disease.
"The staff absolutely love it," says Adley, who hopes to publish and present her work so other nursing leaders can spread the joy ever further.
This article appears in the Summer 2020 edition of Pitt Magazine.