Each issue, we share the news of some the University's biggest happenings in our Front Page section. To read more about the latest news on campus, visit pittwire.pitt.edu.
New Year, Same Mission
In a year full of new normals, Pitt's students, faculty and staff have been working hard to support a safe and successful fall term.
Some things look different on campus these days. Face coverings are required in all public spaces. Campus housing has been de-densified, with some first-year students living in hotels near campus. Classes are bolstered by Flex@ Pitt, a responsive way for the University to continue to deliver high-quality instruction, mentoring and advising amid shifting pandemic concerns. And high-touch surfaces are being sanitized and made squeaky clean in accordance with national guidelines.
But a lot of things remain the same, with students receiving a world-class education, researchers forging ahead on new discoveries, friends connecting, new ideas forming and Pitt pride thriving. 
Read more about safe back-to-school measures—and the students who helped make them happen—here.
She Gave Us the World
E. Maxine Bruhns, who brought cultures and traditions from around the world to the University of Pittsburgh, died on July 17, 2020. She was 96 years old.
Often referred to as a "citizen of the world," Bruhns served as director of the University's Nationality Rooms and Intercultural Exchange Programs from 1965 until her retirement in January 2020. In her decades here, she grew the unique Pitt feature from 19 rooms into a collection of 31 rooms and mini-museums representing the immigrant populations of Pittsburgh and their contributions to the city.
Before starting her 54-year career at Pitt, Bruhns and her husband spent 15 years living overseas, working with refugees in countries including Cambodia, Greece, Lebanon and Vietnam. She would later use her global knowledge to support student scholarships, foster cross-cultural learning and provide Pitt with a treasure that attracts more than 25,000 visitors a year.
"Long before diversity and inclusion became part of institutional conversations, Bruhns honored—and celebrated—nationalities from around the world. She wove them into the culture at Pitt," said Ariel C. Armony, vice provost for global affairs and director of the University Center for International Studies.
"She was as unique and striking as the rooms themselves," said Chancellor Patrick Gallagher, "and—while she will be deeply missed—her incredible legacy has left an indelible mark, and her love of learning, history and culture will live on."–Margo Shear Fischgrund
A Century of Light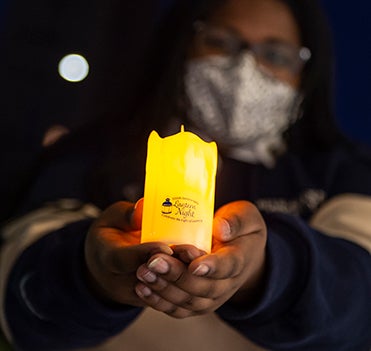 It began with a spark. Now it's a tradition that has endured for a hundred years.
Lantern Night—the ceremony where one generation of Pitt women passes the Light of Learning on to the next—reached a notable benchmark this year. The 100th annual Lantern Night kicked off in August with a socially distanced commemoration that saw incoming residential students across campus placing LED "lanterns" in their windows.
But the festivities have only just begun. The Pitt Alumni Association will be offering a series of events and programs dedicated to sharing the stories of the remarkable Pitt women—past and present—who have changed our world. Meanwhile, alumnae have been sharing heartwarming Lantern Night memories, messages and photos. Read some here and visit alumni.pitt.edu/lantern100 to learn about upcoming events.
Follow the Sun
How's this for a bright idea?
Pitt has signed a 20-year agreement to purchase all of the renewable electricity produced by the Gaucho Solar project, a power facility planned for the border of Allegheny and Beaver counties. The agreement continues to drive progress toward achieving carbon neutrality. The solar power is expected to supply about 13 percent of the Pittsburgh campus' annual electricity. Subject to municipal project approvals, the solar installation will begin operations in mid-2022.
Combining the University's new solar agreement with previously announced plans to purchase electricity from a hydropower plant to be built on the Allegheny River, at least 38 percent of Pitt's electricity will come from local renewable sources by 2023.
Beyond making Pitt's energy sourcing more sustainable, the proposed solar power facility will be used as a living laboratory for student learning and research. –Kimberly K. Barlow
Nice Shot
It's a time-honored tradition for every new class at Pitt to come together for a class photo. This year was no different—even though it was distanced. The Class of 2024 photo was formed from selfies submitted by incoming students to create the first-ever virtual class photo. Check it out at pittclassphoto2020.com.
COVID-19 Care
The National Institutes of Health (NIH) has selected Pitt to participate in a trio of clinical trials involving COVID-19 patients. Collectively known as ACTIV-4 Antithrombotics, the phase 3 trials will explore the use of blood thinners in saving lives and improving care, particularly among adult COVID-19 patients who are at risk of developing life-threatening blood clots.
As the coordinating center for these trials, Pitt has a leading role in the NIH's Accelerating COVID-19 Therapeutic Interventions and Vaccines initiative, funded through Operation Warp Speed.
"This is a massive undertaking supported by the NIH—one that is leveraging a global network to help improve patient outcomes for COVID-19," said Anantha Shekhar, Pitt's senior vice chancellor for the health sciences and John and Gertrude Petersen Dean of the School of Medicine. "It is also a challenge that the University of Pittsburgh, a longtime leader in health care innovation, is perfectly positioned to tackle."
Vaccines at Warp Speed
The University's long history in vaccine development has yet another chapter. Pitt and UPMC have signed on with Operation Warp Speed and the COVID-19 Prevention Network, a national initiative that seeks to accelerate development of a safe and effective vaccine.
As a result, hundreds of people in Western Pennsylvania will have the opportunity to participate in clinical research trials for vaccines against the coronavirus. The first trial is already underway using the vaccine being developed by Moderna, Inc. Other candidate vaccines are expected to follow.
"Participating in Operation Warp Speed is a huge honor. This is a chance for Pittsburgh to have an impact that's not just local or national—it's going to be worldwide," said Judy Martin, director of the Pittsburgh Vaccine Clinical Trials Unit at UPMC Children's Hospital of Pittsburgh and professor of pediatrics at Pitt. "One of these vaccines will likely be successful—and hopefully more than one."
Survival Boost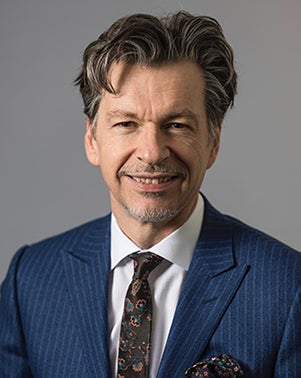 The use of inexpensive, widely available steroids improves the odds that very sick COVID-19 patients will survive the illness—a finding made by an international team led by clinician-scientists at Pitt's School of Medicine and UPMC.
"It is relatively rare in medicine that you find drugs where the evidence of their effectiveness in saving lives is so consistent," said the study's lead author, Derek Angus, professor and chair of Pitt's Department of Critical Care Medicine and chief health care innovation officer at UPMC. "This is, in many respects, the single clearest answer we've had so far on how to manage terribly ill COVID-19 patients."
The study, published in JAMA, pooled data from 121 hospitals in eight countries. The World Health Organization is updating its COVID-19 treatment guidance as a result of the findings. Read more here.
Treatment Breakthrough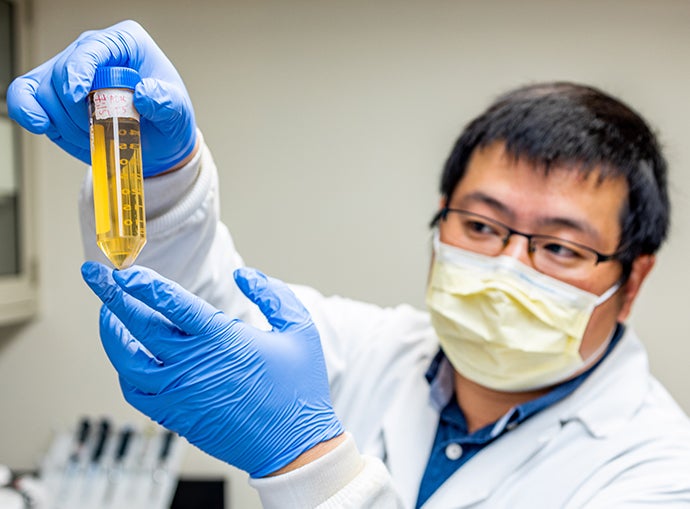 Scientists in Pitt's School of Medicine have discovered a tiny antibody component that could be used to effectively treat the SARS-CoV-2 virus—the cause of COVID-19.
The antibody component, which is 10 times smaller than a full-sized antibody, has been used to construct a drug known as Ab8 for potential use as a therapeutic and prophylactic against SARS-CoV-2. The team, which worked in conjunction with scientists at other universities, has shown Ab8 to be highly effective in preventing and treating SARS-CoV-2 infection in mice and hamsters. Its tiny size not only increases its potential for diffusion in tissues to better neutralize the virus but also makes it possible to administer the drug by alternative routes, including inhalation. Importantly, it does not bind to human cells—a good sign that it won't have negative side effects in people.
The research was published in the journal Cell and authored by Dimiter Dimitrov, director of Pitt's Center for Antibody Therapeutics; Wei Li, assistant director of Pitt's Center for Antibody Therapeutics; John Mellors, chief of the Division of Infectious Diseases at Pitt and UPMC; and others. Abound Bio, a newly formed UPMC-backed company, has licensed Ab8 for worldwide development. Read more here.
Safe Spaces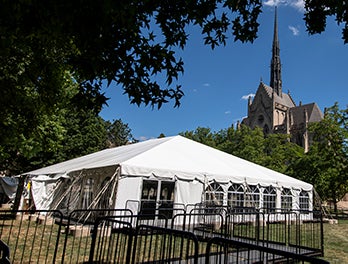 The pandemic may have caused some limitations—but at Pitt, it's also opened some new doors.
In an effort to expand and reimagine spaces for Pittsburgh students to work and play, the Office of the Provost worked with University and city partners to create and identify 60 indoor and outdoor supplemental classroom and study spaces with the capacity to allow Panthers to gather and learn while maintaining safe distances.
For example: Ballrooms in the University Club have been redesigned as classroom and study spaces, complete with tablet armchairs. And on the Cathedral of Learning's lawn near Heinz Chapel, a large outdoor tent is being used for at least four musical ensembles, along with the Department of Theatre Arts. It's also open for study space when not in use. Like the rest of campus, these spaces are being cleaned and sanitized to meet strict safety guidelines.
Class Envy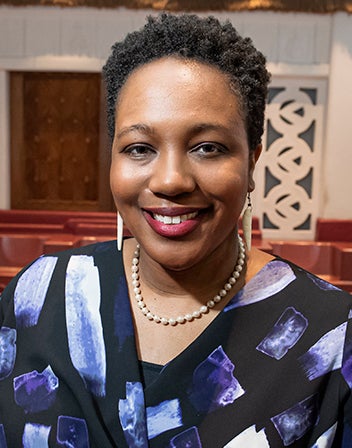 Pitt students can study subjects so interesting it's hard not to wish you were back at school. Take, for example, this offering:
Course: Anti-Black Racism: History, Ideology and Resistance
School/Department: Multidisciplinary
Instructors: Varied
As calls for racial justice echo across the country, the University of Pittsburgh has developed a new class to allow students to gain an understanding of the country's long struggle with anti-Black racism. It's being offered as a required one-credit course for first-year students on the Pittsburgh and Bradford campuses; other interested students may enroll. Leveraging the expertise of Pitt faculty and activists in the Pittsburgh area, the course introduces students to the long tradition of scholarly activism, specifically on the Black experience and Black cultural exprAs calls for racial justice echo across the country, the University of Pittsburgh has developed a new class to allow students to gain an understanding of the country's long struggle with anti-Black racism. It's being offered as a required one-credit course for first-year students on the Pittsburgh and Bradford campuses; other interested students may enroll. Leveraging the expertise of Pitt faculty and activists in the Pittsburgh area, the course introduces students to the long tradition of scholarly activism, specifically on the Black experience and Black cultural expression. It also analyzes the development, spread and forms of anti-Black racism in the United States and around the world. Created by a committee of faculty experts from across the University and led by Yolanda Covington-Ward, chair of the Department of Africana Studies, the new course promises to open eyes and minds.
"People are racist by their inaction and continued support of policies that harm marginalized groups. To do nothing is to be complicit, because that allows for the maintenance of racism."–Ibram X. Kendi, speaking in the featured session "America's Persistent Pandemic—Racism: How to Foster Antiracist Practices and Create a Culture of Inclusion, Equity and Justice."
Words, Wisdom, Work
This summer, the University hosted a first-of-its-kind, community-oriented, virtual social justice learning symposium, complete with more than 55 interactive workshops and sessions held over three days. Diversity Forum 2020, Advancing Social Justice: A Call to Action was hosted by Pitt's Office of Diversity, Equity and Inclusion and served as the kickoff to Pitt's Year of Engagement.
It drew more than 12,000 participants from around the world and a number of high-profile speakers, including Ibram X. Kendi, scholar and author of "How to Be an Antiracist," and political activist and author Angela Davis. The conversations focused on building a better and more equitable world. To read highlights from the forum and to access links to recorded workshops, visit pi.tt/diversityforum.
More Than Books
Your favorite university library is looking better than ever.
Hillman Library's third floor is the latest to be completed in the ongoing floor-by-floor, top-down reinvention of the building. The multiyear modernization project, begun in 2017, is expected to be complete by 2023.
The new third floor features a technology-enabled classroom and consultation rooms for instructors and students, a large reading room with views of Schenley Plaza, and even a working, vintage letterpress. The floor's centerpiece is a 5-by-20-foot digital wall designed to encourage the public to explore and interact with the collections. With the touch of a stylus, a visitor can zoom in on and rotate a Japanese woodblock, flip through the virtual pages of a rare book or follow a touch screen timeline of the construction of the Cathedral of Learning.
Now that's hands-on learning. –Sharon S. Blake